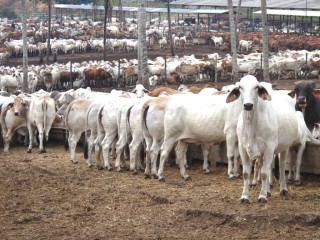 The Cattle Council of Australia has welcomed the Federal Government's $30 million aid package for northern producers affected by the live export suspension.
However it says the funding is only part of the answer.
Prime Minister Julia Gillard announced in Darwin yesterday that producers affected by the live export ban to Indonesia will be able to access an initial $5000 payment and then up to $20,000 in assistance through Centrelink.
The package was a short-term measure until the trade was up and running, Ms Gillard said.
Cattle Council of Australia CEO David Inall said the peak producer group was pleased the Government has alleviated some of the financial hardship on northern producers.
"This is just part of the way forward," Mr Inall said.
"What producers need is certainty as to where their next pay cheque will come from. They have ongoing bills to pay and the longer the trade is suspended, the tougher it gets to hold on.
"There is a need for greater Government to Government high-level discussion to get this trade back on track."
Meanwhile, Federal Agriculture Minister Joe Ludwig faced a frosty reception in Mt Isa yesterday afternoon, where about 300 livestock producers and other live export industry stakeholders had gathered for an AgForce live export forum.
While there was no widely anticipated announcement forthcoming about a partial re-opening of trade, Mr Ludwig committed to examining potential for development of meatworks infrastructure in northern Australia.
Speakers included Jo Ludwig, Warren Truss, Tim Mulherin, Betty Keirnan, Don Heatley and representatives from the live export industry.
See producer reaction story "Forget compo, just re-open trade"