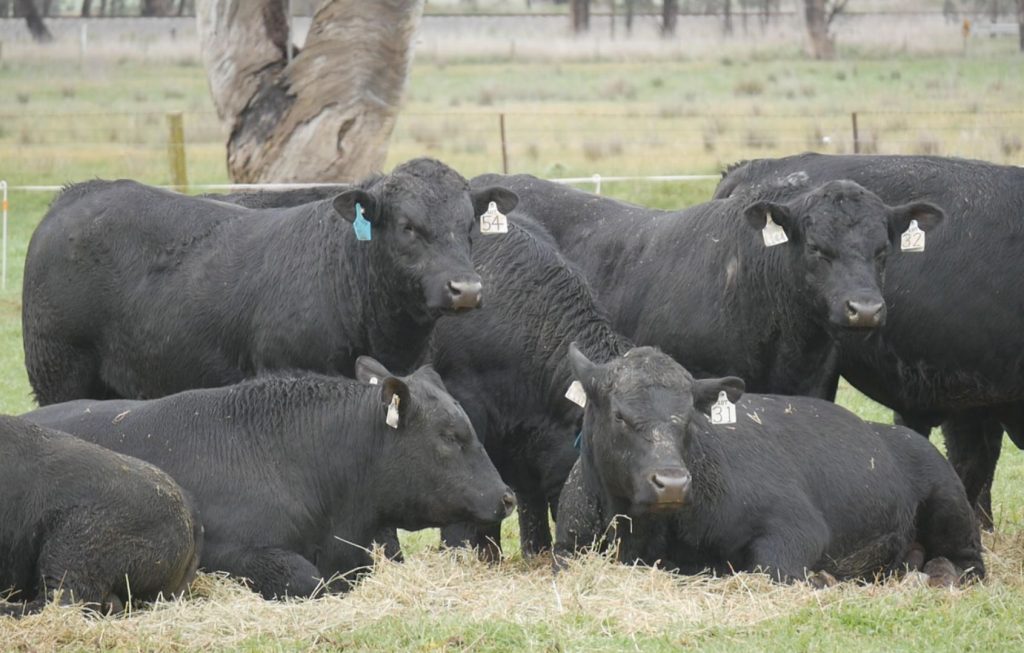 GENETIC gain within a beef herd is the result of decisions made on-farm around the level of selection pressure or selection intensity placed on replacement females.
The second contributor to the rate of gain is determined by the degree of accuracy around the performance records of the sires used over those females.
Herds seeking to make rapid genetic gains tend to have well-defined parameters around their replacement females. Equally, sires are selected only from herds that can provide high levels of accuracy around the EBVs provided. Generally, these operations are identified for their completeness of recording for BreedPlan.
This is a tip that can be used by any herd wanting to make improvements within their own program. The first step is to define some key criteria around the performance and selection of replacement females.
Ideally these would be objective measurements such as weight at weaning, and weight at 14 months of age. The key consideration is to have a clear definition of what traits and production requirements are important for the business environment and for the target markets.
In terms of sire selection, finding bulls with high accuracy EBVs can be done through searches of breed society websites. The search engines for most breeds now allow producers to set searches up based on accuracy, minimum and maximum levels of reported traits, or on index values.
Herd Completeness of Performance Rating
One useful and often overlooked search option is the Herd Completeness of Performance Rating. This metric is provided for all herds contributing data to BreedPlan.  The rating is based on a five-star system and is designed to quickly show how much data a breeder has been contributing to BreedPlan from their herd. The actual rating is calculated on the proportion of calves within the herd born in a fixed five-year period that have performance recorded for each trait.
As not all breeds report the same EBVs, the criteria used within a breed to allocate the star rating is made within the breed. So the rating system should be used only to compare within a breed, and not between breeds. Herds are rated with a star (including half stars) from 0–5 which summarises the relative "completeness" of their performance information.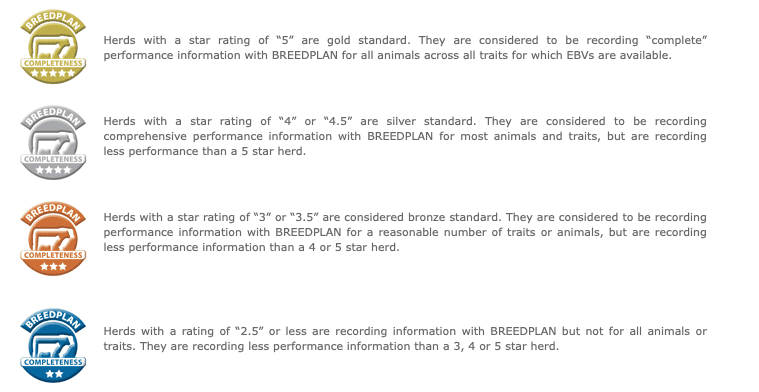 The value of herd completeness recordings lies within the increased level of accuracy from additional data. Using sires with high accuracy is one part of a selection process – the other is to identify a breeder who is able to demonstrate a level of commitment to data recording to ensure that accuracy is maintained.
At last year's conference of the Association for the Advancement of Animal Breeding & Genetics (AAAGB), Boyd Gudex of SBTS presented a paper highlighting the current levels of performance recording across Australia.
While there were herds with high levels of completeness in recording, there were also herds with very low ratings, indicating a low level of data recorded and submitted to BreedPlan.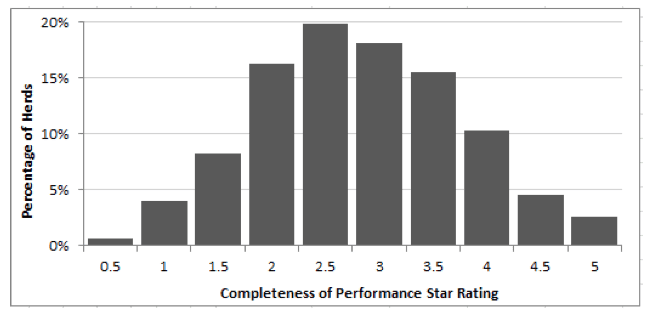 Three trends for data recording
Within his presentation, Boyd also noted three trends for data recording and submission. These were firstly a reduction in performance recording as animals get older.
Secondly, there are about 15pc more females registered than males. This trend has been observed since 2004. One suggestion Boyd made for this trend was a reluctance among breeders to register males that will be or have been castrated.
The third trend identified is those males subject to recording and registration have higher levels of recording than females. Boyd described this as a situation that was unavoidable for some traits, like scrotal size, but for many other traits there were reasons why this wasn't ideal.
"For example, data from ultrasound carcase scanning of heifers can actually be more valuable for genetic evaluation than that from bulls," he said.
"As heifers mature and lay down fat earlier than bulls, they typically have more variation in the scan traits which is valuable to the analysis. And secondly, heifers typically represent a better cross section of the herd, as they are subject to less selection pressure than bulls. This reduces selection bias in the data submitted to BreedPlan," Boyd said.
There are two messages to take from these comments. For seedstock breeders, the opportunity to increase completeness of recording will increase the level of accuracy across EBVs.
Last year's sale trends saw the demand for bulls with higher accuracy EBVs, and this is predicted to continue. Lifting the overall herd completeness rating is one simple step towards increasing buyer confidence ahead of sales.
For producers seeking bulls, adding herd completeness to a search can eliminate those herds which are likely to have lower accuracies or less recording of traits that are of importance when cataloguing their sale bulls.
However, there will be occasions where suitable bulls may be available in herds that may have lower ratings. This could be for various reasons, and so it is essential that if there are those occasions, make time to talk with the breeder and gain a sense of their program and how their bulls may suit specific programs.
Developing relationships with seedstock breeders is as essential as selection pressure on replacement females or choosing high accuracy sires.
Alastair Rayner is the Principal of RaynerAg, an agricultural advisory service based in NSW.  He regularly attends bull sales to support client purchases and undertakes pre sale selections and classifications.  He can be contacted here or through his website www.raynerag.com.au