WHILE bull vendors appreciate bidding interest from other studs for the genetics they are producing, and welcome the added competition at sales, commercial cattle producers are still the most reliable and stable supporters of bull sales, year-in, year-out.
"We welcome studs to compete for our bulls, but they are often searching for special genetics and turn up once and we may never see them again – while commercial producers turn up year after year," one seedstock producer told Beef Central.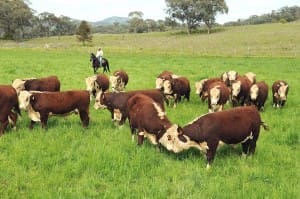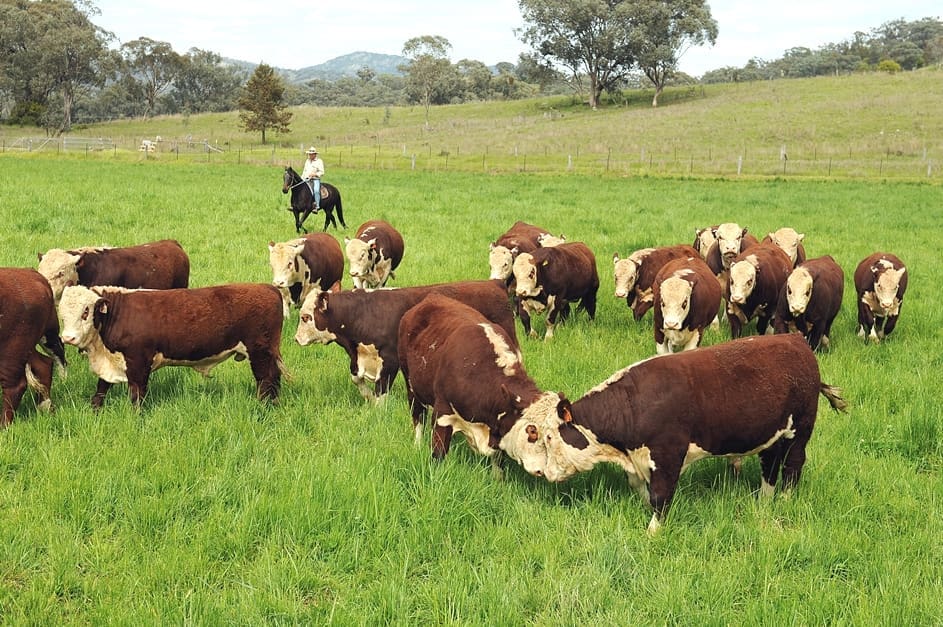 Agent and gun auctioneer Paul Dooley (he doesn't like to be called a 'guest auctioneer' as he claims he does more than just auction) last week told Beef Central that quite a number of commercial cattle producers in today's new-level market were prepared to pay in the $12,000 to $14,000 for bulls. Are they?
Knowla Angus at Gloucester NSW had their best sale ever last week when 70 bulls sold for an average $11,214.
Knowla's James Laurie said he was delighted to sell to studs for the first time and studs took out the four highest priced bulls. These included Booragul ($38,000), Five Star and Dulverton ($28,000) and Huntingdon Park ($23,000).
But the 66 other bulls all went to commercial cattle producers who paid an average of just over $10,000. Many were at Paul Dooley's suggested $12,000-$14,000 level. More than half the Knowla bulls stayed in the Gloucester area.
Commercial producer shares $38,000 bull
And in a further twist, the top priced Knowla bull at $38,000 won't be used exclusively in stud breeding. Buyer Tim Vincent of Booragul stud, Pialliway, NSW, revealed he partnered with nearby commercial breeders, the Lathems of 'Bellview' to pay the top price. The bull will be physically shared between the two properties, as they have opposite joining seasons.
The commercial buying at Knowla's sale was led by the McKenzie family from Port Stephens NSW which run two significant Gloucester properties, Berrico and Woko, where they produce their own Angus branded beef. The Mckenzies paid an average of close to $8000 for 12 bulls in their first buying spree at Knowla.
Need to pay $10,000 to $12,000
With the northern spring bull sales kicking in and the season generating some concerns, Beef Central tracked down veteran southeast Queensland stock agent Dick Boyd of Shepherdson and Boyd to see what commercial producers were paying at Queensland sales.
He was confident that buyers will take a long-term view. "The top article will always bring good money, it's the tail end that gives you grief," he said.
"In the past, commercial buyers were paying $5000 to $6000 for good bulls, but this year they'll need to pay $10,000 to $12,000 to get the best," he said.
Mr Boyd's agency was involved in the Performance Plus Droughtmaster sale at Eskdale, Qld, on Saturday where 49 bulls sold to $27,000 and averaged $9551, a great start for the tropical breeds in the north.
While the majority of bulls went to commercial breeders, a few went to stud breeders in Western Australia, New South Wales and Queensland.
"The season didn't affect this sale, but they were very, very good bulls," he said.
Earlier this month 136 Angus bulls averaged $12,323 at the Guest family's Clunie Range sale at Coolatai one hour south of the Queensland/New South Wales border.
According to Brett Guest, only eight percent of the bulls went to studs with commercial producers competing strongly with studs and often winning the battle. Around 70 pc of Clunie Ranges bulls went into Queensland.
Identified genetics important
"This year commercial buyers knew they had to hit $10,000 or more to get the bulls they wanted," Mr Guest said..
"A few years ago they were getting $500 for weaners and paying $5000 for bulls. Now they are getting $1000 for weaners and paying $10,000 for bulls. The ratio is about the same. In fact most of the commercial guys are happy to pay $10,000 to $15,000 for bulls these days," he said.
One of the significant drivers for commercial cattle producers to buy bulls from high profile studs is to be able to advertise and verify the genetics in their herds.
"That's one big thing I have noticed in recent years. Commercial producers like to indicate the genetic background of their cattle, in advertising on selling platforms such as AuctionsPlus," Mr Guest said.
It is also possible to link-search the sires in the breed society's database to check the pedigree and Breedplan figures.
"They (commercial producers) see value in being able to demonstrate that the cattle on offer are by say, Clunie Range of Booroomooka bulls or whatever," he said. "A Rennylea blood' or 'Palgrove blood' reference in an AuctionsPlus listing is interpreted as a stamp of quality."