A LEADING lamb seedstock producer has challenged the beef industry to catch up with the sheep industry and produce across-breed Estimated Breeding Values, where the EBVs of animals of different breeds and crosses can be directly compared because they are set to a common base.
Taking an 'outsider's perspective' at Meat & Livestock Australia's recent Livestock Breeding and Genetics Forum in Brisbane was Tom Bull, the owner and manager of "Lambpro", which breeds up to 1000 terminal and maternal rams each year.
"I think it is amazing that we are mapping the genome of cattle, but yet in 2018 we cannot directly compare the EBVs of animals from different breeds of beef cattle," Mr Bull said.
The best thing that happened when LambPlan was set up in 2000 was that it was done without breed societies, he said.
"All breeds were set to a common base so I can now directly compare the EBVs of up to 30 terminal breeds with a single set of figures. They were able to do this because breed societies were not involved. Lambplan was owned by MLA, which had total control."
Mr Bull said his ram breeding decisions were not made on breed; they are made on EBVs.
"I look for plus 9 (kg) for weaning weight, minus 13 (kg) for ewe weight, positive fat, plus two (sq cm) for muscle, plus 18 (pc) for number of lambs, minus 60 for worm egg count, positive wool weight and negative for micron. "I don't care what breeds are in them," he said.
"I generally don't know the breed content of the rams I sell but I get asked plenty of times what breeds are in our 'Primeline maternal' line.  Breed percentages mean nothing," Mr Bull told the conference.
"My job is not as a stud producer; I'm a designer. "We are always coming out with new genetic products based on markets and based on lamb trends, and with multiple breeds," he said.
Using a rugby analogy, he said the beef industry thought every best rugby player was in Queensland.
"When I select my rugby team, I pick a few from New Zealand, a few from Australia, a few from Ireland and a couple from Fiji on the wing, which will give me the best team. In lamb, we look all over the world."
Ninety percent of the rams sold through his LambPro seedstock program were hybrids, sold at five months of age.
"Our business goal is in two years' time to have one million lambs born by our rams," Mr Bull said.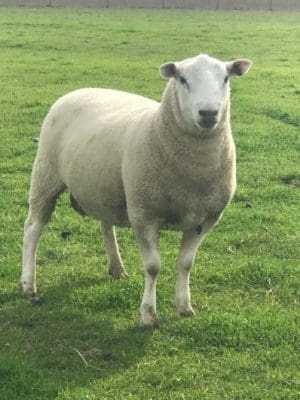 He showed this example of a 'Primeline  Maternal' ram which included seven different breeds, ranging from 28 percent White Suffolk to one percent Border Leicester, and also including 21pc Coopworth, 15pc Texel, 9pc Romney, 12pc East Friesian and 7pc Finn.
He also showed the example (lower photo), of a Lambpro 'Tradie' terminal sire, which was 75pc White Suffolk and 25pc Southdown.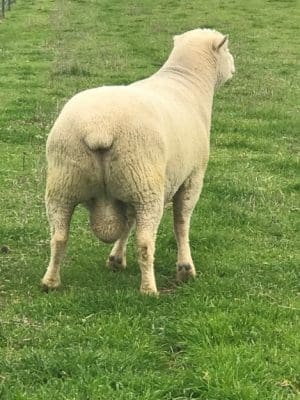 "We had plenty of growth and muscle in our 'Tradie' terminal sires, but we did not have any marbling. The Sheep CRC showed that Southdowns had much higher marbling than Dorsets or White Suffolks, so we introduced some Southdown. By infusing Southdown into our Dorsets, within two years we had the number one ram in the country for marbling," Mr Bull said.
"Buyers need to do their homework before they come to my sale. They need to look at the spread sheet of EBVs and cut it up, and actually work out the figures – because you cannot see a ram and look at its figures in 18 seconds, which is how long it takes us to sell a typical ram."
"The biggest thing is that sheep are white fluffy animals; with a few black ones. Coat colour is the biggest 'Achilles heel' in breeding better animals," he said.
"What has it done to breed societies? They have had to open their books."
"White Suffolks have a huge amount of Dorset content in their breed, and there is lots of White Suffolk in Dorsets. If they need to improve a trait they just look for a ram with that trait. They wouldn't have survived if they had not done this," Mr Bull said.
"It has driven transparency in purchasing decisions. In 2017, of the top 100 sires in the maternal database, 100 were composites," he said.
Beef lacking common language
"But without a common language, you cannot directly compare a Hereford with an Angus, for example," Mr Bull said.
"With no common language, as a designer in the beef industry, life must be bloody hard – it must depend a lot on gut-feel"
"If you want to build a composite you cannot know how much extra fertility a Senepol will add compared to a Brahman. With no common language, as a designer in the beef industry, life must be bloody hard – it must depend on a lot of 'gut feel'."
Breed societies needed to get on board with creating a common genetic language for the beef industry.
"There will be a need to do some Research and Development, especially for the maternal traits which can be quite tricky due to hybrid vigour effects," he said.
Where is beef multi-breed analysis up to?
So where is the Australian beef seedstock sector up to with multi-breed genetic analysis?
Dr Robert Banks, Director of the Animal Genetics and Breeding Unit at Armidale, NSW which conducts the R&D underpinning both Breedplan and Sheep Genetics, said the software for multi-breed analysis of beef breeds was available now.
The Tropical Composite genetic analysis based on Belmont Red cattle – but including other breeds such as Senepol, Boran and Tuli – is a multi-breed genetic analysis. The Angus genetic analysis includes a large number of animals from other breeds as well as composite breeds such as 'Blue E's and Ultrablacks, which are all on a common base.
"Unlike the sheep industry, the beef industry has not had the benefit of a large maternal breeds comparison," Dr Banks said.
"The Sheep Co-operative Research Centre nucleus flock allowed purebreds from a range of breeds to be directly compared for maternal traits such as fertility and milking ability, which is essential for a multi-breed analysis to ensure that EBVs of animals from different breeds can be directly compared for maternal traits in addition to the weight and carcase traits," he said.
There had been a number of research projects in Australia where sires of a number of beef cattle breeds have been used over a single breed of females, which has provided direct comparisons for weightgain and carcase traits but not maternal traits, he said.
"Such R&D allowed the development and testing of the software for multi-breed BreedPlan, but the analysis could only be applied with confidence for weightgain and carcase traits," he said.
The Repronomics research project, involving pure bred females from the Brahman, Santa Gertrudis and Droughtmaster breeds currently being undertaken in Queensland and the NT was providing a direct comparison of the complete range of traits including maternal traits. The project is under the direction of AGBU research scientist Dr David Johnston.
"This will enable a research multi-breed analysis for these breeds by the end of 2019," Dr Banks said.
A funding application by the NSW Department of Primary Industries for a large multi-breed project including purebred females from nine breeds including the major British breeds, one European breed and the Brahman breed has been submitted to the National Livestock Genetics Consortium (NLGC) for consideration.
If approved by the NLGC and funded by Meat & Livestock Australia, this project will provide the key maternal head-on comparisons needed for a much wider multi-breed genetic analysis in Australia, Dr Banks said.
"It's important to remember that valid genetic comparisons depend on having the head-on comparisons covering the breeds, traits and potentially the environments you want to be able to compare.
"Under normal circumstances the datasets that are available are very patchy in terms of their overall coverage of the breed by trait, by environment combinations we want to cover, so there is an important role for R&D, which can of course include partnering with industry – but with strict data collection protocols," Dr Banks said.