Beef Central's regular weekly genetics review will recommence next week for the 2018 spring bull selling season. In anticipation, we've cast the net around the seedstock industry, seeking opinion from bull breeders, advisors, agents and other stud stock industry stakeholders across NSW, Victoria and Queensland about how the upcoming sales period will fare.
Well known NSW genetics advisor Wayne Upton will be filling in for the next six weeks writing Beef Central's Weekly Genetics Reviews, while regular editor Alex McDonald is on holiday.
IT'S likely to be a buyers' market for replacement herd and stud bulls this spring across eastern Australia, but as always, good bulls should continue to sell well.
That's the general impression gained from seedstock industry stakeholders this week, as the beef industry approaches its traditional spring bull selling season.
This year's drought across large parts of eastern Australia will inevitably shape outcomes in many areas, but rain between now and the start of the traditional 'spring' sales season in July would go a long way towards restoring some buyer confidence.
Reduction in joinable females
Given that there is no doubt that there has been a significant reduction in the number of joinable females in his state since the drought set in, Marc Greening, principal of Injemira Herefords in NSW said demand for bulls this spring would inevitably be lower.
He thought most NSW stud breeders selling bulls in coming months were now resigned to the fact that catalogue offerings would need to be reduced, to better align with levels of demand.
"But I wouldn't expect to see a significant reduction in average price," he said. "Buyers will just be more selective."
Reducing the number of bulls offered in each catalogue would also serve to lift the average quality of bulls on offer, he said, because breeders would cull a percentage from the tail of the crop.
"There will inevitably be some bargains out there in a year like this, but once buyers start chasing bulls because they are bargains, they generally lose focus on their breeding direction and goals," Mr Greening said.
"Despite the drought, the better producers will likely stick to their chosen bull suppliers, and selection parameters. For those bulls meeting those parameters, I don't think there will be a big reduction in price."
Average prices could decline
GDL Queensland stud stock manager Harvey Weyman-Jones made a prediction a couple of months ago that average prices for bulls in his region would be back about 10pc this year due to the general decline in cattle prices, but now expects that to be a little larger, given where the season has trended. "It's a great shame, but quality breeding females are going to the meatworks in some regions," he said.
"As a result sale clearance rates could decline to around 70-80pc this year – back to where were we in the dry 2013-14 years."
"We're obviously talking with our bull breeder clients, and urging them not to over-do the numbers, for obvious reasons. It's important this year that breeders try to match supply to demand, which will help underpin competition. There's nothing worse than having too many bulls passed in, no bid, or a heap of bulls with a single bid."
Two or three inches of rain across large parts of eastern Australia before sales commence would help restore a more 'positive attitude,' Mr Weyman-Jones said.
He anticipates must bull breeders (in Queensland, at least) would maintain a $4000 upset price for this year's sales, despite the circumstances. "Anybody who wants a herd bull replacement should be prepared to pay a minimum of $4000," he said. "You're not going to sell any more this year if the starter price is dropped to $3000 or $3500 – it will just drag out the sale process. And breeders inevitably keep the best bulls from their calf crop for their auction sales."
"We found last year that those $4000 and $5000 bulls were harder to sell than the $8000-$9000 bulls, because commercial breeders these days are prepared to pay for quality and see the value in them."
The Agro multi-breed sale at Emerald at the end of June (seven breeds, 175 bulls) could provide a good early pointer to northern bull sale trends this year, Mr Weyman Jones said. More favourable seasonal conditions in the Central Highlands area could help underpin that sale.
Adjusting numbers
Angus Australia's Christian Duff said seedstock breeders across all breeds would be thinking about bull numbers this year, adjusting accordingly based on local conditions and how many cows their clients had.
"Having said that, we've had some early Angus sales recently, before the peak of sales later in August-September, that have gone reasonably well – producing good clearances and averages, despite the season."
Those sales, including Speriby North at Tenterfield, NSW, weren't as high as last year, but still averaged close to $10,000 for 53 bulls.
"Despite how dry it is, it still reflects some confidence in the market – it will only take a bit of rain and things can turn around pretty quickly," Mr Duff said.
"Bulls with high performance genetics that are in demand will continue to sell well, even in a year like this," he said.
Angus Australia has identified 111 Angus bull sales being held across Australia between now and October, with numbers peaking in August (44) and July (29). Roughly two thirds of all Angus bulls sold are in spring sales rather than autumn, the breed estimates.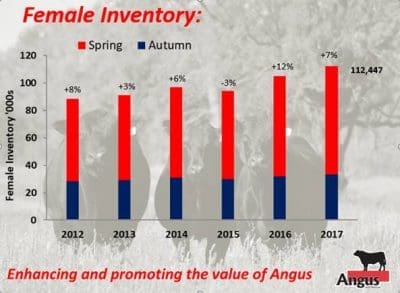 The breed continues to grow, in terms of 'active' (breeding age) female registrations on the Angus Australia cow inventory, suggesting potential bull numbers are also continuing to expand.
Last year there were 112,447 registered Angus females on the database, up 7pc from the year before, and 19pc higher than the 2015 year. With the exception of 2015, female registrations of Angus have been growing year on year for the past decade or more.
"In these years where there are less cows, buyers still need bulls – they will just be a little more selective, doing their homework and picking at the top end," Mr Duff said. "Those studs with the genetics that the commercial buyers want will fare best, and it happens every time climatic conditions like this set in."
Early sales belie conditions
Graham Winnell, commercial business manager with Shorthorn Beef, said if the season has not broken before the start of the bulk of the spring bull selling period, the drought would inevitably have an impact on volume and averages for bulls sold this year.
"Reduction in breeding cow numbers will be a much bigger factor in a couple of months, unless things change," he said.
While some Shorthorn bull breeders would this year 'cut their cloth' to suit buyer demand, this year could represent an outstanding opportunity for commercial buyers to upgrade their genetics, Mr Winnell said.
"Embracing carcase quality is an industry-wide trend, and this year may well be an attractive year, price wise, for commercial breeders to shift genetics in that direction. It's very easy to talk things down when it is so dry, but doing that may mean missing an opportunity."
"We can't dodge the fact that there's a drought, but it will rain, and those cattle will then have value. People have to think beyond the drought with conceptions."
Mr Winnell said the Dubbo National Shorthorn Sale held last week had gone particularly well, given the conditions. The sale produced a 73 percent clearance and averaged $6800 for 91 bulls, with a top price of $40,000. That came despite a larger catalogue of bulls on offer this year.
"Given the way things are looking, season wise, and earlier results, it was a very strong result, underpinned by commercial buyers. We were very pleased," he said.
The bulk of the NSW and Queensland Shorthorn bull sales will take place during August, and into September.
Broader client base to spread exposure
Tamworth based breeding and genetics consultant Alister Rayner said it was hard to escape the impact of the drought on bull sale prospects this year.
For studs with a client base across a broader geographic area, they might fare better this year than those serving a local clientele, who might be more exposed to drought impact.
"For people doing it tough, it's possible they may try to get an extra year out of the bulls they currently have," he said. "There could be a lot of tire-kickers at sales this year. But equally, trade-in value on old bulls with some weight is still pretty good, so others might use this as a chance to refresh."
Mr Rayner said if this drought followed previous trends, some of the larger bull breeding operations would reduce their offerings before sale time, to compensate for lower demand.
"Northern Beef Week may provide a few cues. If there is a suppressed level of interest from prospective buyers and people stay at home because they are feeding cattle, it may prompt some seedstock people to change their spring bull offerings a little. Some may look at more private treaty and paddock sales, to minimise costs."
"The sales activity around here does not kick off for another four weeks or so, so there is still time to make adjustments."
Mr Rayner said he was 'inevitably wrong' when he tried to predict trends in popularity in yearling bulls, but while there was a fair level of interest in them, numbers did not appear to be growing.
"It could be a story about price this year. Yearling bulls will likely be cheaper than two-year-olds, so they may find support for that reason. People might be looking at what they can afford to spend, after recent fodder bills, and yearlings might be a more affordable option, for some."
2018 spring bull sales database
Beef Central is currently pulling together its comprehensive, searchable national database for 2018 spring bull sales. Many sales are already uploaded, but it would pay for seedstock breeders to check the list, accessible here, and use this advice form to provide us with any details we may have overlooked. Editor.