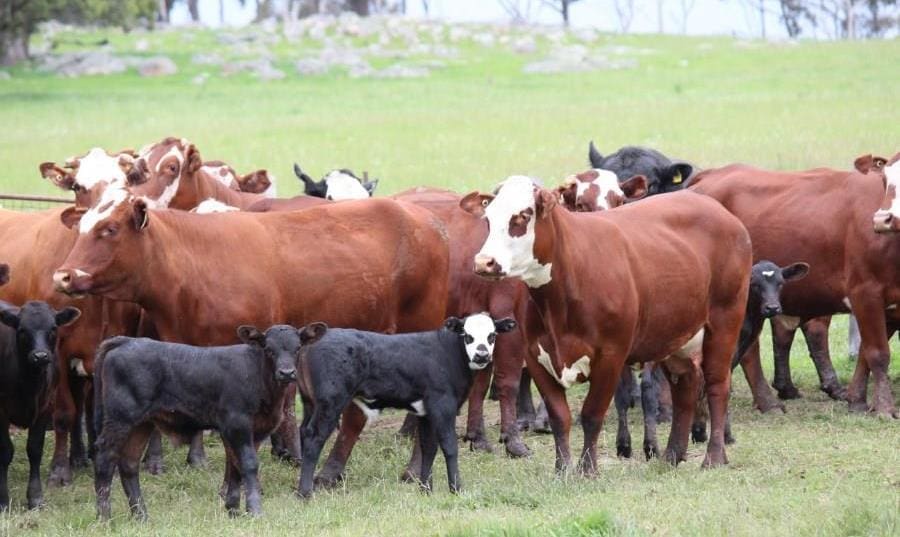 MAKING selection decisions within a cow herd is often driven by phenotype in combination with observations and herd performance records.
For many producers, udders are a key physical selection trait. Some new research from the US suggests the importance of udder shape may be over-stated, resulting in unnecessary culling of otherwise productive females.
The US research was conducted in Nebraska over a five year period.  Assessing more than 2000 crossbred cows at weaning, each female was assigned an udder score based on both udder and teat shape.
Low score udders of 1 and 2 were the result of poorly-shaped teats, or udders that were more pendulous.  Higher scores 3–5 reflected well-shaped symmetrical teats, and balanced tight udders.
Within the research, modeling was used with data to evaluate the impact udder score had on both cow performance as well as pre-weaning calf growth and post-weaning performance. The project showed no significant difference in key areas such as pregnancy rate, birth weight and 200 day weights.
Prior to feedlot entry, the progeny were assessed for growth rate and feedlot entry weights. Again, there were no significant differences between calves raised by cows with low udder scores compared to those with better udders.
It was noted that poorly-shaped teats did have an impact on a calf's ability to suckle. In attempting to identify why no statistical difference was found in weaning weights between calves from either group, the research discussion suggested calves that found difficulty suckling might increase their intake of pasture to meet their nutritional requirements.
From a practical aspect, the study suggested that culling cows from a herd on udder and teat shape may not be as important, given the similarities in calf performance.
Australian context
In the Australian breeding context, the results of the study are probably worth considering. Without doubt udder conformation and teat shape should be a factor in assessing cows, however it's probably only part of the overall story. Ultimately cow productivity, particularly kilograms of beef produced per hectare, should be the driver behind selection.
An objective approach to selection should attempt to draw on data that includes fertility levels, including both pregnancy rates and weaning rates.  I generally feel weaning weight is an important source of data to consider. However this needs some context as well.
There are questions such as calf age at weaning, age of the cow and the genetic selection decisions that were made prior to joining. It tends to be more likely that more effective decisions on selection can be made with this data than on one or two visually observed traits.
Poor weights at weaning may well be more attributable to the genetic decisions made prior to joining and the past history of the sires used within a cow herd.
Working with a number of clients in several states, I've seen how this data is often not as readily considered in the yards when cows are being drafted. As a result, cows that physically look sound and have a calf at drafting may be retained in the herd, even if the calf falls well below the herd's average production levels.
While cows that look less attractive and have the more pendulous udders are penalised and removed. This has the potential to slow-down improvement across the herd, and may reward less productive cows.
I strongly recommend to my clients ahead of selection to draw up lists of cows on performance to use as a drafting guide. This allows the flexibility to remove cows for obvious physical abnormalities, temperament or other faults. However the general trend is to identify and retain the most productive breeding females.
From a profitability perspective, increased or unnecessary culling increases replacement rates and reduces the number of surplus females that can be offered to the market, often for more value than what is on offer for older cows.
Herd age structure is also an important consideration. Older cows within a herd are likely to see udder scores gradually decrease. If there is no significant change within the herd fertility levels and weaning rates, this change may not be an issue. Greater concerns may be with other physical traits such as teeth, eyes and feet.
I generally place greater scrutiny on younger herd members, and replacement heifer groups. Those animals that have low udder scores should be a primary focus.
It is inevitable that as these females age, udders will become more pendulous and more likely to be exposed to damage or health problems. This is where early selection on udder and teats are likely to be the most beneficial for a herd's future productivity.
Alastair Rayner is the Principal of RaynerAg, an agricultural advisory service based in NSW.  He regularly attends bull sales to support client purchases and undertakes pre sale selections and classifications.  He can be contacted here or through his website www.raynerag.com.au