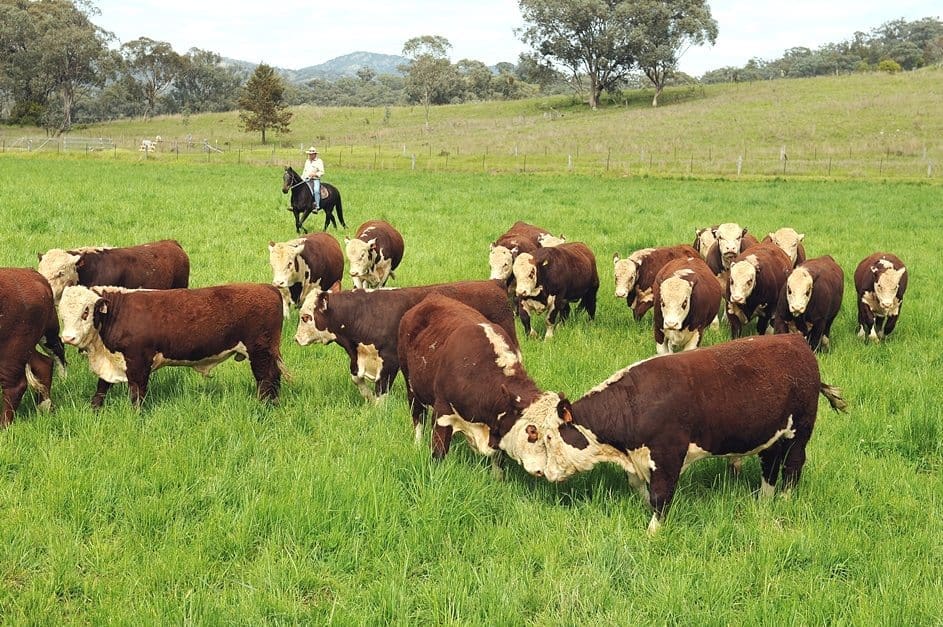 AS AN advisor attending many bull sales each year, there is a common issue I frequently observe among bull purchases, and bull purchasers.
The issue is a plan for what to do with the bull (or bulls), in the period of time between purchase and joining. I think many people are so focused on the process of buying a bull that they often overlook a plan for bringing their new addition home and introducing him successfully.
With the Spring bull sales now well underway, it's worth taking the time to revisit this part of the bull purchasing program.
Plan to protect the investment
Given that most commercial cattle producers will be spending on average $5500 to $6000 per bull this year, having a plan to protect that investment should be a priority for all buyers.
While many producers appreciate that from the fall of the hammer, that bull becomes their property, it's not uncommon to see a look of "what do I do now" pass across some people's faces.
It is definitely worth insuring your purchases, particularly ahead of transporting home. The vendors and their agents generally can arrange insurance at settlement. Even if you are using your own truck to bring your bulls home, you should consider the option.
At a sale there are producers who have come prepared to bring bulls home in their own trucks. The majority of purchasers arrange transport through the assistance of the vendor and agents.
Regardless of the method chosen, some common considerations apply. Firstly, buyers need to know which bulls can be mixed together. Even though bulls may have been purchased from the same vendor and sale, some bulls should be kept apart.
Bulls purchased from multi-vendor sales, or as part of a larger order should be loaded separately. It is equally important to avoid loading and unloading as much as possible.
When arranging transport, it is the responsibility of the owner to discuss with the carrier what the planned resting times and expected arrival times are, and how the animals should be handled.
Talk to the vendor
Post-sale, it can be very useful to talk with the vendor about your particular purchase.
While most catalogues will outline the health treatments, and general handling the bull has been exposed to, each bull has its own personality. It's worth checking to see if there are any behaviours or history to consider to make the transition into your program more manageable for you and the bull.
Minimising stress
As part of the preparation for sale, bulls will have been run as part of a larger group.  It's essential to remember that the sale process, transport and unloading in a new location are extremely high causes of stress on a bull. Being removed from a familiar group of animals and held alone will increase the level of stress your bull experiences, and this can cause the bull to be unsettled or poorly behaved.
A proven method of reducing this stress level is to provide a new bull with company in the form of several steers. It is not recommended that new bulls be unloaded and kept in a new group in the yards. There is a high risk when unloading bulls into a single yard of fighting and injury, as well as damage to gates and panels.
It will take several days for new bulls to relax into their new environment and adjust to new feed and water. I often find its better to give new bulls at least 10 days with their group of steers in a small paddock, without undertaking anything more intrusive than a daily visit and perhaps providing some hay or feed to increase the new bulls' familiarity with their new owners and location.
The pre-sale information will provide an outline of the health treatments that bulls have received prior to the sale. Additional information such as booster dates or other treatments should be requested post sale along with the bulls' general history.
This information can determine if the bulls need to be bought into the yards and handled closely in their first few weeks on the new property. If handling is required, it is generally best to keep the bull with the small group of steers for the first time through the yards. It does help to ease the stress on the new animal if it can learn from its companions as it moves through the yards.
Re-setting the social order
Ahead of joining, it is generally not recommended to introduce new bulls into the existing bull group. Producers who have done this often find significant injuries within the group as a result of fighting. Those injuries are not restricted to the new arrivals.  Often older dominant bulls are prone to injury as much as newer ones.
In any case the process of re-setting a group's social order can be extremely unsettling and stressful. This can have an impact on bulls that may impact on joining, if that period closely follows purchase of new bulls.
New bulls can be introduced to each other as a management group, however it's important to do this in a reasonable sized paddock. This will allow bulls some space to get away from each other as they sort out their social structure.
In the lead-up to joining, it's important to keep checking on your new bull. Bulls that have failed to adjust to the new conditions may not be able to meet expectations for joining. So close monitoring can be essential to re-define joining plans, as well as re-adjusting management plans to keep your new bull on track.
Alastair Rayner is the Principal of RaynerAg, an agricultural advisory service based in NSW.  He regularly attends bull sales to support client purchases and undertakes pre-sale selections and classifications. He can be contacted here or through his website www.raynerag.com.au