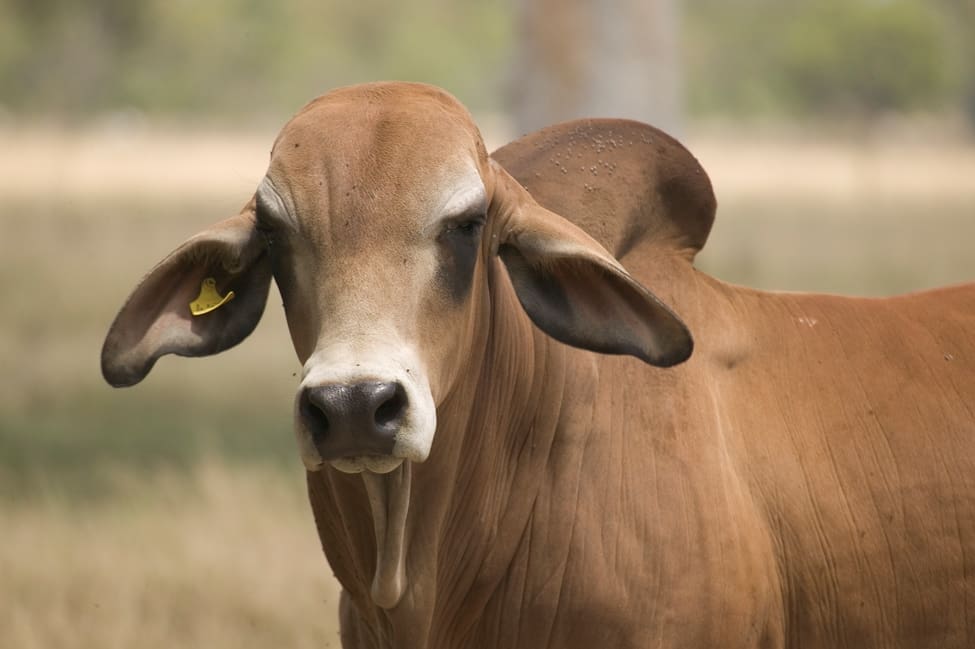 RESULTS from bull sales in northern Australia this spring suggest there is strong demand from both stud and commercial breeders for polled animals, provided they meet all other buyer requirements with regard to growth, muscling and structure.
The demand for polls appears to be due to a combination of concern about animal welfare implications with regard to dehorning, along with the labour savings and workplace safety implications in not having to dehorn cattle at young ages.
Leading the way for polled Droughtmaster bulls this year were the two top priced bulls in the record-breaking Glenlands bull sale last month. The top priced bull, Glenlands D Winchester sold to Ken Mutton and family, Wickepin, WA for $80,000 was a polled bull and the second top, Glenlands Warlord at $47,500, was also polled.
There was a similar outcome in the Clonlara Droughtmaster sale with the $40,000 top priced bull, Clonlara 17210, sold to David and Colleen Smith, Vale View Droughtmasters, Goomeri being a poll.
An exception to the trend was the top priced bull at the Droughtmaster National Sale with the $55,000 top priced bull, Minlacowie Vince, being a horned bull. The D2 bull was by a polled Brahman sire from a polled Milacowie cow.
The next three top prices in the Droughtmaster National, Bryvonlea Rolleston (P) at $52,500, and Garthowen Yeoman 4 (P) and Oasis Iron Jack, both at $46,000, were all polled.
The Droughtmaster breed has the highest level of polledness of Australia's three major tropical breeds, with an estimated 75 percent of fully registered calves born in 2016 being polled. Over 80 percent of the bulls offered in the recent Droughtmaster National Sale were catalogued as polled.
Droughtmaster polledness traces back to Poll Shorthorn heritage
The high percentage of polled cattle in the Droughtmaster breed today stemmed from a strong predominance of polled genes derived from the original Shorthorn cattle used to develop the Droughtmaster breed, Droughtmaster Australia chief executive officer, Neil Donaldson said.
"Droughtmaster breeders have, throughout the last 70 odd years, continued to select for polledness," he said.
"Commercial Droughtmaster breeders certainly seem to prefer to buy polled bulls, particularly in more recent times. A horned bull needs to be outstanding to achieve the same price as that paid for a polled animal."
However, a number of stud breeders were not using polledness as one of their primary selection criteria, preferring to give higher priority to other production traits which saw them retaining some horned bulls generating a wider genetic pool, Mr Donaldson said.
Santas follow trend
The top priced bulls from the Santa Gertrudis breed this Spring also indicated a preference for polled cattle among stud breeders.
Leading the way was the polled Waco Napoleon N80 (P) sold in the Yarrawonga Waco sale for $82,500 to Craig Hindle, Bullamakinka stud, North Bungunyah.
Dangarfield Anzac, also a polled bull, sold in the Dangarfield annual sale for $72,500 to by Greg Kroll of Oakdale Santa Gertrudis, Chinchilla. Another polled bull, Glenn Oaks M81 topped the Santa Central Sale at $60,000 selling to selling to Scott and Rebecca Dunlop, Dunlop stud, Proston.
The Greenup family's Rosevale sale also had success with polled bulls with their two top priced bulls carrying the trait. Rosevale Ned Kelly N28 sold to Rick and Alice Greenup, Greenup Eidsvold Santa stud, Eidsvold for $47,500 was a homozygous poll. Rosevale Kevlar N280 sold to Shaun and Jo McGuigan, Cree Santa Stud, Thangool, for $43,000.
Santa Gertrudis field director Russell Gray said there had been a big move to polledness in the Santa breed over the last 10 years, with the proportion of polled animals being classified now over 60 percent.
"Across the board, there is a clear price premium for polled bulls over horned bulls," Mr Gray said.
General manager of the Santa Gertrudis Breeders, Stephen Ware, said there was definitely increasing demand from commercial Santa breeders for polled sires because the industry did not know what the future might bring with regard to welfare regulations, with regard to dehorning of animals.
However there are some breeders who preferred to breed horned cattle, he said.
Growing percentage of Polled Brahman calves
The top priced bull at $100,000 in last week's Rockhampton Brahman Week Sale was the polled bull, Clukan Axel 333/7 (P) purchased by Ron, Grace and Kelvin Harriman, GI Brahmans, Muttaburra.
However the next highest-priced grey bulls at $72,500 were both horned animals, showing that Brahman breeders were prepared to pay good money for horned bulls, if they were the right article.
They were Brahrock Ashley Sir Brandon (D) sold to Stewart and Tom Nobbs, Yoman Brahmans, Moura and Carinya Chevy (H) sold for the same money to Lee Scott, Ruan Grazing, Clermont.
The top priced red Brahman was polled Muan A Sundown 5561 (P) which sold for $95,000 to Peter and Len Gibbs, Gibbs Farming Co, Biggenden. Next at $80,000 was Kandoona 14031a horned bull sold to Robert and Clayton Curley, Gipsy Plains, Cloncurry.
The proportion of registered Brahman calves which are polled has increased from 13.6pc in 2006 to 23pc in 2016, indicating an increasing selection trend towards polledness in the breed.
General manager of the Australian Brahman Breeders Association, Anastasia Fanning, said there was definitely a premium being seen for polled bulls from seedstock producers, provided they were the right article with good bone, good muscling including strong figures for eye muscle area, scrotal circumference and moderate in fat.
"There is also demand from commercial breeders for polled animals, but they will not sacrifice good bone and muscling for polledness," Ms Fanning said.
"More Brahman breeders are testing their polled animals to check if they are homozygous polled, but they do get frustrated if they get a 'No Result' from the DNA testing," she said.
"It is great to hear that Neogen Australasia has a research project underway to reduce or eliminate the number of indeterminate results," Ms Fanning said.
"There are a lot of well-informed commercial breeders that understand the difference between homozygous and heterozygous polled animals. They also understand that a scurred/polled bull can produce polled progeny, and in particular, clean polled females progeny," she said.