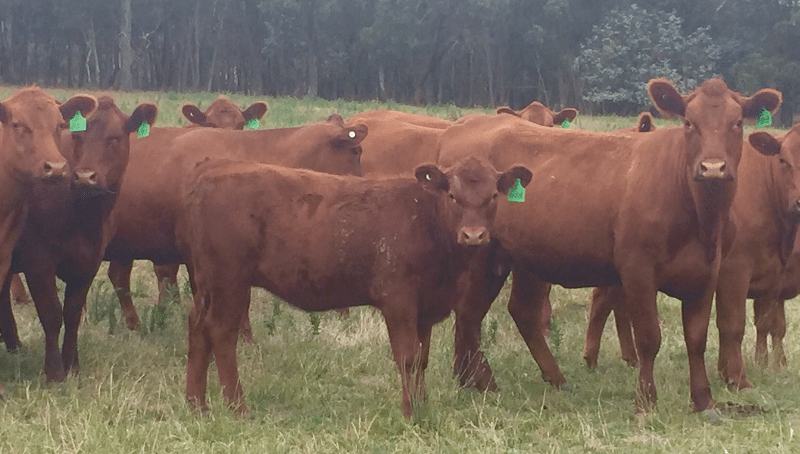 WITHIN breeding herds, the most difficult group to manage for successful rejoining tends to be the first-calf heifer portion.
There are many reasons for this, particularly if heifers are calved as two-year-olds.
Typically these heifers experience a number of issues that have a cumulative impact on their ability to successfully re-join. Common issues include weight loss as a result of milk production, reduced intake as they break teeth and adjust to caring for a new calf, as well as the stress of competition for supplements that may be on offer.
Body condition has a direct correlation with the time it takes for a female to recover from calving and commence recycling. And while in average fat score of 3, this period is around 50 days, in first-calf heifers this time period may actually be closer to 60 days. This time is largely due to these cumulative effects.
Although management strategies can include calving heifers ahead of the main cow group, there are other targets producers can consider.
CRC project delivers tools
The Maternal Productivity Project conducted as part of the last CRC for Beef Genetics highlighted some valuable tools that producers could consider as part of their heifer management program, and in the longer-term use these tools as part of their genetic selection decisions.
As part of the project, more than 400 Angus heifers were joining and calved. These heifers were rejoined for either 6 or 9 weeks with some interesting trends to emerge:
The work identifies that fat score alone is not the only target for producers to manage.  Weight is also a key requirement. Optimal re-conception over a 9-week joining is more likely when both weight and fatness are managed correctly.
In a 6-week joining, the challenge for first-calf heifers is even greater. High pregnancy rates become more difficult to achieve without a high level of weight and fatness.
For producers, setting objective targets for heifer weights and fatness is only part of the management equation. Longer-term selection decisions, particularly on fertility traits can also have a significant influence on the re-joining success of first calf heifers.
The Days to Calving EBV was shown to be the most important EBV impacting heifer conception rate.  More negative DTC EBVs are more favourable to re-conception, as shown in the graph below:
While many producers have focussed on Birth Weight and Calving Ease EBVs, the Days to Calving EBV is often overlooked in selection decisions. The Maternal Productivity project results strongly suggest that producers, particularly those anxious about their first-calf heifers, include DTC as part of their selection traits.
In addition to these traits, emphasis on rib fatness EBVs should also be included.  This will help producers attempting to meet their weight and fatness objectives as previously highlighted. Selections for genetically low-fat heifers resulted in lower conception rates and slightly lower subsequent reproduction than genetically high-fat heifers/cows.
The application of these results should offer producers some clear objectives to improve the performance of their first-calf heifer group.
As many producers prepare to re-join their first calf heifers, they should be considering closer monitoring of both weight and fatness. While adjusting time of calving and improving nutrition are extremely effective strategies to improve conception rates, longer-term selection on these identified traits will have a marked effect on herd performance.
Alastair Rayner is the Principal of RaynerAg, an agricultural advisory service based in NSW.  He regularly attends bull sales to support client purchases and undertakes pre sale selections and classifications.  He can be contacted here or through his website www.raynerag.com.au