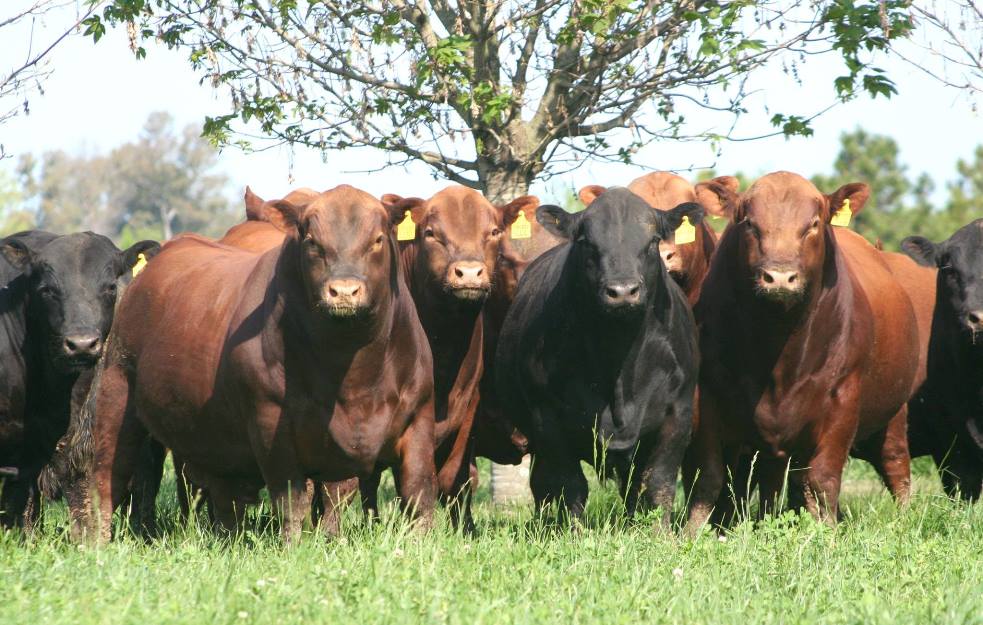 CHANGING a beef herd, or moving it towards a specific goal is not a quick process.  The rate of genetic gain within a herd can be determined by well-proven equations.  This equation is often expressed as:
Gain  =  Accuracy x Intensity
                     divided by
            Generational interval
How quickly new genetics enter a herd and how much selection pressure is placed on existing breeders is the one of the greatest variables when discussing genetic improvement.
On a purely practical level, producers have control over their ability to place selection pressure on breeders, particularly through the use of on-farm data to identify those animals that fail to display traits or production levels that matter to the overall goals of a program.
In many cases, the selection of breeders against these defined parameters not only assists in making significant improvements to the herd, it will also help define the sires that are most suited to a program.
This leads to the second consideration, which is to identify and use those sires that display high levels of accuracy for genetic potential against the traits that matter.
Often the challenge underlying this selection is not finding the sires with high levels of genetic accuracy. This can be done through searching the various breeds' databases on Breedplan. The search feature allows a user to define their parameters and create lists of sires that will meet their genetic goals.
The underlying challenge falls in finding and developing a relationship with breeders who can provide those bulls.
At the recent MLA Livestock Advisor Updates, Tom Granleese from the University of New England highlighted the rates of change that producers can expect when they select a sire team above a genetic benchmark.
For herds that have not had either a high level of selection pressure placed on the breeders, or used sires with high genetic accuracies, the rate of improvement over the first three years can be significant.
Over time with improved use of selection in-herd, combined with use of better placed sires, the rate of improvement does gradually slow.  It tends to replicate the rate of improvement that exists from the seedstock herd where bulls are sourced.
The rate at which a commercial breeder's genetic progress follows the bull breeder is determined by the replacement rate within the herd.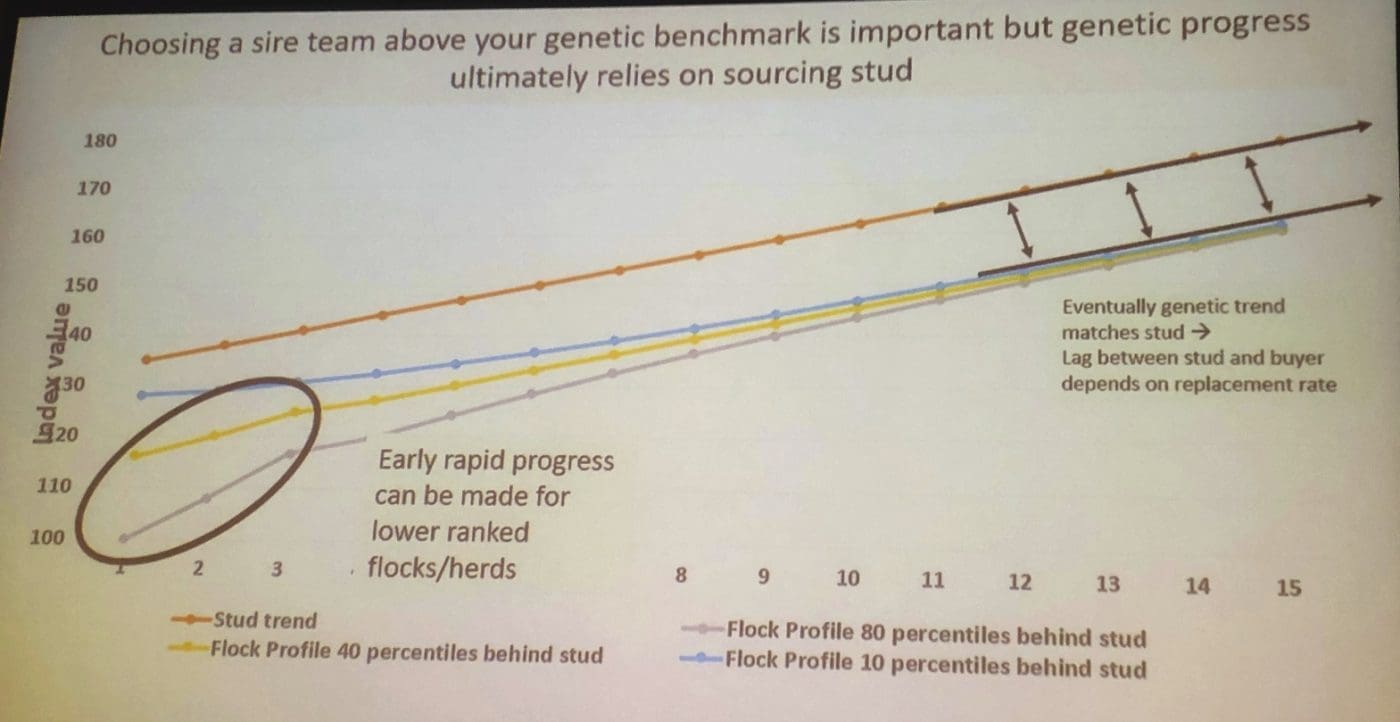 From a commercial perspective, the message for producers seeking to achieve greater genetic progress in their herds is not to overlook the importance of the source of new genetics.
The progress that a seedstock producer makes in their herd will be reflected in commercial herds.
Several years ago at a breeding workshop, Jim Gunn, principal of Sevenbardot Poll Herefords, provided some advice on bull selection. One of his key points was to choose a bull breeder who is 'going forward.'
"If your breeder is going nowhere, you'll go nowhere with them," he warned.
This clearly is the practical application of making genetic gain at a commercial level. Commercial producers should be very clear about their long-term production and breeding goals. In setting these goals, it will be much easier to both find the sires with the genetics required, and identify breeders who want to be engaged and help their clients achieve progress.
From a seedstock producer's perspective, these relationships are essential. Some of the strongest bull sales during this difficult year have been a result of well-developed relationships between the bull breeder and their long-term clients.
There appears to be a high level of trust and engagement in the commercial outcomes that producers have experienced.
Building a relationship offers bull breeders the long-term opportunity to provide and sell genetics that are valued commercially. While for commercial producers, investing and working with a breeder who shares a common sense of direction will ultimately result in a genetically stronger and ultimately more productive herd.
Choosing a breeder and maintaining a relationship is essential if progress is to be effective.
'Rotating' bull breeders
There are many commercial beef producers who rotate their bull breeders. This can have the impact of slowing down progress or failing to build the trust and engagement that can help secure bulls that are best suited to a program.
While harder to measure, the relationship between breeder and commercial operator is possibly just as important to making effective genetic gains in our beef herd.
Alastair Rayner is the Principal of RaynerAg, an agricultural advisory service based in NSW.  He regularly attends bull sales to support client purchases and undertakes pre sale selections and classifications.  He can be contacted here or through his website www.raynerag.com.au