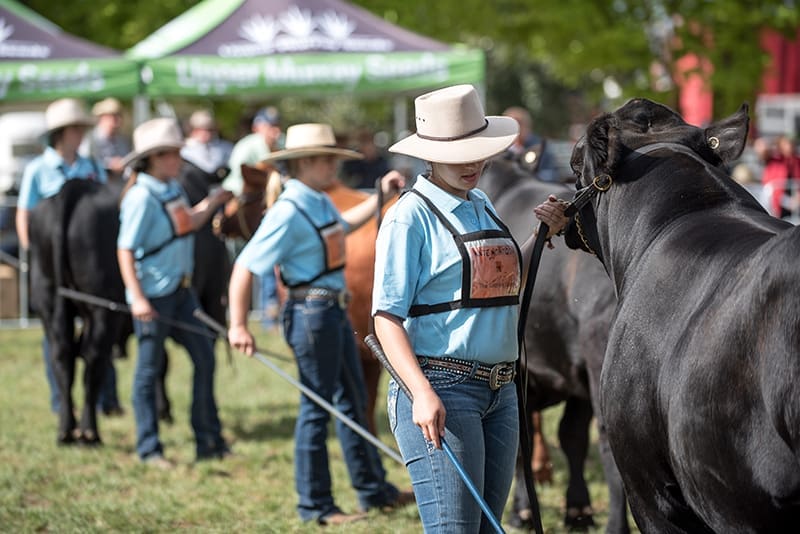 ONE of the most significant changes across the Australian beef industry has been the greater focus on market end points. Ultimately this has led to more precise joinings using more accurate genetic descriptions in order to tailor calves to meet market specifications.
This increase has seen greater commercial pull-through for sires with genetic information in order to make those joining decisions.
While genetic information is often readily available in larger and more established seedstock programs, smaller operations often struggle to provide the same information. Many smaller operations remain unsure how to make the transition to performance recording, and as result find their potential client-base more limited than it should be.
Perhaps the greatest impediments to smaller operations undertaking performance recording is not necessarily size. It is often a mindset that the herd is too small to matter.
In reality data collection should be more straight forward in a smaller program simply due to the fact it is easier to measure and observe all the animals. In practice, smaller operations are more than capable of undertaking performance recording by undertaking a few simple strategies.
There are two basic principles that underpin performance recording for Breedplan that apply to any herd, regardless of their actual size: the creation of contemporary groups, and identifying genetic linkages. In small herds the challenge is to maximise the size of contemporary groups, and also to make as many genetic linkages as possible within a herd.  If possible it is ideal to make linkages to other herds as well.
The issue of contemporary groups often is a concern for smaller breeders, who worry their numbers are prohibitive of running multiple groups. However, this is often a misconception as the reality of a contemporary group is best described as being cattle that are from the same herd, that are of similar age and are run under the same conditions in order to give every individual the same change to perform. This is something every small herd could manage.
Practically, seedstock producers can form contemporary groups with animals as long as they were bred in the same herd and are the same sex. Obviously, the calves need to be born in the same year, and should be the same birth status, which means that ET calves would not be compared to AI or natural born calves.
While twins are not always that common, it is important to remember that twins wouldn't be compared to single born calves.
While these are fairly straightforward considerations, there are other factors relating to herd management which can impact on the creation of a contemporary group. If a producer wanted to record traits such as birth weight and 200 day weights, calves must be born within 45 days of each other. If 400 and 600 day weight as well as scrotal size were to be analysed, the calving needs to be within a 60 day period. This obviously requires a greater focus on cow herd management and ensuring a much tighter joining period in order to create and record data for Breedplan analysis.
I often find most operators of seedstock operations can manage these requirements. The key management challenge is to ensure that the individuals all have the same opportunity to perform. This means no special favorites in a show team or to have a common feeding program across the group.
Creating linkages
Creating linkages is the other key requirement to effective performance recording.  Linkages allow comparison between different contemporary groups.  In larger herds this can occur within the program, however in smaller herds where only one or two contemporary groups may exist, it's imperative to find a linkage to other herds.
In practice this means that an analysis between contemporary groups requires each contemporary group in a program to have performance recorded progeny from common animals. In most cases this tends to be a common sire.
While in a large herd this is the more normal approach, smaller herds with only a single contemporary group really need to ensure they have a sire that can be linked to other herds.  The challenge is many small herds use only one sire, and without considering if that bull is used other herds, the opportunity for linkage won't occur.
From a management perspective, these two fundamentals can generally be accommodated in smaller herds. When working with smaller seedstock operations I look to focus on the strategies that can underpin the creation of both genetic linkages and easily managed contemporary groups.
One of the more effective strategies is to work to maintain a six to eight week calving across the herd. As many smaller operations will only have one group to manage, this tighter calving ensures calves will be born within a window to allow recording of key growth traits.
Larger herds with longer calving periods can always operate more than one contemporary group, but this is impractical in small herds, so fertility management and tight calving is paramount to success.
Other practical strategies for management include running all the calves born in the season under the same management conditions. There are breeders who do want to run steers separate to bulls when they have room, so in these circumstances it is actually best to weigh the whole group before drafting them off into separate groups.
A key tip which also can be overlooked is to actually record all animals on the same day.  With smaller herds this should be more easily managed than larger herds operating more than one contemporary group.
Another option that is also often not considered is to make use of the opportunity to include commercial animals within a contemporary group. For many herds with commercial animals of the same breed, these can be recorded by the relevant breed society. This increases the numbers in the contemporary group and helps improve the value of the data collected.
While there is always the temptation to use a single sire in small herds, using two sires can actually increase the effectiveness of the later data analysis.
The differences between progeny in the contemporary group can be compared and this leads to better accuracy in the herds EBVs. Choosing sires that have been used in other herds, particularly those in Breedplan is a key consideration as well as improving genetic linkages to aid in later analysis.
A further simple option for smaller herds seeking to improve their genetic linkages is to use sires across years rather than replacing all sires every year. In herds with one sire, this is especially important. Retaining a key sire over a couple of years allows across year comparison which again increases the value of the analysis.
Ultimately small herds can participate in performance recording as effectively as any larger operation. Looking for the opportunities to manage a herd to make data capture useful for analysis also ensures a herd operates in a more efficient manner overall.
More significantly, performance data allows an operation – of any size – to provide clients with greater certainty of the genetic suitability of animals to meet production and market goals.
Alastair Rayner is the Principal of RaynerAg, an agricultural advisory service based in NSW.  He regularly attends bull sales to support client purchases and undertakes pre sale selections and classifications.  He can be contacted here or through his website www.raynerag.com.au