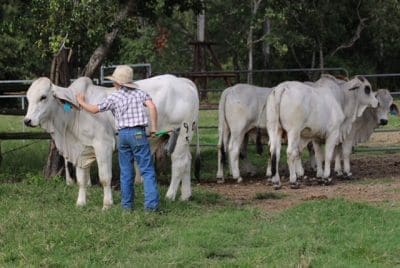 A SURVEY of northern commercial beef producers commissioned by Meat & Livestock Australia found that 20 percent of respondents listed temperament as the major cause for culling bulls, after age.
Poor temperament in cattle has many downsides, but these are easily remedied through a combination of the correct genetics and better management, according to MLA's genetics programs manager Hamish Chandler.
Mr Chandler has been responsible for the sheep and cattle genetic areas for the past 12 months.
"Not only are quiet animals easier and safer to handle, but they also produce meat with better eating quality," he said.
Much cattle work in the north is in remote and isolated situations and in the south single person operations are prevalent. In both areas, accidents can be catastrophic.
Most seedstock producers now consider temperament as a critical component of their bull offerings. Demand drops dramatically when bulls demonstrate any stirry characteristics.
Photographs from the recent multi-vendor Brahman and Droughtmaster sales in Queensland depict unled docile bulls standing quietly adjacent to smiling vendors and buyers. These are the bulls that brought the top prices.
"Temperament is highly heritable, so cattle carrying the correct genetics and managed appropriately make the most improvement in the temperament area," Mr Chandler said.
Seven breeds support temperament EBVs
There are currently seven beef breeds reporting Estimated Breeding Values (EBVs) for temperament.
Limousin was the first to record docility scores in 1995 in response to the breed's earlier reputation. Led by the then Limousin CEO Alex McDonald, the recording of temperament traits, development of temperament EBVs and stringent selection were critical factors in dramatically normalising the breed's temperament traits, and it is rarely if ever discussed today.
Angus, Hereford and Simmental (as a trial) report docility EBVs while Belmont Red, Brahman and Santa Gertrudis report flight-time EBVs.
The British and European breeds generate temperament data by observing behaviour in crushes and while cattle are isolated in yards.
In both cases, higher temperament EBVs means bulls have a lot higher probability of having progeny with a more acceptable temperament.
Mr Chandler said there was a large amount of genetic variation within each of the cattle breeds. For example in Limousins, there is a 73 percent difference in temperament score between the highest 1pc of the breed, and the lowest 1pc.
"This means that one bull could be expected to have 36.5pc more of his progeny with good temperament scores when compared with another bull. Similar variation can be found in other breeds," he said.
Mr Chandler said selecting for improved temperament led to better welfare outcomes for animals, lower occupational health and safety risks for livestock handlers and improved animal performance, particularly in feedlots.
"It also means reduced losses in the processing plant from dark-cutting and bruising, and an improvement in eating quality for consumers – although selecting directly for lower shear-force would be a more direct way of influencing tenderness," he said.
"Temperament is like any other trait, in that it has a genetic and an environmental component, and is also highly heritable – so selection does lead to genetic improvement."
"Combining this was good livestock handling techniques and yard weaning gives producers the best chance of meeting targets."
"People are paying good money for bulls at present, but as seasonal conditions and commercial cattle prices come under pressure there is a bigger spread between the most desirable bulls and others. But there is no reason for commercial produces to have to put up with animals of poor temperament," Mr Chandler said.
Two injured by bull at Rockhampton sale
Two people were hospitalised earlier today after injuries sustained at Queensland's Rockhampton Brangus Sale at Gracemere. An ambulance was called to the CQLX selling complex early this afternoon to tend to two people injured by a bull. One man suffered a head injury while another had rib and chest injuries. Both were transported to Rockhampton Base Hospital in a stable condition.