Editor's note: An alternation has been made to the section below (marked with an *) to better describe the statistical chances of being homozygous free, hetrozygous or a homozygous carrier. Thanks to readers for drawing this to our attention.  
INCREASING muscling within a herd does offer producers a financial reward over time.
Over a 25 year time period, NSW Department of Primary Industries data has shown the increased value offered for cattle of the same weight and fatness but displaying heavier muscle volume compared to those with average muscling.
Other significant NSW DPI research demonstrated muscle volume could be increased through ongoing selection within a herd.
While it is possible to select for increased muscle scores, there has been an emerging trend over the past twenty-five years associated with double muscling.
Double muscling is the result of a mutation of a gene known as myostatin. The myostatin gene regulates the development of skeletal muscle mass. When this gene mutates, the myostatin gene becomes inactive, leading to variations of the animal's phenotype and this is often seen as double muscling.
A review of double muscling published in Belgium by Leo Fiems demonstrated that the condition is not necessarily a new issue for cattle production, noting, "Double muscling in cattle has been reported for more than a century. However, due to the difficulties at parturition and the use of caesarean operations to assist calf birth, double muscling was only fully exploited after the Second World War, mainly because of the availability of anaesthesia, antibiotics, and new surgical methods."
Within several cattle breeds there has been at least six versions of myostatin mutations identified.  Known as disruptive genes the (nt821) del 11; Q204X; nt419; E226X; C313Y and E291X are responsible for expressing increased muscularity.
Animals with one form of these genes are known as heterozygous. Those animals with two copies of the gene are homozygous and likely to exhibit double muscling characteristics.
For many producers, double muscled cattle offer the advantage of increasing muscle volume quickly, rather than selecting for muscle over several generations. Many producers are drawn to the opportunity one copy of the myostatin gene offers due to the potential to increase muscle and so improve retail beef yield, without having a negative effect on other production traits.
* However, this is an approach that is not without risk. Without knowledge of the presence of the myostatin genes in a herd, producers could inadvertently create a scenario double muscled calves are a result of joining decisions.  When two carrier animals are mated together, the progeny will have a 25pc chance of being homozygous free, a 50pc chance of being heterozygous and a 25pc chance of being a homozygous carrier or affected.
What is the issue with Double Muscled Cattle?
If increasing muscle volume in a herd is a goal, some producers ask why the presence of the myostatin gene is a risk. There are several producers who are aware of the presence of myostatin within their herds and manage their cows accordingly. This does offer them the advantage of additional red meat and higher yields.
However, when any animal does exhibit double muscling because of the presence of two copies of the gene, producers are often confronted with a range of issues. One of the most significant is the impact doubling muscling has on the reproductive performance of a herd.
The Breedplan review into the relationship between myostatin and calving ease published by M.L Taylor refers to numerous research works highlighting the risk. Some research during the late 1970s identified the increase in calving difficulty in double muscled cows is due to a morphological imbalance between the cow and calf at the time of birth.
Because double muscling effects physical conformation, double muscled cows can have reduced skeletal size, and this can have direct impacts on pelvic size and ease of calving.
While this is a significant issue, the impact of the calf adds to the risk. Double muscled calves have increased width and weight. In cows that are heterozygous (carrier of one copy of the gene) this additional muscle and weight can cause its own problems. However, when a double muscled (homozygous) cow is calving the additional size combined with her smaller pelvic size does create extreme calving difficulties.
The research work conducted in Belgium by Leo Fiems highlighted a range of other issues that are a result of the expression of double muscling.  This includes smaller organ size, and additional pressure on the skeleton.  The work described double muscled cattle as being characterised as also being more susceptible to respiratory disease, lameness, muscle degeneration, and heat stress.
Managing Double Muscling
It is important to recognise that having heavily muscled cattle does not automatically mean the presence of the myostatin gene. It is possible to achieve increased muscling through selection.  However, the presence of myostatin is becoming more common in herds of various breeds across the country.
Over recent years there have been several breeders who have and continue to actively promote the presence of one of the myostatin genes within their herds. Being aware of the presence of these genes allows producers who wish to purchase animals an awareness that they could be introducing the gene to their herd.
Once there are carriers within a herd, producers will need to consider their sire choices, particularly to avoid using a sire who is also heterozygous (a carrier) of the gene.  In using a sire who is not a carrier within a herd where the gene exists would result in progeny born having either a 50pc chance of being homozygous free or 50pc being a heterozygous carrier.
If the bull was joined to a cow which was double muscled, the progeny would have 100pc chance of being a heterozygous carrier. However, that calf would not be a double muscled animal.
The important point for producers seeking to make joining decisions to manage the risk is to understand the genetics within their herd.  It is possible to test for the presence of the disruptive myostatin genes. While many producers may not be able to test their entire breeder group, starting with tests on replacement heifers and new sires is a practical solution.
Most breed societies offer DNA testing, with the test for myostatin starting in the range of $30 – $35, although there are often options to do several tests as a bundle. Producers who are concerned by the risk or the potential for increased losses due to the impact of the gene within their herd may see this as an inexpensive option to choose to avoid more costly long-term losses.
While double muscled animals are a more challenging and potentially less profitable animal for a herd, the widespread presence of myostatin variants does mean producers are likely to encounter animals that may be carriers.
The basis to successful management is knowledge, and producers should seek information on potential new sires or cows ahead of their introduction to a herd. And if they suspect their herd may have carriers, then testing will provide a basis for future joining decisions.
As noted previously, carrier animals do offer advantages, however that advantage is best used with full knowledge of the animal and the limitations associated future breeding decisions.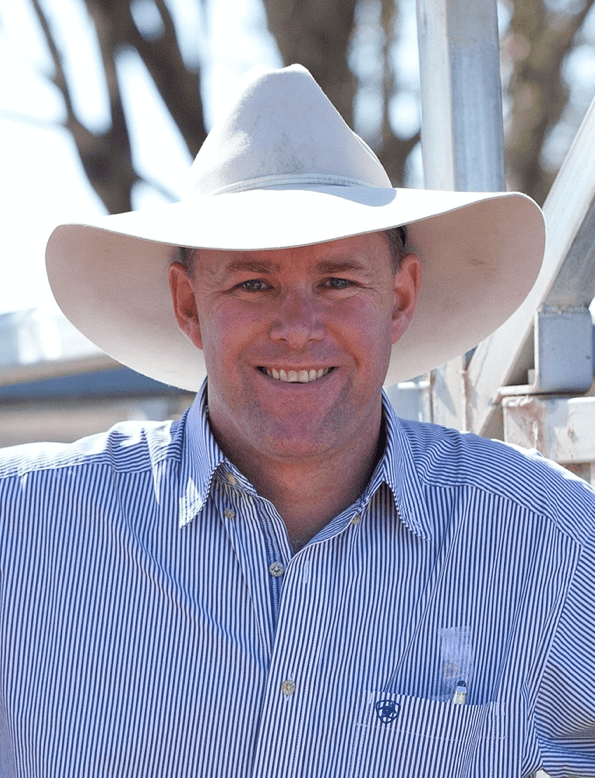 Alastair Rayner is the Principal of RaynerAg, an agricultural advisory service based in NSW.  RaynerAg is affiliated with BJA Stock & Station Agents.  He regularly lists and sell cattle for clients as well attending bull sales to support client purchases.  Alastair provides pre-sale selections and classifications for seedstock producers in NSW, Qld and Victoria.  He can be contacted here or through his website www.raynerag.com.au