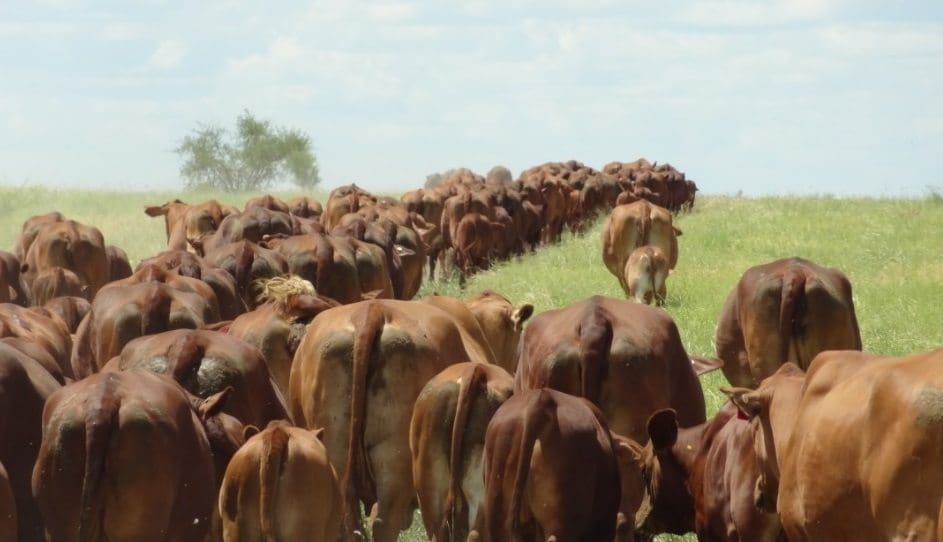 AHEAD of this year's northern spring bull selling season, several additions to the range of EBVs reported for the Droughtmaster breed have recently been released by BreedPlan.
These additional EBVs are a significant enhancement for the breed and will offer commercial cattle producers greater scope to assess the potential of bulls to contribute to traits such as fertility, eating quality and temperament.
Underpinning these enhancements are several key changes which have enabled BreedPlan to introduce EBVs for Gestation Length, Days to Calving, Shear Force and Flight Time.
Technical Officer with Tropical Beef Technology Services (TBTS), Tim Emery, described these additions as "offering substantial opportunities for the breed and the broader commercial sector."
Mr Emery pointed to the work undertaken through the Repronomics Project and Northern Steer BIN as being a major game-changer for attaining phenotypic data to allow these EBVs to be developed.
"An increasing number of seedstock and commercial producers are looking for additional objective information to make more informed choices on bulls. So, it's exciting for the breed to now have the capacity to provide that information to producers," he said.
The Repronomics Project is a co-funded MLA project with collaborative partners the Department of Agriculture and Fisheries Agri-Science Queensland, the Animal Genetics and Breeding Unit (AGBU) and the Northern Territory Department of Primary Industry and Fisheries (NTDPIF).  Led by Dr David Johnston from AGBU, the project has been an invaluable source of data and information for improved reproduction in northern herds.
In order to grasp the scale of information collected as part of the project, close to 6000 progeny  have been generated since 2013 from Droughtmaster, Brahman and Santa Gertrudis research herds, each recorded for the full range of BreedPlan traits.
These include: gestation length, birth weight, 200, 400, 600 day weights, mature cow weight, ultrasound scans, flight time, plus abattoir carcase and meat quality traits (collected in the Northern Steer BIN).
In addition, female fertility has been recorded with days-to-calving records, along with the new measures outlined in last week's column of heifer age at puberty and lactation anoestrous interval of first-calf cows. Genotyping has been undertaken on all project animals, along with additional industry animals relevant to the project.
Mr Emery mentioned that the Repronomics project so far has used more than 120 Droughtmaster sires from more than 30 stud prefixes.
"Having the Days to Calving EBV now available for Droughtmasters is particularly significant.  Other tropical breeds have had it for a while now, and many producers have been selecting for more negative (favourable) Days-to-Calving, which in turn has positively contributed to reproductive performance in their herds," he said.
The improvement in fertility, combined with appropriate management and selection techniques, has offered advantages to herds looking for a positive change.
As a result, there are certainly Droughtmaster producers very keen to offer this level of information to their clients for use in their herds.
Additional data
While the enhancements to Droughtmaster EBVs open up opportunities for producers to make more informed decisions across a broader range of production traits, there are some changes to bear in mind.
With additional data, particularly with the scale of data now available, there are likely to be changes to EBVs and their accuracy. This may mean the EBVs of individual bulls may change (either increasing or decreasing) and their overall ranking for a trait may also change. The positive of this is that accuracy of the EBV will improve, which can provide greater confidence among producers looking to select bulls for specific purposes.
However, the key message is not to assume there has been no effect on a preferred sire or group of sires.
The scope of these improvements will be a significant shift forward for the Droughtmaster breed as producers have greater information on the genetic potential of sires.
As the spring sale catalogues start arriving in mailboxes, it will be a good time to start considering what traits are a priority to focus on, and using the range of traits recorded, including the new ones, to identify those sires that may suit a program and most likely deserve a physical inspection ahead of the sale.
Alastair Rayner is the Principal of RaynerAg, an agricultural advisory service based in NSW.  He regularly attends bull sales to support client purchases and undertakes pre-sale selections and classifications.  He can be contacted here or through his website www.raynerag.com.au