THERE was hardly a horn to be seen on the cattle at the Brisbane Ekka judging rings last week and observers could be excused for thinking that all cattle are natural polls.
Seedstock producers are often skilled at de-horning with surgical precision, so at times it's hard to tell.
"Horns are for cars," muttered one old-timer at the show.
But what trends are out there pushing efficiency and profitability for commercial producers, which in turn dictate what seedstock producers must produce to satisfy demand?
And there are the ever present and growing animal welfare issues.
Decades ago, one Queensland Poll Hereford breeder ran an advertisement in the long departed Pastoral Review with the headline 'Breed 'em off, don't chop 'em off' over a cartoon with a mean looking bloke with an axe lifted over a bull with its head on the chopping block.
It caused a riot and inflamed an already delicate situation between the two separate whiteface societies (horned and poll) at the time.
But things have changed. At the 2016 Royal Melbourne show horned and poll Herefords will be exhibited together in the same classes, believed to be a first for a major Royal in Australia.
Angus, Murray Greys and Galloways are all natural polls, while some other breeds, (or certainly the breeders within them) are heading that way.
What are the trends?
The Limousin breed provides a good example of what is possible. In 1980, soon after the European breeds arrived in Australia, 99.9 percent of registered Limousins in this country were horned. The poll variant barely existed. But the horns started to disappear, until in 2009, the mix was 50-50. Today, 80pc of the Limousins registered in Australia are natural polls.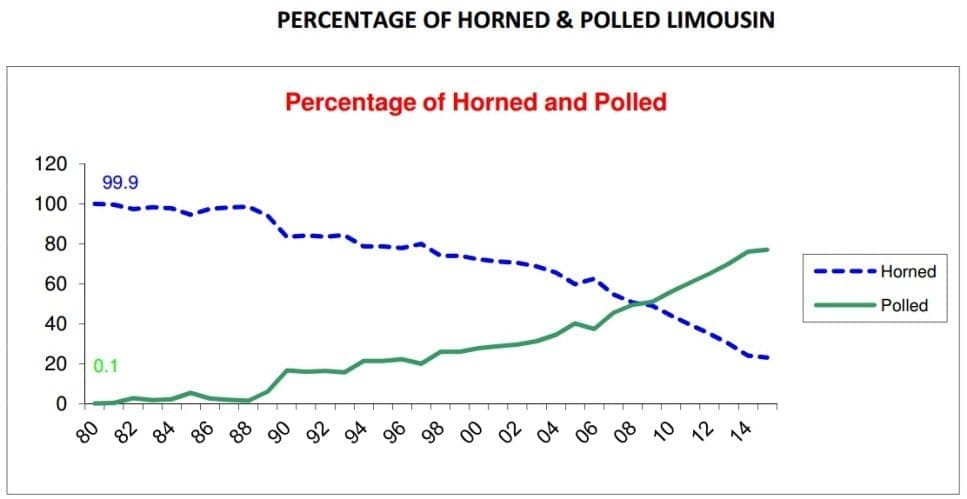 The poll trend is also evident in the other major European breeds. In 1995, statistics show just under 18pc of Simmentals were polls. It was a 50-50 mix by 2010, and by 2015, poll Simmentals made up 60pc of new entries in the breed's herd book.
Charolais are following, but at a slower rate. In 1995 only 5pc of the breed's registrations were poll cattle, and that had only risen to 11pc over the next 15 years. But in the past five years registrations of poll Charolais have surged. In 2016, it is predicted the mix will be 50-50.
By this week's upload deadline, we have been unable to ascertain the poll-horn mix in Hereford registrations, but anecdotal evidence suggests the poll genes are taking over.
Where once horned Herefords were considered superior to their poll cousins (and it could easily have been true) today's breeding and genetic selection techniques have ironed out the differences.
In the Wagyu breed, Tasmania's large Robbins Island herd is joining huge numbers to imported semen from a heterozygous poll US-based sire – still rare in the Wagyu breed.
The tropical breeds are also on trend to convert to polls.
Rockhampton's Santa Gertrudis sale on August 24 boasts 70pc polls in this this year's catalogue of 86 bulls.
The Brahman breed is also losing its horns. Around 30pc of Red Brahmans and 10pc of Greys are now being registered as polls or scurrs, as indications of their ability to take the horns off their progeny. Any time a really good poll Red or Grey Brahman comes onto the market, it inevitably attracts wide attention.
"People are testing to identify the poll gene carriers – it's happening," said the Australian Brahman Breeders Association's John Croaker.
There is no doubt that cattle bred without horns will improve animal welfare and benefit the industry by overcoming injuries and bruising. The CSIRO estimates that bruising costs the Australian cattle industry $30 million a year.
While in the past, visual observations recorded whether an animal was poll or scurred, the CSIRO's DNA marker for hornless cattle and recent developments in the identification of homozygous and heterozygous poll gene carriers will clearly identify which bulls will take the horns off naturally.
This week's spring bull sale highlights
The past week was highlighted by New England region Angus sales at some of the breed's longest-established studs – and they all performed well.
On consecutive days, well-known Angus studs reeled off a series of outstanding averages: Glenavon ($7100 average for 87 bulls), Bald Blair ($6883 for 73), (Wattle Top ($8200 for 109) and Eaglehawk ($8541 for 73). All recorded 100pc clearance rates, or very close to it.
While the above mentioned sales covered Monday to Thursday, Friday's Clunie Range Angus sale blew them all over. There was a 100pc clearance of 117 bulls and with a top of 'only' $26,000, averaged $11,038 and grossed $1.29 million.
This was the second highest gross for an on-property Angus sale ever recorded, only behind last year's Millah Murrah sale which grossed $1.56m. The Clunie Range average was up 84pc on last year's. Congratulations to studmaster Brett Guest.
For our up-to-date summary of spring bull sales as they happen, click here.
To see what's coming up for the rest of the spring bull selling season, click here.