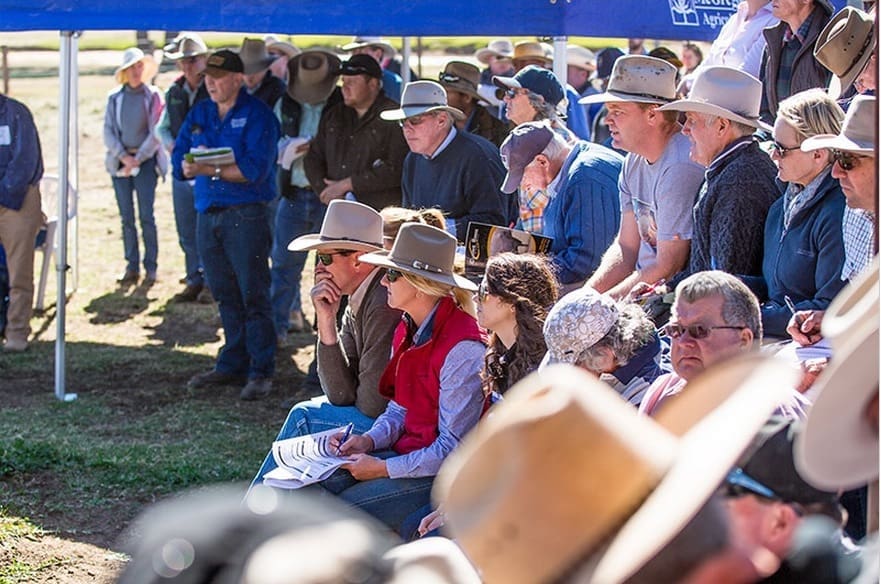 JULY is often considered the major month for southern states bull sales, particularly in Northern NSW.
On the back of a third year in drought, and declining cow numbers, there has been quiet concern among many as the July sales commenced. However several strong sales, underpinned by bulk purchases from Queensland producers, have combined to keep sale clearances reasonably strong over the past four weeks.
With the bulk of Northern NSW sales now completed, some interesting trends have emerged from the spring fixtures held so far.
In line with predictions following the autumn sales, demand for bulls has been restrained. The continued drought-enforced sales of cows and limited water supplies in many parts of NSW remains the major limitation on producer's capacity or willingness to purchase new bulls.
However, despite this limitation, the averages across the sales are worth considering.  Over the past four weeks, approximately 1380 Angus bulls have been offered for sale through on-property auctions or at multi-vendor sales.
The average clearance across the sales is actually higher than many may have expected, at 83 percent. On average, the price for Angus bulls across these six weeks has been $5495, and the average top price is just under $12,000, at $11,776.
In the same time period, 475 Hereford bulls have been offered through on-property sales, plus the Glen Innes multi-vendor sale. While individual sale averages and clearances have ranged from 40pc to 100pc, the average for the sales so far is 76pc.
A number of strong sales, led by stud breeders and bulk purchases has lifted the average price for Hereford bulls in the month to $5838, and the average top price $15,000.
Charolais sales have also been reasonably strong, on average. Around 286 Charolais bulls have been offered so far, and the clearances for these sales are very similar to other breeds at 83pc. On average Charolais bulls are being knocked down at $4512 and the tops are on average $10,063.
Standout results
Across all these sales, there have been some standout results. Texas Angus at Warialda offered and sold 140 bulls, averaging $9385 and selling to a top price of $34,000.
In the Hunter Valley of NSW, relative newcomer Sugarloaf Angus recorded an average price of $9658 for a 98pc clearance of 41 bulls, topping at $44,000, while Clunie Range at Coolatai sold its entire catalogue of 139 bulls for an $8338 average.
Northern NSW Hereford stud Tycolah achieved a top price of $26,000.
These results generally offer a few points for producers and breeders to consider, particularly as bull sales start to shift further north. In general the demand for sires remains reasonably strong, particularly for commercial producers seeking herd bulls.
The strong sale clearances – given the current conditions – appear to driven by two key factors.
The first is strong loyalty from repeat buyers. Having spoken to several bull breeders post-sale, the consistent comment was, "We were supported by some long-standing clients." It was put to me that this loyalty is a result of close communication in the lead up to the sale, and also the result of follow-up support with bulls purchased over previous years.
It's also been suggested that many clients saw this year as an opportunity to buy in genetics that they may have missed out on in the past, and so were keen to bid this year.
The second driver appears to be the strong demand for herd bulls from Queensland.  While volume buyers seeking bulls from NSW is not a new trend, it appears that the expectation of lower prices has encouraged a number of repeat and new Queensland bull buyers to visit and bid at a number of sales.
For several of these buyers, the concentration of sales in a short space of time allows them an opportunity to fulfill their bull requirements in an efficient manner.
Challenge for emerging studs
The challenge underlying these results has been for smaller and emerging seedstock operations. The reliance of these smaller operations on local producers has earned mixed results. While bulls are being purchased for use in northern NSW herds, the purchases are often single bulls. Without the larger volume sales, these sales have been 'tough going' this spring.
As one breeder told me, "We will be working harder to promote beyond the district next year."
Looking at the average prices for the bulls sold in the last month, while back on last year's overall average, the general averages remain reasonably strong. The demand for high accuracy EBV bulls and those with strong genetic performance are commanding the better prices.
This would suggest that as the sales move north into August and September, producers shouldn't assume that they will "pick up the top bull for an average bull price."
For producers preparing budgets ahead of attending a sale, these averages may be a useful indication of current market values. As previously explained, $ Index values can also be used with these averages to set an upper limit on bulls that are genetically best suited to individual programs.
Alastair Rayner is the Principal of RaynerAg, an agricultural advisory service based in NSW.  He regularly attends bull sales to support client purchases and undertakes pre-sale selections and classifications.  He can be contacted here or through his website www.raynerag.com.au