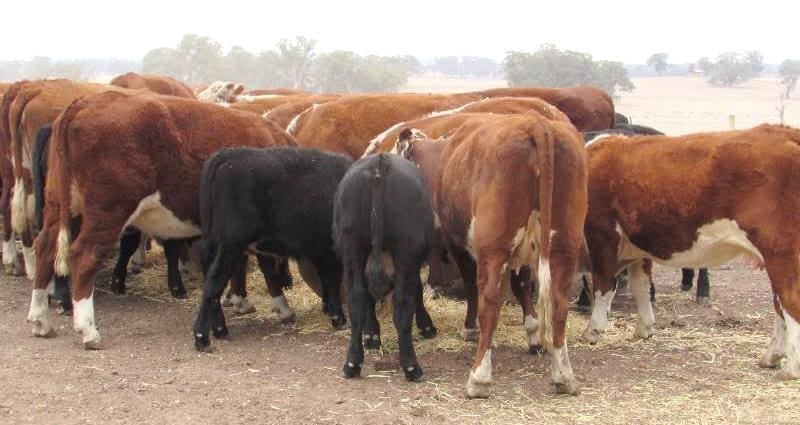 This week's genetics review focuses on the development of the Days to Calving EBV. This is a valuable tool to assist in improving overall herd fertility. However data collection has been low, as many breeders do not realise that they need to collect more comprehensive data for the whole herd and submit this to Breedplan. Breed society pedigrees and cow disposals are not enough, and are not used in the analysis.
FERTILITY levels in beef herds underpin the commercial profitability of enterprises.
Managing fertility to achieve greater returns shouldn't be restricted only to making decisions about individual animals. Long-term improvements to fertility can also be achieved through genetic selection to complement the strategic management decisions made for the herd.
Within breeding herds, it can be generally said that all cows in the herd have the same opportunity to calve. The program of mating and calving set by producers should allow their cows maximum opportunity to be exposed to a bull and to calve.
As a measurement of fertility, cows that calve on a regular basis are more fertile than those that don't calve, or calve less frequently, given that same opportunity.
Most selection and fertility decisions that follow this model often focus attention on individual cows rather than the herds overall fertility level. Individual cows that fail to conceive, or to rear a live calf to weaning are animals that can be easily identified and removed.
It is true that over time this process does tend to select for animals that regularly calve within the herds program. However it does tend to take several years. The more immediate aspect of this selection process is to remove animals that may have failed to conceive or rear a calf as a result of environmental factors. In simplest terms, sometimes its not that cow's fault!
Incorporating genetic evaluation
Generally this is a consideration at pregnancy testing or weaning. However there is the opportunity to include genetic evaluation into the management of fertility within a herd. Genetics does influence the time taken for a cow to conceive post calving.  Selection for greater fertility combined with strategic decisions on individual animals can have significant impact on improving fertility within and across a herd.
Since 2011, BreedPlan has been collecting data that underpins the Days to Calving EBV.   Among the population of any herd there is variation in animals. The use of the Days to Calving EBV is to provide more guidance on the genetic differences between animals in the time from the start of the joining period (i.e. when the female is introduced to a bull) until subsequent calving.
The Days to Calving EBV is a tool that helps promote cows that calve earlier in the season compared to those that calve later. Behind the EBV the data that is collected also helps to penalise cows that don't calve.
While the Days to Calving EBV is a tool that can greatly assist producers, the collection of data for the EBV is lower than it could be for other production traits.
Dr Brad Crook from ABRI describes the data required to develop the Days to Calving EBV as "performance data". However many breeders have not been collecting fertility measurements and submitting them to Breedplan for analysis. The confusion appears to lie in a belief that pedigree records submitted to Breed Societies is sufficient for the EBV.
Dr Crook outlined the data required to develop the Days to Calving as covering the events that all breeding animals experience in the herd during their annual breeding program, starting with the joining period in each breeding season through to when the subsequent calves are born.
The data collected should address the joining details of all females mated within the herd, including the method of joining, such as natural mating as well as artificial insemination or embryo transfer programs.
Key to understanding the fertility levels within a herd are the details associated with removals of females from the herd. The vital aspect is to note those females that were present at joining but have been removed from the herd prior to calving.
Pregnancy testing results should also be recorded for all females, not just the cow group or the heifer portion. This, combined with data on female removals, helps provide better insights into why animals are being removed from herds.
Breedplan has a list of specific codes that cover these events and the reasons for cow removal from herds. These codes include reasons that range from poor temperament through to poor udders as well as failure to rear calves.
As pointed out by Dr Crook, "Not all of this information can be collected with birth or pedigree details that are submitted to breed societies."
Whole herd data
To effectively analyse fertility details within a herd, Dr Crook says for this information to be of maximum benefit, the data needs to be submitted for the whole recorded herd.
In this process of data collection, producers submitting to BreedPlan will not have their data used in breed society registration systems. At the same time, BreedPlan does not use society data that has been collected such as pedigree, inventories and cow disposals, for the development of the Days to Calving EBV.
While this separation ensures Days to Calving accurately reflects the events happening across the entire herd, it has meant some producers are surprised that data they have collected hasn't been used in Days to Calving.
Several breeders indicated their belief that society records were all that was required, and were unaware that Days to Calving data had been collected in this way for over eight years.
This is a key issue that ABRI and the extension team within SBTS & TBTS have been seeking to address.
Moving forward, Dr Crook has outlined the intention of ABRI to develop new extension material for breeders who want to record and submit their fertility data directly to BreedPlan.
"ABRI and the SBTS/TBTS teams are working on additional extension material – in particular webinar/videos to assist with data submission," he said.
Also flagged are current investigations into the potential for identifying and assisting larger herds to collect and submit Days to Calving data, thereby developing a 'reference population' for Days to Calving.
Alastair Rayner is the Principal of RaynerAg, an agricultural advisory service based in NSW.  He regularly attends bull sales to support client purchases and undertakes pre sale selections and classifications.  He can be contacted here or through his website www.raynerag.com.au