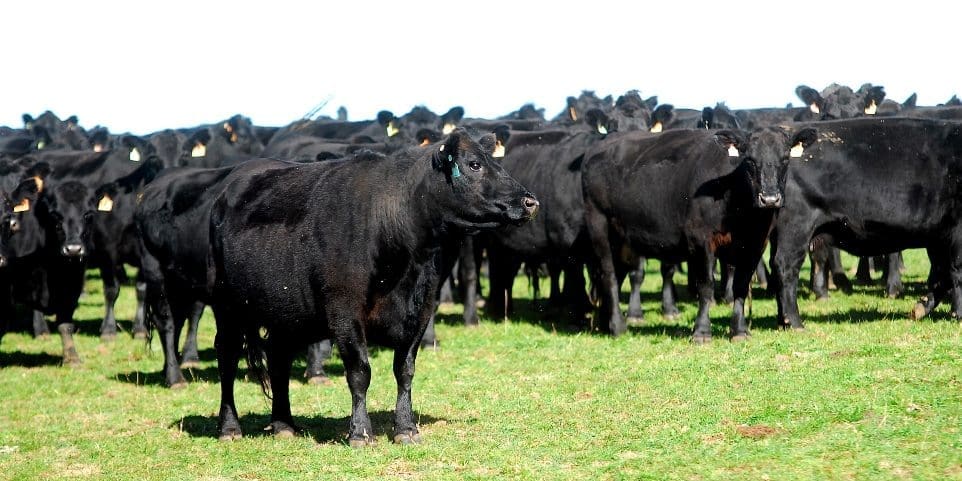 THE use of artificial insemination in Australian beef herds is accelerating dramatically, and surprisingly the biggest increase is being seen in commercial herds.
Beef seedstock herds have traditionally been the biggest users of AI as they attempt to more efficiently multiply superior genetics.
Bovine semen marketing industry veteran Bill Cornell, who for the past 14 years has headed the beef division of ABS Australia, said unit sales of beef semen for the company had doubled over the past two years, and there was no sign of the trend abating.
"It's just been amazing the response in terms of dollar turnover domestically for beef semen for us," he said.
Fixed time AI and confidence in Breedplan are the main reasons commercial producers are prepared to take on AI programs aimed at introducing superior genetics into their herds.
While the swing to AI may raise questions as to the number of bulls required for natural matings, back-up bulls are still required and seedstock producers will still be rewarded when they breed a potential donor bull combining superior phenotype and Breedplan figures.
And in more good news for Australian seedstock producers, two out of every three beef semen units sold in Australia today is produced domestically. In addition, Australia now exports more beef semen than it imports.
"Australia has developed a strong reputation worldwide as the developer of superior genetics, the result of the preparedness of Australian seedstock producers over many years to use the best genetics available globally and Australia's highly-regarded Breedplan performance recording system that can describe those genetics," Mr Cornell said.
Australian-based semen producing companies are buying, leasing or making partnership arrangements with more and more Australian seedstock producers to generate product to satisfy increasing demand.
At the top end was the sale of the Angus bull Millah Murrah Kingdom for $150,000 a couple of years ago, to a syndicate comprising Angus studs Ascot, Gilmandyke and Witherswood, and ABS Australia. The stud syndicate members have the paddock rights, while ABS Australia controls the semen rights world-wide.
"Kingdom's sales have gone really well, not only in Australia but to several overseas countries. There are calves on the ground showing great promise," said Mr Cornell.
ABS Global and sister company Genus is the world's largest provider of domesticated livestock semen and also head the lists as the largest providers of beef bovine semen.
Fixed time AI taking off
Fixed time AI is all the rage in commercial beef herds performing artificial breeding programs, meaning no more tedious and often erroneous heat detection.
While overall well-being, being properly vaccinated, well managed and on a rising plane of nutrition are still important in getting females in calf in AI programs, the seven day co-sync program results in good conception rates with only three visits to the yards.
"Australia is now 'punching above its weight' in the semen production industry relative to its beef herd size"
The program can differ slightly for heifers and cows, but basically it comprises CIDR (Controlled Internal Drug Release, based on progesterone) input on day 1, seven days later remove the CIDR and treat with prostaglandin and 2.5 days later AI and treat with GNRH.
ABS Global's conception average is 58pc to the first AI, the company says. Producers using the system for the first time may achieve a 45-50pc conception rate while the experienced operator on their fifth or sixth run can achieve up to 65pc success rates.
Australia is now 'punching above its weight' in the semen production industry relative to its beef herd population, and now sells semen to around 22 countries, Mr Cornell said.
"We now export more semen than we import," he said.
Mr Cornell also listed Australia's disease-free status as a reason for Australia's attraction as a semen supplier.
"Of all the countries that we export to, the United Kingdom would be the hardest because of their IBR requirements," he said.
"Many bulls fail the UK's IBR test, but they are mainly the older bulls. If a bull is 12-14 months old and been running in groups of similarly aged bulls, they are generally OK."
"But older bulls that have been out in the paddock with cows have a bigger chance of testing positive. Interestingly some farms and even some districts don't seem to test positive for IBR," Mr Cornell said.