A MONTH or two ago, prior to the start of the 2020 spring bull selling season, the general expectation underpinning many discussions was a sense of quiet optimism that this season would be a strong one.
Underpinning that view, seasonal conditions had greatly improved since last year, and cattle prices remain buoyant, to say the least.
As stud stock agent John Settree from Nutrien commented at the time, producers would need to "be looking at bulls that will average around $8000, and that the quality will draw some strong competition."
It's pretty clear these were prophetic words, and perhaps still haven't quite done justice to just how strong the 2020 sale season has been so far.
While there are still many more spring sales to come across northern NSW and then on into Queensland, it's very clear that demand for bulls and a willingness to pay for bulls is consistently strong, across breeds and regions this year.
For many sales, 100pc clearance of bulls offered has become the new normal this year
For many sales, 100pc clearance of bulls offered has become the new normal this year.
This year's sale averages  are also surprising many, and this trend is not restricted to Angus sales, but is being seen across a range of breed types.
An analysis of recent sales by Beef Central suggests that many of the studs recording +$10,000 sale averages this year are in fact achieving this without an 'extreme outlier' at the top end, pulling the averages higher. In fact some of those have had top prices of as little as $17,000 to $20,000, suggesting the real strength has been in the 'middle ground' bulls.
While some top price bulls have certainly helped sale averages along, the reality is the consistency of sales through a catalogue has been the strength of most sale averages.
Trend across breeds and regions
It's been fascinating to see the clearance rate/average price trend spread across breeds and regions.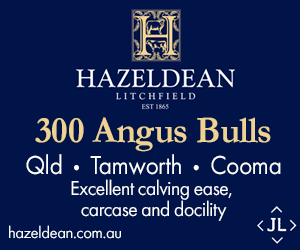 This year, for instance, there has been several strong Hereford sales recorded already: Lotus ($10,156 average with a top price of just $20K); Curracabark ($12,437 average, with a top of just $20,000 – this may be an all-time record average for an Australian Hereford stud). Other notable recent sales have included Seifert Belmont Reds in Queensland, last week achieving a 100pc clearance and average close to $9600, with a top of only $17,000. This may well be an all-time record for a single vendor Belmont Red sale in Australia. Earlier, Queensland's Lucrana Simmentals averaged not far off $10,000 for its bulls.
Among recent Black sales, +$10,000 averages have been recorded by Sugarloaf Angus ($10,967 avg for 44 bulls, total clearance); Knowla Livestock ($13,041 avg for 73 bulls, total clearance); Peakes Angus ($11,153 avg for 52 bulls, total clearance); and Texas Angus (details below).
So, what seems to be driving the trend and the prices in 2020?  From observations and discussions with vendors, buyers and agents, there appears to be several factors at play.  The combination of these seems to have combined to make the 2020 spring season to date one to remember.
The most commonly cited factor is the strong prices that have underpinned the Australian commercial cattle herd. The influence on this has been felt in different ways. For many producers, the 'salvage value' of a bull has never been greater. A quick look over the NLRS saleyard reports for bulls indicates prices in some cases as high as $3.90/kg. A sale at Dubbo in June actually saw bulls make $.4.46/kg.
These high 'trade in' prices have certainly encouraged many producers to retire older bulls and invest in younger sires.
However, it isn't just the value of bulls that has influenced buyers.  Commercial cattle value has remained consistently high across all classes of stock this past year, underpinning buyer (and bidder) confidence. For many producers, this is the incentive to invest in maintaining or improving the genetic potential of their herd to ensure they can maintain or grow their returns through traits such as improved eating quality (MSA results) or growth rates.
While prices have definitely played a strong role in building the confidence of producers to compete for bulls at sale time, price is by no means the only factor.
Ben Mayne, principal of Texas Angus at Warialda, felt there were other contributors to the extraordinary interest and demand for the bulls he and wife Wendy offered last week – a sale I personally attended.
"It was an amazing sale, and I never expected it to be as strong as it was," he said.
This year's sale averaged $14,052 for a 100pc clearance of 155 bulls offered.
Ben identified the return of many NSW producers as being a key part of the competition on sale day.
"Last year, NSW was effectively out of business with the drought.  So, most of our bulls went north into Queensland herds. But this year, the season has turned around, people are looking to get going again, and the competition was a lot stronger," he said.
The impact of the drought has been felt not only in the return of many southern buyers into the market – it's also seen the overall demand increase as producers move to replace numbers of bulls and breed up an increased number of replacement heifers in herds across the country.
While asking not to be identified, several buyers at Texas Angus told me they were looking for more bulls than normal, as they had cut bull numbers back over the last two drought years, and this year they were going to be short at joining unless they were replaced.
"We have to have them, so we will have a crack," put one northern tablelands breeder last week.
Ben Mayne noted that many producers have been closely following the performance results of his cattle in feedlot and carcase competitions over the past few years.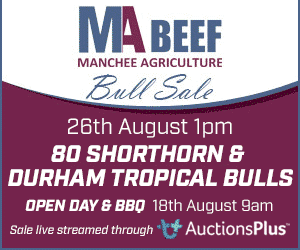 "We've been really trying to drive the traits that add profit to a program, particularly carcase weight. We want to have those moderate, well-muscled bulls and we want them to perform. The feedlot competitions have been great for us to tune our direction, but a lot of blokes have been watching closely and are now chasing the bulls for the same reason.  They want to add the traits that profit."
Further north, Jeanne Seifert had similar comments to make about her recent Belmont Red sale.
"We found many of the clients who came to us are focused on improving profitable traits – particularly fertility and eating quality," she said. "With MSA Indexes now showing significant value differences, there are plenty of producers who want to lift their eating quality levels."
Jeanne highlighted in her experience this year that "even though many producers may not completely understand EBVs, they recognise the value of buying bulls from a producer they can trust has proven objective data behind their herd."
Have bull breeders over-corrected?
Queensland stud stock agent Harvey Weyman-Jones, from Grant Daniel & Long also witnessed the Texas Angus sale, noting a sale average that shifted dramatically from an already strong $9500 last year to north of $14,000 this year.
"It's right up there with the best average every recorded by a sale, where there was that many bulls involved," he said.
"The real strength was in the middle, to commercial buyers – the majority of bulls sold between $10,000 and $30,000," he said.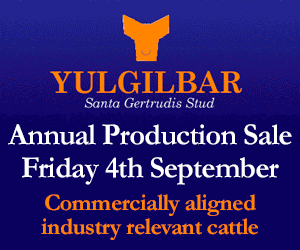 Noting the sequence of 100pc clearance recorded at sales over the past month or so, Beef Central asked Mr Weyman-Jones whether studmasters may have 'over-corrected' in reducing their bull offerings this year, in the face of drought reduced breeding herds.
"I don't think so," he said. "It's just pent-up demand after a couple of low-turnover years. We're finding it quite hard to find paddock bulls this year, also, for the same reasons.
"A lot of the better studs that usually have a few paddock bulls lying around have been cleaned out. That's to do with the drought form the previous two years, whereby commercial buyers haven't replaced old bulls, or in fact squeezed another year or two out of the ones they had."
"Now, they need to renew their sire battery, and it's being reflected in these very strong recent sales averages and clearances. And record high cattle prices do no harm. It's all coming together for bull breeders this year."
Mr Weyman-Jones said Texas Angus had always been strongly supported by Queensland buyers, and that had continued this year.
"There's every reason to suspect that upcoming bull sales in Queensland will also record strong results, based on continued strong commercial cattle producer demand," he said.
"The same principles apply north of the border, with a strong cattle market and greatly improved seasonal conditions for many producers."
While the 2020 spring season still has a while to play out, the experience of strong demand fuelled by the need to breed replacements, funded by a strong market and focussed on the need to drive quality and production traits seems to be firmly entrenched for the remainder of the season.
Producers still working on their buying decisions should consider the fact that 2020 will be the year where quality, proven performance and availability will be key determinants on the value of the bulls in the ring.
Click here to access Beef Central's summaries of recent bull sales.
Alastair Rayner is the Principal of RaynerAg, an agricultural advisory service based in NSW.  He regularly attends bull sales to support client purchases and undertakes pre sale selections and classifications.  He can be contacted here or through his website www.raynerag.com.au