COMMERCIAL cattle breeders need to demand genetics that suit their production system says prominent meat and livestock scientist, Dr Peter McGilchrist.
As one of the presenters of the BredWellFedWell (BWFW) workshop held recently on Pointsfield, Armidale, Dr McGilchrist and fellow presenter Dr Jason Trompf were keen to ensure that the commercial breeders attending the workshop were able to decide what their breeding objective was and how to source those genetics from their seedstock supplier.
BWFW workshops were developed by MLA for sheep producers initially, being adapted to cattle producers this year. So far more than 500 producers have attended, and exit surveys of participants have given the workshops the thumbs-up for the way the information is presented and for relevance.
Dr McGilchrist said the workshops were intended to empower commercial cattle breeders to demand from their bull breeders the genetics that are best for their purpose.
"No longer should bull buyers be prepared to accept what the stud breeder dishes up," he said.
The beef herd was in a rebuilding phase, but seasonal pressures had stalled the rebuilding with high rates of female slaughter evident in recent months.
"The time is right for cattle breeders to rethink their goals and matching genetics to the feeding and management regime is critical to achieving that outcome," Dr McGilchrist said.
Multi-breed evaluation
However Jason Trompf, who hails initially from the sheep industry had a word of warning: "Sheep producers are about to kick ass," he said with his tongue in his cheek.
Buoyed by high prices for both wool and sheepmeat, sheep breeders are in recovery mode, and he believes they are currently using genetic tools better than beef breeders.
Cattle breeders have had access to Breedplan technologies for longer than the sheep breeders (Sheep Genetics uses similar technologies to Breedplan), but the breed-centric nature of the evaluation may be limiting adoption, Dr Trompf said.
For example EBVs of Angus cannot be directly compared to those for any other breed, as they are on a different base and use a breed specific model. Sheep breeds, on the other hand, use a single evaluation for meat sheep and another for wool sheep.
There have been calls for a multi-breed evaluation for cattle for many years, but to date there is no basis on which to align the breeds because rarely are two breeds run and recorded in the same production environment. A number of project proposals are in train to remedy this deficiency via the MLA National Livestock Genetics Consortium.
While this appears to be a deficiency for the beef industry, rarely do breeders compare bulls across breeds when selecting their next bull purchase. Generally, it is a two-step process where the breed is chosen on breed attributes well before the individual bull is chosen.
The counter-argument is that breeds offer integrity and increased accuracy of genetic evaluation by maintaining a separate data set.  New England commercial Angus breeder, Graham Clark, who was attending the Armidale BWFW workshop, agrees that his target market is happy with Angus, and so he has little interest or need in comparing the merit of an Angus bull with that of a Hereford, for example.
Dr Trompf said the EBV information is the best guide to genetic merit, but commercial breeders need to have a clear objective before making selections, and need to understand what the information means.
"Firstly you need a breeding objective and it is better if that objective is committed to paper," he said.
Knowing where the EBV or index is in comparison with the rest of the breed is good information,  he said.
"Percentile band tables are available for all breeds, for all EBVs and indexes, and from these you can determine where the EBV value sits."
HBC groups
The Armidale BWFW workshop was organised by Hoffman Beef Consulting (HBC) a firm that operates beef development groups in eight different locations around NSW. One of the regular participants in HBC groups, John Finlayson, hosted the day.
The HBC beef groups meet regularly to hone their skills in beef production and feature annual benchmarking to monitor the cost of production. Principal of HBC, Bill Hoffman, said that this was the third workshop he had run in three days and the information presented was enthusiastically received by the participants.
He said the calibre of the presenters made the days work very well, and information was presented in a digestible form.
The focus of the workshops has four main outcomes, listed below:
improved understanding of how to use EBVs to improve enterprise profitability
how to develop a breeding objective for your cattle enterprise
the impact of better management of breeder nutrition on reproductive performance and profitability
skills in developing simple energy budgets for the breeder flock or herd
At the end of the workshop, producers are able to use the outcomes to help analyse and plan a genetics and nutrition regime suited to their environment and markets to boost profitability.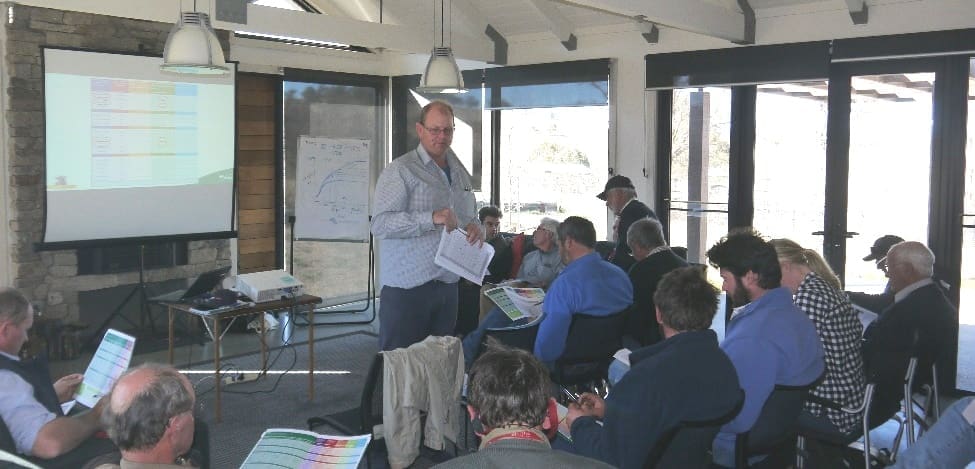 Feeding practices
There have been a number of studies into the best method to increase adoption of the genetic information that is available to beef breeders, and a common theme for all reports is that genetics should not be considered in isolation. So it is pleasing to see the MLA supporting the BWFW workshops that combine genetic selection with best feeding practices for the breeding female.
Featuring both seminar-type presentations and practical yard sessions, the workshop stepped participants through a logical process of matching genetics to the feed and management regimes.
Dr Trompf explained the principles of EBVs as indicators of the genetic merit. In the yard session (pictured below), he challenged the participants to select a bull that was best for yearling weight and quickly demonstrated that visual selection was inadequate for the task – especially when the bulls on offer were of different age.
During one of his sessions, Peter McGilchrist, who is principal meat scientist at the University of New England, described with enthusiasm the genetic principles behind many of the traits affecting carcase quality and the role of selecting for carcase traits in a balanced breeding objective.
However he was quick to point out that the emphasis placed on any trait was a personal decision and each breeder should decide what he or she needed to concentrate on based on their farm situation and market being supplied.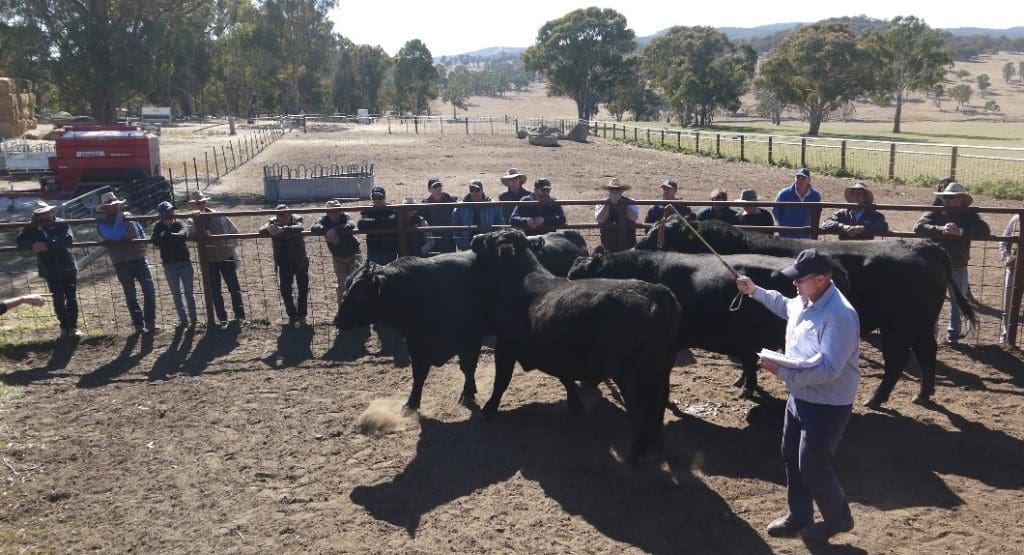 Choosing indexes
Participants were encouraged to choose the major traits affecting their on-farm profit and suggest what changes they would like to see in their cattle. Available breed indexes were compared and the most appropriate chosen based on the desired trait changes.  Independent cut-offs were then applied to the traits of interest to refine selection using indexes.
Indexes are preferred because they use a sophisticated economic model to apply appropriate economic weightings. But more importantly, the indexing system handles the interactions between traits and avoids unwanted changes to correlated traits that occur from single trait or selection of only a few traits, such as increased birthweight as a result of selection for weight.
Host for the day, John Finlayson, expressed concerns that he – like a lot of producers – supply a number of markets, and so found it difficult to decide which index to choose.  It was pointed out that all indexes were similar so any index was better than none because the indexing system handles the complex biological relationship between traits that will be ignored if you choose on individual EBVs.
The Fedwell section of the workshop focused on ensuring nutrition is appropriate for the genetics to be expressed.
The FWBW workshops are available for the next twelve months. Any breeders who would like to organise a workshop should contact Serina Hancock, Bred Well Fed Well coordinator,  S.Hancock@murdoch.edu.au
Guest author, retired NSW DPI Beef Cattle Breeding Specialist Wayne Upton, is writing our Weekly Genetics Reviews for the next few weeks, while Alex McDonald is on holiday.