Embryo Transfer is not a new technology for breeding progression in the seedstock industry.
As a technology, ET has been widely used across Australian beef breeding programs for decades. Internationally, the use of ET internationally continues to expand as a breeding tool, with the International Embryo Technology Society reporting that more than 1.5 million bovine embryos were recorded in 2021 an increase of seven percent on 2019 figures.
Within these global numbers is a growing trend for greater use of in vitro produced (IVP) embryos compared to traditional in vivo produced embryos. The difference between the two is worth considering, particularly for beef breeders focused on improving rates of genetic gain more rapidly in their programs.
Most breeders who have used ET programs have traditionally used the in vivo method. This process requires producers to synchronise their donor cows using drugs before a second treatment to bring on super-ovulation. These donor cows are then inseminated with the chosen sire, and around seven days after insemination the ET technician will flush the embryos for collection and transfer to recipient cows or for storage and future transfer.
As a process, ET results are impacted by a range of factors including breed; age of females; body condition and diet; as well as the management of the program. Some industry statistics suggest that on average this process, using good quality embryos and a competent practitioner, will result in a 65-70pc pregnancy rate.
The process of ET using the in vitro method has some differences. The IVP process allows the pick-up of unfertilised eggs, known as oocytes, directly from the ovary of the donor. These are then transported to a laboratory where the oocyte is matured and fertilised before being cultured in the lab.
The process of culturing allows the embryos to grow to a stage where they are suitable for transfer to a recipient cow.
Significant opportunity
Don Nicol is a highly regarding genetics consultant who regards IVP as a significant opportunity for the Australian beef industry. While still not as widely practiced as in vivo, Don Nicol highlights several important opportunities with the alternate method for breeders seeking to increase their genetic progress.
"Firstly, the IVP process does not require the female donors to be treated with any drugs for synchronisation or superovulation," he said.
"It is possible to bring the donor cows in from the paddock, collect the oocytes and return those cattle to the paddock. This appeals to many breeders who have experienced issues in the past with donor cows that fail to return to normal oestrus or fail to conceive soon after flushing,"Mr Nicol said.
Secondly, a process of collection called Juvenile In Vitro embryo transfer (JIVET) with young heifers, as young as six months can be used, which rapidly increases the rate of genetic progress. However, many prefer to wait a bit longer until 12 months as the JIVET system is more complicated.
"Combining this with the use of sexed semen, and the potential to multiply the results of a well-designed breeding program are significant," Mr Nicol said.
"Using IVP also means using less semen as the insemination occurs in a lab, allowing more highly-prized semen to be used more effectively and more frequently than traditional ET programs."
While the IVP process is widely used in both US and Brazil, where these countries account for 77.2pc of the world's embryos, Australian adoption has been much lower. However, as a trend IVF is increasing in use.
Don Nicol believes much of the increase is being driven through northern herds, particularly in Brahmans.
"The appeal of being able to bring donor females straight from the paddock for collection and then returning them is strong, in more extensively managed herds. Also, Brahman cattle and other tropical breeds respond very well to these programs compared to British breeds, so there is an efficiency within the breeds that lends itself to this method."
However, unlike the US or South America where there is a strong network of technicians and laboratories established to support IVF methods, Australia's logistics are more restricted.
"Perhaps the greatest limitation for Australia is the need to both upskill our ET technicians in collection processes and also to logistically move the collected eggs to a laboratory that can then undertake the vital phases of maturation, fertilization and culturing," Mr Nicol said.
While there are laboratories in Australia, the challenge of collection and transport are the two sticking points limiting wider adoption across the industry.
Mr Nicol is confident the trend towards IVP will continue to grow as Australian breeders respond to the opportunity to multiply their superior genetics in a more efficient method. The time and cost saving in bringing cattle straight from paddock to collection is a significant time saver alone.
However, he suggests the additional opportunities using sexed semen from high merit young sires and young female donors with outstanding genomic breeding values through fertilisation in the lab will provide to be significant advantages for the industry.
"It will be an exciting time, provided we can increase the skills and number of ET technicians and increase our lab capacity, but I am sure there are breeders who will be very excited to see where this process takes us," he said.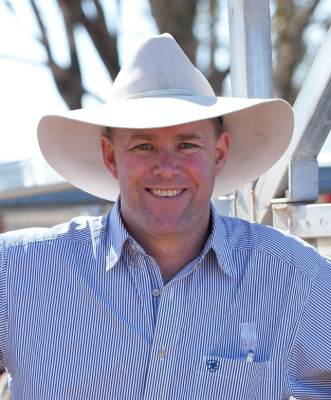 Alastair Rayner is the Principal of RaynerAg, an agricultural advisory service based in NSW.  RaynerAg is affiliated with BJA Stock & Station Agents.  He regularly lists and sell cattle for clients as well attending bull sales to support client purchases.  Alastair provides pre-sale selections and classifications for seedstock producers in NSW, Qld and Victoria.  He can be contacted here or through his website www.raynerag.com.au