Beef Central's popular weekly genetics review returns this week, hosted again by breeding and genetics consultant, Al Rayner*. The review, together with our weekly genetics email alert to subscribers, will run each Tuesday evening, from now through to the end of the 2019 spring bull selling season in November….
A FOCUS on and commitment to defined breeding objectives underpins the ongoing success of the Rangeland Bulls 'breeding collective' in western Queensland.
The Rangeland Bulls collaborators – Steve and Esmae Taylor from Moriah, near Chinchilla, their daughter Kate and her husband Peter Moloney from Wetlands, Augathella, and Kenton and Amy Peart from Dunvegan, Charleville – enjoy a highly deserved reputation for the production of grassfed cattle that meet Certified Organic and EU market requirements.
In addition, they hold an annual seedstock sale offering pasture-fed polled composite bulls to a regular and committed client base from across Queensland.
Key to the success of the operation is the long-held breeding objectives, first set in place by Kate's father Steve over 30 years ago. As Kate described recently, "If you are a breeding operation and not getting a calf within 365 days, every year, you are on the back foot."
"Dysfunctional growth can cost us in fertility, pasture resources and eventually in income. So we need to ensure that we prioritise the traits that we see as sustainable for this environment and are directly related to our net profit."
A key driver for these objectives is the fertility of the female portion of the three herds. The Moloneys join their females as yearlings and expect them to calve as two year olds without assistance. Cattle that fail to conceive or rear a calf are not re-joined, instead being diverted into the finishing program for either EU or Organic markets.
This focus on fertility selection has seen the average weight of yearling heifers for the herd come down below the standard industry averages. At the same time, heifer conception rates have increased from an average of 60pc in the 1990s to over 90pc on average, even during recent drought years.
This combination of reduced weight at joining and high conception offers the Moloneys more scope to select animals for the traits that matter in their environment, and to select animals with proven performance. The financial incentive in this focused approach to selection comes from a rapid growth in breeder numbers which has contributed significantly to the Moloney's yield/ha, as well as and increasing the proportion of female turnoff (to keep numbers static).
The cumulative impact of a long-term commitment to selection for fertility has resulted in their recent herd average preg-test rate of 85pc. Kate describes this year as an exceptionally dry year, and to achieve this rate, well in excess of accepted industry figures for Northern production systems, as being particularly rewarding.
The financial benefit in increased fertility is highlighted in the Future Beef Publication "The Economics of Beef In Central Queensland" ()
In a EU market focused program like this one, lifting fertility from 70pc to 85pc results in a lift in enterprise gross margin by 15pc.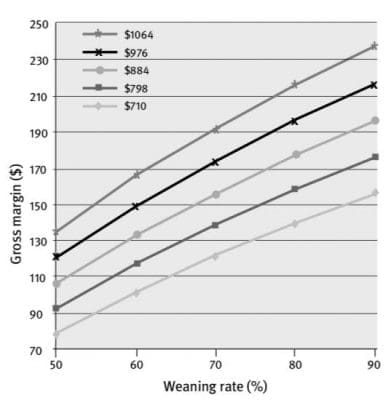 Kate & Peter Maloney describe their approach as "extremely focused on the traits that matter to profit." As MSA, EU & Organic grassfed producers, they are committed to breeding animals suitable for a variety of markets.
In their objectives, they described their ongoing aim as being to breed cattle adapted to environment conditions, with resistance to internal and external parasites and without reliance on supplements.
"We look for optimum growth and carcase compliance rates. All cattle must comply within the requirements of the breeding program with temperament being the first trait to be assessed and culled for," Kate said.
Achieving a balance on selection is made possible by the close monitoring and recording of herd performance over time.
As pointed out by Kate, "If you single out a trait and focus on that, you will most likely forego something else, so we are really looking for good moderate animals."
The group is currently conducting a DNA testing trial to gather data on the consistency of traits within the herds.
"Breeding objectives are essential but the results take time to play out," Kate said.
The results she and Peter are seeing are a reflection of the long-term focus of their family on producing cattle for function, and that suit their environment.
Bull breeding with clarity
In addition to close attention to the female herd, bull selection is a priority for the couple. Bulls are bred within the Rangeland Bulls collective, with the same three month joining dates, November – January.
About 10pc of male calves are kept at branding and then scrotals and weights measured at weaning and twelve months of age. Bulls are appraised off pasture within peer groups for temperament, structure, weight, age, scrotal, polledness and pizzle. Bulls are used as yearlings and or two year olds before being sold the group's annual on farm sale at Augathella.
While using bulls within the Rangeland Bulls collective, additional sires are purchased from other breeders who share a similar focus on pasture fed production. The Moloneys use this as an opportunity to benchmark outside cattle against their own animals.
Kate referred to a phrase she recently heard that she likes: "When you buy a bull you buy a program."
"You'd have to question buying a bull out of an artificial environment from a cow herd that has less performance scrutiny placed on it than your own," she said.
The clarity of the Moloney's breeding objectives is in contrast to the majority of breeders.
Recently, consultant Dr Jason Trompf addressed the national Limousin conference in Armidale. He estimated that the number of producers who attended breeding workshops with breeding objectives already in place was around 15pc, before quoting recent MLA figures suggesting that only 6pc of commercial producers access the Breedplan database prior to selecting a bull.
For many producers, the value of setting formalised breeding objectives has been difficult to quantify. Remaining committed to those objectives also requires some determination and focus.
However, as demonstrated by the Moloney family, the return for this commitment is a significantly more fertile herd. The flow-on impact offers a range of positive advantages, from greater flexibility in the selection of animals, to better data for more strategic decisions that can be made to target animals into appropriate markets and sales opportunities.
The scrutiny placed on these females is evidenced in the Rangeland sale bulls, which in turn attracts clients focused on data and performance of bulls rather than pre-sale preparation. For Kate and Peter Moloney, the key to these outcomes has been the clear focus of selection based on clear objectives.
Have we listed your spring bull sale details?
Beef Central is currently compiling its 2019 spring bull sales calendar, featuring sales fixtures nationwide across all major beef breeds being held between now and December. Data is being compiled from breed society records and numerous other sources, but it might pay for studmasters and sale administrators to check the current directory page in a week or two to make sure their sale is included. Note that several breeds, including Santa Gertrudis, Limousin and Shorthorn, will be added in coming days. If details for your sale do not show up using the page's search function (click here to access) please use this advice panel to send us information to update our records. We will remind readers about this free sales promotional service next week, after the full listings are updated.
Alastair Rayner* is the Principal of RaynerAg, an agricultural advisory service based in NSW. He regularly attends bull sales to support client purchases and undertakes pre sale selections and classifications. He can be contacted here or through his website www.raynerag.com.au