Age at puberty is an increasingly important trait for producers determined to make improvements in the lifetime productivity of their cow herd as well as improving their business and herd productivity and profitability.  In recent years, Age at Puberty has been a particular focus for northern production systems with significant research conducted within the Brahman breeds as well as other Tropical breeds.
Research conducted as part of the CRC for Beef Genetic Technologies highlighted the significant variation that exists among heifers exhibiting their first Corpus Luteum (CL).  In one major study involving 2115 heifers, (107 Brahman heifers & 1108 Tropical Composite heifers) were scanned every 4 – 6 weeks after reaching 200kg.  Once a CL was observed at scanning the heifer was classed as pubertal.
The results of the research indicated major variations in the age at which these tropical females achieved puberty.  The range of ages from youngest to oldest was 29 months which poses some significant questions around the productivity of those females which enter puberty at a later age than younger females.  At the same time there was significant weight differences between the lightest pubertal heifers and the heaviest with a range of almost 290kg between them.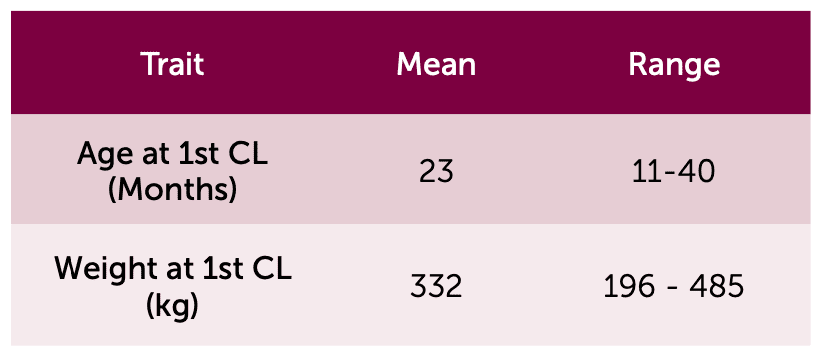 Source: Southern Beef Technology Service
While location and month of birth strongly influenced these results, it is important not to overlook the genetic effects of age and weight on the first CL.  The Beef CRC research showed the heritability's for both age and weight to be of moderate levels.   In the case of age at CL, Brahmans had a heritability of 0.57 and the Topical Composites 0.52.  Both levels of heritability offer encouragement that progress towards improvement by selecting for younger females can be achieved.  While for weight at first CL the heritability's for Brahmans was 0.56 and the Tropical Composites had a heritability of 0.56.
The relationship between age at puberty and future reproductive performance is extremely strong.  Research conducted through the University of Qld and QAAFI presented at last year's AAAGB conference showed that tropical heifers which were pubertal at 600 days of age had increased odds of being pregnant at 3.5 years of age and in the subsequent year.
For many producers, these outcomes offer some valuable opportunities to consider within herd selection as well as placing greater attention on the sire the genetic profile they are seeking to use within their herd.
However, the importance of Age at Puberty is not restricted to northern based or tropically adapted herds.  Age at Puberty is a significant factor in breeding success in southern based and temperate herds as well.  Other research presented at the AAAGB conference by Dr Matt Wolcott from AGBU in Armidale along with Graham Alder from Beef + Lamb New Zealand highlighted the variation that exists within Angus heifers for the trait.
This project saw almost 3100 heifers from 9 seedstock programs scanned to detect their first CL from the age of 10.5 months to 13.6 moths of age before the heifers were synchronised for artificial insemination.  The results highlight some significant variation from what many producers may assume to be the case when discussing their heifers age at puberty.
When heifers were synchronised for AI at 13.5 months of age only 53% of heifers were pubertal.  The heritability of the trait within heifers that were found to be pubertal was 0.33 which is low to moderately heritable, but still offers the opportunity for selection decisions to be made.  The results for the study using Angus heifers was in line with other work conducted by Dr Wolcott with Hereford heifers.
From a practical perspective, many southern herds aim to join heifers at younger ages and within tight joining time frames.  The results of the study suggest that almost half of the heifers may not be pubertal when joining and this can contribute to less than desirable outcomes.  While producers may wish to incorporate ultrasound scanning of heifers to detect the first CL this can be an expensive and time-consuming process.
However, for herds which do take extensive measurements, scanning for the first CL could become part of the data collection process.  This data would be valuable in helping identify and select those heifers which have greater genetic merit for earlier age at puberty and so offer greater opportunities for herd improvement longer term.