DURING the past two years I worked with producers to explore options to find replacement sires under the challenging COVID restrictions.
Listening to producers, I often heard similar concerns about how to go about the selection process, especially managing the physical assessment of bulls prior to sale.
Approaching physical assessment requires as much preparation and planning as possible. The physical suitability of a bull to undertake his job in a breeding herd is vital.
Producers need to be confident that the bulls they have identified for their genetic potential actually suit their program. This is something that requires close attention.
I'm often concerned to see producers approaching a bull sale with no clear vision of the characteristics they should inspect, or by those who leave their assessment to the last minute prior to a sale. Remembering that the influence of a sire extends over several generations, I believe bulls deserve a structured assessment that can offer confidence on the animal's physical suitability.
Structured approach
I know many producers use their catalogues to highlight the bulls they have chosen for their genetic potential. However, I also see the method of checking can be less structured.
Often an assessment consists of one or two ticks and perhaps a scribbled note. I've been asked to offer opinions and I'm at times unsure what the notes or the ticks denote for a bull.
I prefer to work on a more structure approach, and I've used this as a key part of my webinar series over the past few weeks.
I believe it's essential to assess bulls in a systematic method. There are two major reasons for this. Firstly, this ensures each part of a bull's structure, from head to rear toes are closely examined and considered for their soundness and to ensure the bull will meet the challenges of its new breeding program.
Secondly following the same approach ensures bulls that are selected for similar genetic merit are equally compared on phenotype. It's important each bull has its merits examined equally.
Working through a group of bulls, especially when they may be penned in separate groups before the sale can become confusing. It's not unusual for people to lose track of what they have and haven't looked at, or to be distracted by other bulls in the pen. Using a structured checklist if the most effective way of overcoming this issue.
My bull sale checklist is an essential part of my sale day inspections. It's also possible to use this as a guide for on-line inspections where it can be used as a prompt to request from the breeder specific photographs and video of the bull's structure and physical traits. Click on the image above to enlarge, and print-out for future use.
The checklist also works to structure each assessment on selected bulls in the same way. I start my assessments from the head, considering the jaw and eyes – including pigmentation and hooding.
Issues that concern me can be marked with an 'x'.  As I work through the list it is easy to visually see those bulls that have 'x' marked in boxes and as these accumulate, its simpler to rule a bull in or out for possible purchase based on this ranking.
Final selection
Where bulls have no physical issues, I can be confident my bulls have met my physical and genetic requirements. The final section of the checklist includes options such as maturity pattern/size and muscle score. In my case I look for the bulls on the list which have the maturity best suited to my program and the greatest degree of muscularity (based on muscle score).
Over time I have found this to be the most effective way to manage my time assessing bull's pre-sale and manage the challenge of looking at bulls across several pens.
While it seems an almost obvious approach to assessment, the simplicity of this method often causes its value in selection to be underestimated.
I have found those producers who use a systematic approach on sale day are more confident in their selection decisions and make greater use of the opportunity to inspect cattle ahead of an investment that will influence their herd over several generations.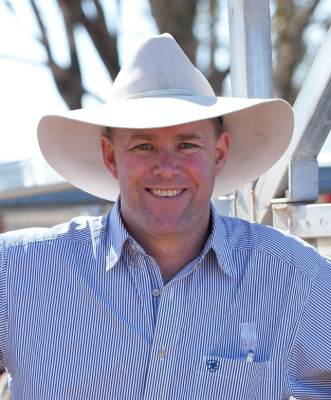 Alastair Rayner is the Principal of RaynerAg, an agricultural advisory service based in NSW.  He regularly attends bull sales to support client purchases and undertakes pre-sale selections and classifications.  He can be contacted here or through his website www.raynerag.com.au