Genetics editor Alastair Rayner returns tonight to file his weekly genetics reviews through the autumn bull selling season. Here is his take on sale prospects for the next three months. Note that next week's genetics email will revert to its usual Tuesday evening time-slot, following this week's Australia Day holiday ….
CONFIDENT, optimistic and excited are three of the most frequent expressions being used by vendors and agents preparing for the 2021 autumn round of bull sales.
With the record prices of 2020 still fresh in many minds, there have been many bull breeders and buyers wondering what to expect as the first sales of the year approach.
As witnessed in recent record-setting weaner sales , the strength of the cattle market has significantly influenced the approach of many producers to their bull selection decisions and purchasing choices.
Across southern Australia, many seedstock operations are experiencing strong pre-sale interest in the listings of bulls ready to enter autumn joining programs.
The senior vice president of Limousin Australia, Jason Schultz, describes the inquiries from commercial producers located within southern and eastern states as being significantly higher compared to previous years.
Mr Schultz, who operates Raven Limousin & LimFlex with wife Penny, described some key differences in the inquiries he and other breeders are receiving ahead of the sales.
"In general, inquiries this year have focused on bulls that have data and performance records available. Many producers are more confident to use online auction platforms to buy their bulls, and so this year this seems to lift the request for more information and data for bulls ahead of the sale," he said.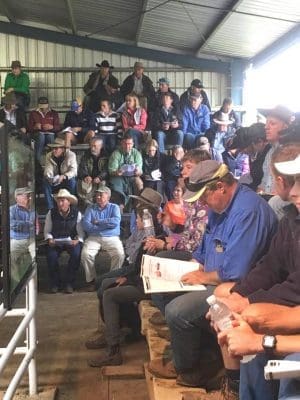 Mr Schultz said many South Australian Limousin bull breeders were receiving more inquiry from producers in eastern states.
The increase in inquiry was being driven by several factors that include the normal demand for bulls to enter autumn joining programs, or to top-up bull numbers as a result of spring joining issues such as injury or misadventure, he suggested. However, there are also a growing number of producers seeking bulls from further afield in order to access bulls at a potentially more competitive rate than was seen in 2020.
One southern seedstock producer who asked not to be identified described the interest from producers as a result of missing out in 2020.
"It's surprising that there are a few people (potential buyers) who got run over in the 2020 sales. So instead of replacing sires last year, they have hung on a little longer and are hoping to pick up replacements in autumn, where competition may be a bit lower, because not many programs are seeking bulls to enter programs straight away," he said.
Jason Schultz suggested increased confidence in online sales and the rapid improvement in video and still imagery for sale lots was a key development in 2020.
"Good video is essential for online sales, and as more people move to buy bulls, they are looking further away at new programs and their interest has to be rewarded by as much detail and quality in images as possible," he said.
Dramatic contrast for Adelong Poll Hereford breeder
After a horrific start to 2020 due to bushfire impact, Adelong (NSW) Poll Hereford bull breeder James Pearce is 'quietly confident' that his upcoming YavenVale autumn 2021 sale will perform well.
Burnt out by bushfires on 30 December 2019, losing cattle, fences and many of the paddocks, Yavenvale still managed to hold its annual February 2020 sale, with the help of friends and colleagues.
"Whatever result we could get last year, we would take," Mr Pearce said.
The turnaround this year could hardly be more dramatic. Cattle prices at record levels had injected a lot of confidence into producers' minds in advance of autumn sales, and season wise, spring was shaping up strongly.
"As a bull-seller calling regular and prospective clients about this year's sale, it's just so evident how much positivity there is out there," he said. "Virtually everybody I speak to has a story about getting some of the best prices they have ever seen, with weaner sales going off the richter scale."
"It's hard to imagine how confidence could be any higher, but sales still have to deliver," Mr Pearce said. "The BOM forecast is good, cattle are, generally, in terrific order heading into spring, and there's plenty of feed about."
He said autumn buyers' approach to pre-sale activity had changed a lot in recent years.
"Many potential buyers are much more confident now in using pre-sale youtube videos in their research, together with EBVs, rather than relying on a personal visit to a bull buyer for inspections, with an agent in tow. They will go through a catalogue and make notes, and make a single trip to the sale, rather than inspecting in advance. Some will still ring and ask questions or discuss a bull for a certain application, but don't feel the need to pay a pre-sale visit the way they used to."
Yavenvale will offer 120 18-24 month old bulls this year on 17 February. Numbers are up by 10 on last year, but not quite at the record level of 130 bulls several years earlier.
Some of the stud's clients like to buy their bulls in autumn, letting them settle in before joining in spring, or let them loose in autumn on empties, Mr Pearce said.
Northern take on autumn sales
The need for quality images and information to support on line sales in 2021 is echoed by well-known Elders Queensland agent Andrew Meara.  Andrew described the confidence producer have in online sales as being very high, and a resulting expectation of good quality images to support sale listings.
Ahead of the February All-Breeds Sale in Rockhampton next month, Mr Meara described producer optimism as a key component in attitudes towards sales.
"The industry is very confident, so demand for bulls will again be quite high," he said.
"The online component is important in underpinning competition as producers see the chance to participate in sales without the need to necessarily travel to attend the sale. Depending how the forecast rains occur, this is often a consideration for northern producers who can participate in sales now, without the risk of being stuck in town or on-property."
Mr Meara noted that for many producers the last few years had seen strong prices for live exports, and this had seen many herd bulls that traditionally may have been offered as paddock sales re-directed to the export slaughter market. With those bulls no longer available, producers are now competing in the February sales adding buoyancy to the market through competition.
Further north, veteran agent Ken McCaffrey shares the optimism around the 2021 autumn sales. He describes the 2021 listing for the annual Big Country sale in Charters Towers next month as a "vintage year".
"This year we will have a record lineup of autumn bulls, with interest coming from northern regions, the NT and from operations in southern Qld.  The strong market certainly has lifted the confidence in producers, and I think that will play-out at the sale. However, what's noticeable in the sales results has been that while prices are strong, the animals with better genetics have performed better and have bought the financial rewards as a result. There are plenty of astute breeders who are looking to the sale to push their genetics and performance and so the sales look promising"
The ongoing seasonal impact has also helped grow the interest in sales such as the Big Country sale. "Over the last 15 to 20 years the seasons have been later-arriving in the north, and sometimes the growing season is then shorter.  So, for a lot of producers, it doesn't make much sense to buy bulls in the spring sales, if they can't be put out to start work until the season allows it," Mr McCaffrey said.
"For many parts of the north, the February sale is seen as great timing to find bulls that can be used straight away, and with the process of inspecting every bull ahead of listing, the sale is known as a reliable source of good quality genetics," he said.
While it will be difficult to determine how prices will look this season, it is likely that demand for bulls will see strong sale price and clearances, throughout eastern and southern Australia.
Producers who held-off replacing sires in 2020 as a result of high prices may no longer be able to put off that renewal process. This is likely to bring an increased level of competition with producers who normal purchase sires at this time of the year.
Online sales which were a key feature of 2020 will again have a major influence on sales with producers willing to look and bid on sales well away from their home locations.
The combination of these factors, along with the general optimism within the industry makes the 2021 autumn sale season one to watch closely. The key messages for producers seeking sires include:
Undertake thorough research beforehand and make full use of the availability of digital images and videos.
Be prepared to have increased competition for sires & budget accordingly
Use online platforms to explore and access sales further away to increase opportunities to fin sires best suited to individual breeding objectives
While the opportunities for seedstock producers look promising, it's important not to cut corners.  Ken McCaffrey describes the majority of cattleman "as discerning and seeking bulls  that will lift their herd."  In practice, this means ensuring cattle are well described and information on their genetic information, including performance records, be made as available as possible.
The importance of good quality video and images cannot be underestimated.  Both Andrew Meara and Jason Schultz highlighted the importance of this resource to drive and maintain interest in sires ahead of and during sales.
"It's certainly not an area to be overlooked or done in a cursory way" said Jason.
Alastair Rayner is the Principal of RaynerAg, an agricultural advisory service based in NSW.  RaynerAg is affiliated with BJA Stock & Station Agents.  He regularly lists and sell cattle for clients as well attending bull sales to support client purchases.  Alastair provides pre-sale selections and classifications for seedstock producers in NSW, Qld and Victoria.  He can be contacted here or through his website www.raynerag.com.au