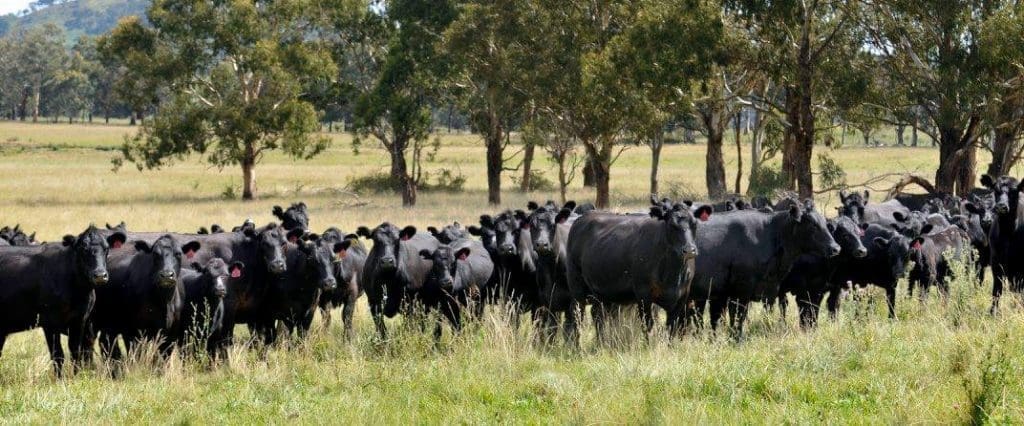 WHILE bull selling last week started shifted into Queensland with some early outstanding results, Bingara (NSW) based Angus stud Booroomooka ensured that the focus stayed south of the border by offering and selling 220 bulls for gross of $2.07 million and an average of just over $9200.
This is the best sale in the history of the Munro family's 90-year-old stud, the highest on property sale gross in the Angus breed and possibly the highest bull sale gross of any breed in history.
It's one thing maintaining a high sale average off a 'boutique' catalogue of 30 or 40 bulls, but much harder with 200-plus bulls in a single vendor sale lineup.
The high average was achieved with a modest top price, with only two bulls topping the $20,000 mark. At the lower end, the upset price was $4000 and no bulls sold for less than $6000 in the 100 percent clearance.
The old rule of thumb that a sale takes two minutes per lot was debunked as three auctioneers from Davidson Cameron & Co pushed the sale of the 220 bulls through in two hours 47 minutes, at an average rate of just 43 seconds per animal.
Bidding was frantic, with some of the 179 registered buyers going home empty-handed.
Swinging the gavels were Luke Scicluna, Daniel McCulloch and youngster Tom Tanner, a Willow Tree Tanner who won the NSW Young Auctioneer title at the 2016 Sydney Royal.
Despite being more comfortable selling from the rails at the local saleyards, these three can now notch their gavels with Australia's highest grossing bull sale.
Booroomooka Angus stud was founded in 1926 by the late H Gordon Munro, and is now run by his son Hugh and grandson Sinclair. For 60 years show ring accolades demonstrated quality and drove demand. This reputation was enhanced by H Gordon Munro's ability to identify efficient, hardy, fertile breeders, traits that Sinclair Munro believes have assisted in the stud's current success.
Breedplan's big role in responding to demand changes
When the demand from Japan for B3 grainfed product commenced three decades ago, Booroomooka met the challenge for more growth and better carcase quality by utilising Breedplan to advantage. Booroomooka's first on-property bull sale was in 1994.
"Breedplan helped us move the herd in the right direction to meet that Japanese market demand. Without Breedplan, we wouldn't have the quality of cattle we have today," said Sinclair Munro.
All the bulls went through the selling ring as individuals without the need for a calming companion.
Buyers came from all over, with two from contrasting areas: one a long-term client from King Island in the Bass Strait and another, a first time-buyer from Taroom in Queensland's heartland cattle country in the Dawson Valley.
The King Islanders were Doug and Wendy Collins of King Angus Beef who run what Sinclair Munro describes as 'one of the best commercial herds you'd ever see' and who haven't missed buying at Booroomooka in the past 18 years.
First time buyers were the Murray family's Kindee Pastoral Co from Taroom, who set the sale alight by taking 12 of the first 42 lots offered at an average $12,500 to contribute to their three-way crossbred Angus x Charolais x Santa Gertrudis. Kindee is famous for its massive one brand weaner sales each year at Roma.
Last week's Angus sales circuit started well, with Te Mania's norther sale at Walgett, NSW, where 117 Angus bulls averaged $7730.
This was followed by the Boshammer family's Glenoch Angus sale at Chinchilla, Qld, where 112 bulls sold in a total clearance at an average $8460, up a staggering 73pc on last year's $4900, which came in the depths of drought.
Also with a 70pc plus lift in average was the Lawsons Angus Roma (Qld) sale where 51 bulls averaged $7764.
The 100pc clearances continued at the Hazeldean sale at Jackson, Qld, where 101 bulls averaged $8200, up 53pc on the previous year's. Over a third of these bulls went to Landmark client, rapidly expanding corporate pastoralist Paraway Pastoral Co (see Beef Central's separate report on Paraway published this morning).
The high averages at last week's sales were generated despite modest top prices, all in the $20,000 range.
To access our comprehensive list of upcoming bull sales, click here
To access our comprehensive list of recently completed bull sales, click here