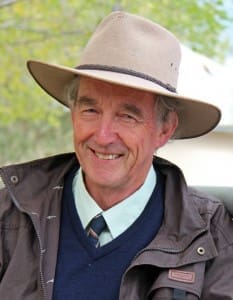 This week Beef Central introduces Alex McDonald as our new genetics editor. Alex is well known to many across the Australian seedstock and genetics industry, and will file weekly content for our Tuesday genetics news alerts, across the autumn and spring selling seasons. His reports will cover a range of issues and topics across the genetics/bull breeding spectrum, as well as keeping abreast of recent and upcoming sales trends and outcomes.
THE 2018 Autumn bull sales get into full swing this week.
With weaner prices down by 15 to 20 percent compared to last autumn and very dry conditions across large parts of eastern Australia, the market for bulls will be challenged to match the record bull prices seen during Autumn 2017.
The numbers of bulls on offer looks to be similar to 2017, which saw many studs offering larger numbers of bulls than the previous year.
The trend for individual studs to hold sales at multiple venues and across borders also continues, with larger enterprises like Lawsons Angus scheduling three sales in WA and a large sale in Victoria in 2018.
Another example is Pathfinder Angus based at Penshurst, Vic, which will offer bulls at three venues over nine days in mid-February. Their opening sale at Naracoorte, SA on 15 February will offer 135 bulls followed by an offering of 126 bulls at the home property at Penshurst on 21 February. A further 75 bulls will be offered at Barcaldine, Qld on 23 February.
WA sales off to bright start
Two WA sales in the last two weeks provided a bright start to this year's autumn bull selling season.
Lawsons had a very strong result for their Hopetoun sale, the first of three sales scheduled by the stud in WA this Autumn. A top price of $31,500 for the first lot set the pace for the Hopetoun sale which saw a complete clearance of 93 bulls offered for an average of $7580 – just $131 lower than last year.
While yet to be verified, the $31,500 top priced is thought to be a record for British breeds in the west.
Selective buying at the Landmark, Great Southern Blue Ribbon Bull Sale at Mount Barker last week resulted in lower clearances and average prices compared to last year. A complete clearance of 10 Charolais bulls topped at $8750 and an average of $5325 and 13 Simmental bulls topped at $7250 and averaged $4981 in an 87pc clearance. Angus bulls topped at $7500 to average $5131 with a 66pc clearance.
This week will see two more Angus sales in WA. Ardcairnie Angus stud principles, Jim and Pam McGregor held a Helmsman Sale on their Kojonup property today and Lawsons Angus will hold their second sale on their Joanna Plains property north of Perth with 50 bulls on offer.
Simmental sales also swing into action with the Introvigne family, Bonnydale Simmental stud offering 70 bulls on Monday 5 February at their Bridgetown property in WA. Later in the week, Tom and Lizzy Baker's benchmark Woonallee Simmental sale will offer 67 black Simmentals, 36 traditional and seven red Simmentals at Millicent, SA.
The Mount William stud at Willaura will be the first Charolais sale on 9 February and the Mandayen Limousin sale at Keith, SA will set the ball rolling for the Limousin breed on 14 February.
Strong sales with 'sustainable' average prices likely
In just their second on-farm auction, the renowned Yarram Park Hereford at Willaura, Vic stud will be the first Hereford sale on 12 February followed by the Glenellerslie sale at Adelong, NSW the following day. Last year's inaugural Yarram Park sale was a huge success and this year is also expected to be a very strong sale, according to Victorian based stud stock agent, Ross Milne.
Mr Milne said while the Victorian weaner sale prices were down a bit on last year's stellar prices, they were still the second or third highest-priced weaner sales on record, so the cattle industry was still in very good shape in the south.
"I expect strong sales with sustainable average prices this autumn," he said.
Landmark Victorian stud stock manager Ray Atwell believes that this year will be a very strong autumn sale season, without being likely to set any new records.
"While weaner prices were down on last year's record levels, they are still higher than two or three years ago, and prices for finished cattle are down on this time last year, but still strong," he said.
Northern sale calendar
While fewer autumn bull sales are held in northern regions than the south, there are nevertheless some substantial early season sales coming up in Queensland.
The northern bull selling season will kick off with 358 red and grey Brahmans on offer at the 25th Anniversary Big Country Brahman Sale at Charters Towers on 5 and 6 February. McCaffrey Australia Livestock Marketing principal, Ken McCaffrey said this year's catalogue had a very good line up of Brahman cattle and he was looking forward to a strong sale, despite the dry conditions in central Queensland.
The Big Country sale will be a barometer for further Autumn sales in northern Australia, including the annual February All Breeds Bull and Female Sale at Rockhampton's Gracemere selling centre on 13 and 14 February, offering 415 bulls and females across 14 breeds and composites.
Editor's note:  Gremlins crept into our Upcoming Bull Sales directory software during the off-season, disabling the search function provided for readers. The IT issue has now been resolved, and readers are again able to search the listings of upcoming sales by stud name, breed, state or selling period.
While we have updated the current national sales list for the autumn sales period using multiple sources, we're also relying on readers to bring any oversights or omissions to our attention. Readers and studmasters can either drop Alex an email at alex@beefcentral.com, or access this pre-prepared form to provide details about upcoming sales we might have missed. Editor