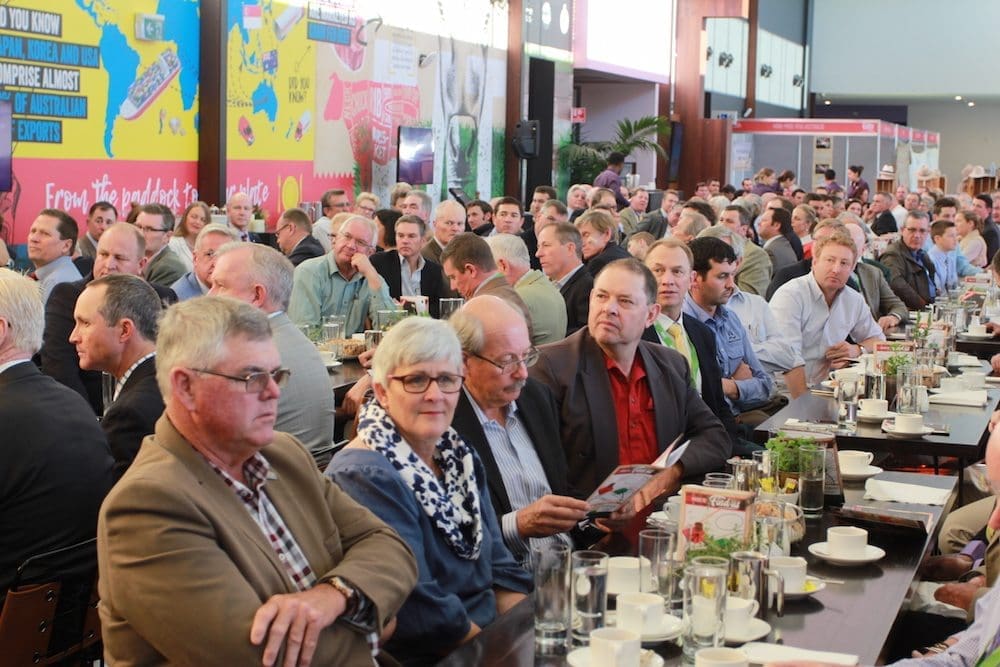 A large audience was on hand to see the presentation of the 2017 Paddock to Palate awards at the Brisbane Showgrounds last Friday.
A question was posed at last Friday's RNA Paddock to Palate competition awards breakfast by Master of Ceremonies, ABC Landline's Kerry Lonergan.
Should Wagyu cattle be shown in the main ring alongside all the other breeds?
The topic had been discussed during social events at the Ekka, he said, explaining that one veteran cattleman provided a definitive reason as to why it wouldn't happen: "because they're just too &#%!@?! ugly!"
The high marbling Japanese breed is in some respects the "ugly duckling" of the Australian cattle industry. With big forequarters and light hindquarters they are physically at odds with the type of cattle Australian breeders are traditionally accustomed to breeding. But it is through their "inner beauty" of high intramuscular fat that they have won over many consumers and in turn commercial breeders in this country.
Of course beauty is also in the eye of the beholder, and Wagyu breeders would also take exception to the suggestion their cattle are "ugly", arguing that Wagyu market premiums for more expensive forequarter cuts makes them both physically and commercially attractive.
Without having stepped hoof in the show ring the breed has already managed to capture the attention of the show realm.
The Royal Queensland Show this year dedicated an entire section of its commercial Paddock to Palate competition just to Wagyu cattle.
RNA Councilor Gary Noller said it was the first time the RNA had selected a single breed to showcase.
"The reason is that Wagyu alone marble better than any breed. They are unique, they have a commercial market that nobody else can do."
So what do Wagyu breeders think? Do they see any value in lining Wagyu stud animals up alongside other breeds in the main arena, to be judged on more traditional visual characteristics?
Two Wagyu breeders who attended the breakfast had mixed views when we posed the question to them.
Brisbane based Wagyu breeder and Australian Wagyu Association senior vice-president John Spreadborough said there was an argument to say parading Wagyu cattle in shows like the Ekka could help to build the breed's profile with city consumers. But he noted the breed has already achieved an amazing degree of awareness for its high marbling characteristics and eating quality traits, as evidenced by the inclusion of the specific Wagyu section in the Paddock to Palate competition.
Showing Wagyu cattle could help people to realise that Wagyu cattle were not "ugly", he said, but he added that showing Wagyu cattle could also divert breeders' attention in the wrong direction.
"The animal that looks good is not necessarily the animal that marbles well, so there is a bit of a dichotomy there," he said.
Darling Downs Wagyu breeder and Australian Wagyu Association director Ron Fitzgerald said in his view, the 'meat is the show'.
'The show is meat. That is where it gets shown'
"The show is meat. That is where it gets shown," he said.
"I think for too long the Australian beef industry has focused on the visual appearance of the animal and not enough on the eating quality.
"The Japanese have specifically focused on producing cattle that are bigger in the forequarter which is where the more expensive cuts are to value add their animals.
"Every marble score it goes up, it goes up another dollar or so in carcase value."
He expressed concern that introducing Wagyu cattle to shows could result in breeders focusing on appearance over meat quality, for example through starting to beef up hindquarters at the expense of higher value forequarter cuts.
Gary Noller told Beef Central that while Wagyu breeders would be welcome to join the show ring, it was not something he felt they would be interested in doing.
"They concentrate on that commercial sphere and that is all they need to do," he said.
He said the RNA's inclusion of Wagyu cattle in the Paddock to Palate competition was providing Wagyu breeders with a way to benchmark genetics across a range of important parameters beyond marbling alone.
The commercial competition comprises 40 points for marbling, 15 points for fineness of marbling, 15 points for Eye Muscle Area and 10 points each for P8 fat depth, rib fat depth, fat colour, meat colour, saleable meat yield and yield value index.
He said DNA sampling underpinned the competition, giving entrants the ability to identify better performing genetics and to avoid the pitfalls of single-trait selection.
"They can then pick out what they think are the best traits, identify the genetics through the data that we have supplied through this competition, grab those genetics and then go back and do it all again."