SYDNEY'S famous Victor Churchill's butchery will push the boundaries of retail pricing for beef in Australia when it markets cuts from a single ultra-premium Fullblood Wagyu carcase for up to $500/kg from Monday.
The carcase, sourced from David Blackmore's renowned Blackmore Wagyu herd in Victoria, carried 70.5pc Tajima bloodlines, bred from an elite performing Aizakura cow family and Blackmore Kikusurukiku H224, a 100pc Tajima bloodline bull.
The unique product will be available until sold out, which may not take long, given that a carcase sired by a half-brother from the Aizakura family, retailed the same way several years ago through Victor Churchill's sold out within days.
As the accompanying images above and below taken in Victor Churchill's dry-aging room show, the carcase carries not only an abundance of fine, feathery BMS 9+ marbling, but also an unusually large eye muscle area of 128sq cm, indicating high meat yield. Hot standard carcase weight is 457.5kg. And the assessment was done at AusMeat's 11-12 rib position, not Japan's preferred 4-5 rib, where marbling expression may be higher.
Breeder David Blackmore describes the product as some of the best Wagyu beef he has produced.
"We are aiming to increase the size of the eye muscle in our Wagyu cattle, and this carcase reflects that," Mr Blackmore said.
"If we can put an extra 1kg into the two striploins and two cube rolls from each carcase, we have effectively added 4kg of beef, which for these cuts has a value of $150/kg. It increases our normal carcase value by $600," he said.
"We compete in 12 countries against Japanese-produced Wagyu carcases, which carry eye muscle areas significantly larger than Australia's," Mr Blackmore said. "Around 58pc of our dollar meat return comes from 8pc of the meat weight."
He also drew attention to the limited amount of seam fat in the carcase (see photo), meaning very little yield loss when cuts are prepared for sale.
"Blackmore Aizakura K1015 is an outstanding carcase that goes beyond marbling alone. The marbling, meat colour and fat colour all combine together to offer a beautiful piece of meat," Churchill's Anthony Puharich said.
"The flavour is accentuated through Blackmore's feeding process that uses natural ingredients to achieve the perfect flavour balance between sweetness and richness."
"This animal has been the culmination of 29 years of studying and breeding Fullblood Wagyu by David Blackmore, who continually strives for perfection," Mr Puharich said. "His ultimate goal: 'to make his worst carcase, as good as his best'."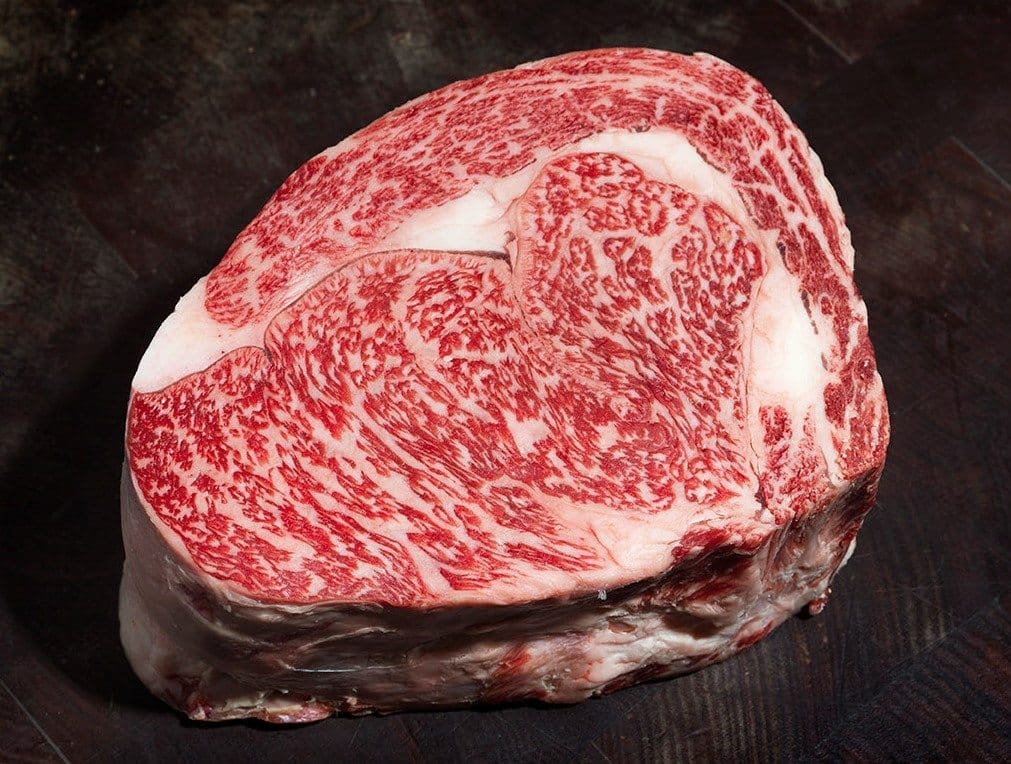 Click on image for a larger viewNext week's feature carcase was produced by Blackmore Kikusurukiku H224, a 100pc Tajima bloodline bull. Tajima is the bloodline used in Japan's Hyogo Prefecture, used exclusively for Japan's Kobe Beef brand.
Mr Blackmore said while many promoted Tajima bloodlines around the world, very few had pure 100pc Tajima blood cattle, as there was only one Tajima female and eight Tajima bulls ever exported from Japan between 1992 and 1996.
Kinu 1 was the female exported from Japan to the US in July 1993, and was the daughter of a very famous Kinu cow from the Hyogo Prefecture. The Kinu cow was never to be sold, but at the age of 16 and believed to be no longer fertile, she was sold to Shogo Takeda. Takeda San was able to get one calf from Kinu, a daughter named Kinu 1.
David Blackmore has traced his 100pc Tajima herd back to 1910 to a bull named Nakadoi, and now proudly has more than 50 animals carrying 100pc Tajima bloodlines within his Blackmore Wagyu herd.
The dam of the feature carcase, Blackmore Aizakura H246, can be traced back to Blackmore's foundation cow, Blackmore Aizakura U100, who has more than 3000 descendants carrying her bloodline. U100 is now a grand old dame who at 18 years of age is living out her life in the house yard of the Blackmores' family property.
Beef Central wrote this earlier article about the Victor Churchill retail site in Sydney's Woollarah, asking the question, "Is this the world's best butcher shop?"