AT 84 years of age, one could excuse Central Queensland cattleman Paul Harris from taking his foot off the throttle a little in his large-scale Wagyu breeding operation.
Instead, he is embarking on an ambitious  ten-year program designed to deliver more abundant and more consistent marbling, ultimate carcase weight and growth rate and better feed conversion  in his herd.
His team of six Fullblood steers that claimed the overall championship in this year's  RNA Wagyu Paddock to Palate Challenge (see Friday's preliminary story) proved to be versatile performers – finishing among the leaders in meat quality, carcase value, sensory evaluation and even feedlot weightgain, where they competed head-to-head with F1 and F2 Wagyu x Angus entries at Smithfield Cattle Co's Sapphire Feedlot near Goondiwindi.
With no small dash of ambition, Mr Harris's plan is to see all his steer progeny ultimately perform as well as his Brisbane Show winners.
More consistent performance, especially in marbling, was one of the keys to successful Wagyu breeding, Mr Harris said.
"It's no good producing a pen of show class winners, if the rest of the cattle at home aren't as good for marbling and other traits," he said.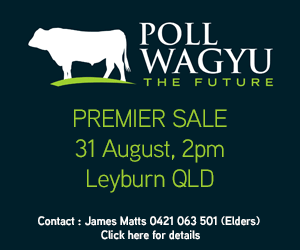 A successful Rockhampton accountant by trade, Mr Harris bred his first F1 Wagyu calves in 2007, but quickly shifted emphasis towards Fullblood breeding (progeny of 100pc Japanese bloodline sires and dams).
Today he and his family's Sunland Cattle Co runs one of the world's largest Fullblood Japanese Wagyu breeding herds, with more than 6000 AWA registered breeders on its books, and closer to 7000 in total. The herd has the highest number of Fullblood Wagyu females among all members registered with the Australian Wagyu Association.
Sunland's last few remaining Purebred Wagyu (bred up from other breeds, but never achieving Fullblood 100pc Japanese Wagyu status) are now virtually gone.
"The only purebreds we still own have Fullblood embryos in them," Mr Harris said. "After that, once they calve out, there will be none left – we are now virtually at 100pc Fullblood genetics," he said.
Selection is focussed not just on marbling genetics, but on carcase size potential, with two of this year's Brisbane show winners showing eye muscle areas of 132sq cm, with heaviest carcase weights at 483kg.
"I want them all like that," Mr Harris said. "My problem is, I want it yesterday. I'd like to average 470kg after 400 days on feed, from Fullblood (not faster-growing F1) steers.
"But we (the Australian Wagyu Fullblood industry) are getting closer to the magic target of delivering consistent high marbling performance, combined with exceptionally heavy carcase weights in Fullblood cattle."
"With today's cost pressures, we need the feeder cattle to achieve these weights and marbling levels after less days on feed."
"In terms of profitability, the combination of strong marbling performance, plus heavy carcase weights, makes a big difference to the bottom line. The lighter carcases that still marble well are obviously not as profitable."
Heavy use of artificial breeding to speed up genetic gain
Much of the Sunland operation's breeding is done either through AI, embryo transfer and IVF, with up to 800 embryo transplants a year taking place, shifting the genetic curve much more rapidly than through natural mating.
Unlike many in the industry who have adopted Fullblood breeding only relatively recently, Sunland has specialised in pure Japanese genetics virtually since day one.
"I didn't want to dilute the genetics by crossbreeding with Angus dams," he told Beef Central after his win announced on Thursday night. "I wanted to aim for the top."
Sunland's best pen of six steers in this year's competition produced an average camera-measured marbling score of 10.9, including one extreme outlier with a score of 15, and another of 11, after 400 days on feed at JBS Beef City feedlot.
Two thirds of the pen received the competition's maximum marbling score of 60. The competition does not provide an average marbling score across all 245 entries in the class, but based on dead-reckoning alone, it looks like entries may have averaged around marbling score 8.
Sunland Cattle Co's team had an average carcase value of $6973, and topped the sensory taste test component of the judging, with scores of 92 and 91.5/100. Eye muscle areas ranged up to 115sq cm.
Selective breeding and culling
Now that the Sunland Wagyu herd has reached critical mass in terms of Fullblood numbers, the objective is to selectively breed, and cull poorer performers, to further lift overall performance, Mr Harris said.
"We have gathered a lot of carcase data over the years, and the objective is to upgrade the herd, all the time."
Additionally, Sunland has contributed around 400 heifers to the AWA Wagyu progeny tests, seeking even greater carcase data of value to themselves and the broader Wagyu industry.
Typical marbling scores from Fullbloods fed recently are 8.5 to 8.7, after around 400 days on feed.
"But there's more performance to be had," Mr Harris said. "I'd like to get all my Fullblood feeders averaging 9+ or 10. We still produce a few 5's and 6's on the bottom end, but progressively, those genetics are being moved on. It's easy to lose money on the non-performers."
Feed efficiency
Another medium-term breeding objective on the Sunland herd is to 'shift the bell curve' for feed efficiency.
"We should be putting more selection pressure on cattle for feed conversion," Mr Harris said.
"We have used the sire that topped the feed conversion results from the Australian Wagyu Association's conference in Melbourne earlier this year, and it's something we are starting to put more selection pressure on. The industry can do a lot better in feed conversion – I know that," he said.
"But it has to happen in combination with the other key traits."
"As we saw in Japan during the AWA Wagyu tour last October, there are very few poor performers in the Japanese Wagyu industry. Fullblood carcases are extremely heavy, and most of them produce marbling scores of at least 10-12."
"That's where we need to aim, despite Australia's more limited genetics."
In addition to its feeder cattle production, Sunland also produces herd bulls for sale in the paddock, with established customers in every Australian state. Bull numbers vary a lot depending on seasonal circumstance and demand.
Property assets
Sunland's Central Queensland property assets include Old Bombandy, just over 11,000ha of freehold land on the Isaac River, and Ten Mile, near Marlborough. Old Bombandy includes about 2800ha of the browse legume shrub, leucaena, plus pasture improvements including buffel, green panic, and other grasses.
Ten Mile covers some 6900ha of freehold land on the Mackenzie River near Marlborough. Ten Mile has been developed with about 2700ha of leucaena which complements the buffel, green panic, and other pastures.
Combined, Sunland's holdings represent one of the largest leucaena projects in Australia, totalling close to 3000ha.
Leucaena and buffel are widely used to grow out Wagyu weaners before sale to feedlots, with five or six major feeder stock turnoffs each year.
Unlike some Wagyu breeders who closely align with one particular Wagyu beef supply chain, Sunland remains unaligned, selling to whoever has the best money on the day.