THE US Angus seedstock industry will embrace the next big advance in genetic selection technology in July, when it adopts single-step genetic evaluation to calculate expected progeny differences (EPDs) – the equivalent of Australian Breedplan's EBVs.
Explaining the process and what it offers at the recent Angus Australia annual conference in Ballarat was Dr Dan Moser, president of Angus Genetics Inc and director of performance programs with the American Angus Association.
"It's an incredible time to be involved in genetics and breeding Angus cattle," Dr Moser said.
"We have more information at our fingertips than ever before, more tools to practically evaluate that data and a drive to continuously improve the quality of our beef product."
Single-step genetic evaluation will incorporate all genotype, pedigree, performance and progeny data simultaneously to deliver 'genetically-enhanced EPDs', rather than requiring multiple steps, as in the current method.
He said genomics was the 'tool of choice' right now, and the technology that seedstock breeders everywhere were most excited about.
Angus breeders had adopted the technology more than other breeds in the US – doing perhaps four to five times the amount of genotyping that all the other breeds in the US were doing, combined.
About one third of the annual Angus seedstock registrations in the US were now genomically tested, representing around 110,000 head, Dr Moser said.
"Some of that is because as early adopters, we have more accurate predictions than most other breeds. But genomics really is a transformative technology, in that we are able to make decisions much earlier, to better understand the value in young animals, and make breeding decisions on those young animals with a higher degree of confidence," he said.
"As a result we're providing animals to the commercial industry with a more accurate prediction, so they can be more confident in their purchase and management of those animals."
Progress in feed efficiency
Genomics also allowed seedstock producers to make predictions on traits that were difficult to characterise – issues like feed efficiency or mature cow size.
"We'd love to know what a sire's genetic merit for mature cow size in his daughters is, but under conventional means, we have to wait until his daughters reach maturity to take weights and heights, by which time the bull is past his prime. But by taking a hair or blood sample on a bull calf, and to be able to make an accurate prediction for his genetic merit for a trait like that, our breeders see real value in."
Similarly, being able to better gauge carcase traits like marbling and carcase weight through genomics was attractive to breeders.
A big part of the emphasis in breeding programs in the US Angus was directed at better improving the consumer characteristics like marbling, cutability and carcase weight, Dr Moser said.
"We can get some of that information through ultrasound scanning, but to be able to get that information earlier, and rank some animals that are unable to be scanned, is also very useful for genetic prediction."
For the first time in history, some genetic progress was also being made in traits like dry matter intake, and residual average daily gain as a measure of feed efficiency in cattle, he said.
"Basically, in our population, Angus has either been constant or maybe even declining for that particular trait, because it is so difficult to measure. But now that we have more information, and are able to extend that into genomically-tested animals, we are seeing some genetic improvement in feed efficiency, for the first time in our history."
US Angus had had an EPD for residual average daily gain (a measure of efficiency, much like RFI) for a number of years, Dr Moser said.
"But if you look at an American Angus bull sale catalogue, you almost never see that value published. It wasn't something that breeders really emphasised, or they didn't understand it," he said.
Over time, from 2004-2014, dry matter intake had been going up in Angus cattle in the US.
"That's not surprising – more carcase weight, more marbling – you'd expect that. At the same time, residual average daily gain (feed efficiency) was pretty much flat. But in 2014, we added feed intake into the Angus terminal $ index, to try to better characterise the real economics of cattle feeding."
"Since doing that, raw intake is flat, for the first time in history – not because breeders suddenly started selecting for residual ADG, they just kept using the terminal index. But at the same time feed efficiency is improving a lot more rapidly than it ever has."
And the trend was not happening at the expense of other traits.
"At the same time as intake is starting to decline, we're still seeing increases in carcase weight and marbling – we're making more profitable Angus cattle in that feeding phase."
The challenge now was to come up with a total index that allows US Angus breeders to do the same thing for heifer pregnancy and other traits of importance on the ranch.
Don't abandon performance data
Despite the considerable potential it provided, genomic testing without the backup of actual performance data was really meaningless, Dr Moser warned.
There was a danger that some seedstock producers might throw-away their set of scales, and expect to "simply take a blood or hair sample from a calf, and wait for the magic to happen."
"I'm afraid to tell you that that day will probably never happen," he said.
"If anything, I'd argue that the recording data becomes more important in the era of genomics, not less important."
"Now, not only are we using the data to describe the measured animal, and his or her direct relatives, but also to characterise the genomic sequence that we then extrapolate across the whole population."
"It's important that we continue to measure phenotypes, in every generation. If we stop collecting data today, the accuracy of predictions would not only stop increasing, but they would actually decay. The data is very important."
Dr Moser said one attribute that set beef and dairy cattle seedstock producers apart from those in chicken and pork was the free and open exchange of information and data, for everyone's benefit.
"We are better able to compete with those other proteins, because we do share that data openly. It's a very important part of our success," he said.
Testing deeper into herds
Dr Moser spoke about the evolution of genomic testing, and how breeders were now testing much 'deeper' into their herds, as the costs came down, and performance improved.
"Earlier, we might have had a seedstock producer with 100 bulls for sale, who might have DNA tested the top 25 – or at least what he thought was his top 25."
"I can understand why they did that – thinking that this group of bulls had the most genetic value, and would attract the most discerning buyers. And the buyers of the bottom-end bulls might not even be able to spell the word 'genomics'."
"But what happens is if you only test what you think is your top quarter, some will fall out. They don't all get better when you DNA-test them. And there will be some bulls in what the breeder perceives to be that bottom quarter that are actually better than that – but they have to be DNA tested to find out."
"You have to give those bulls the chance to move up, in the offering. So the value is probably better by doing a more complete set of testing on animals, because some of the lower-ranking animals (through performance recording) have to be given the chance to show what they really are, through DNA testing."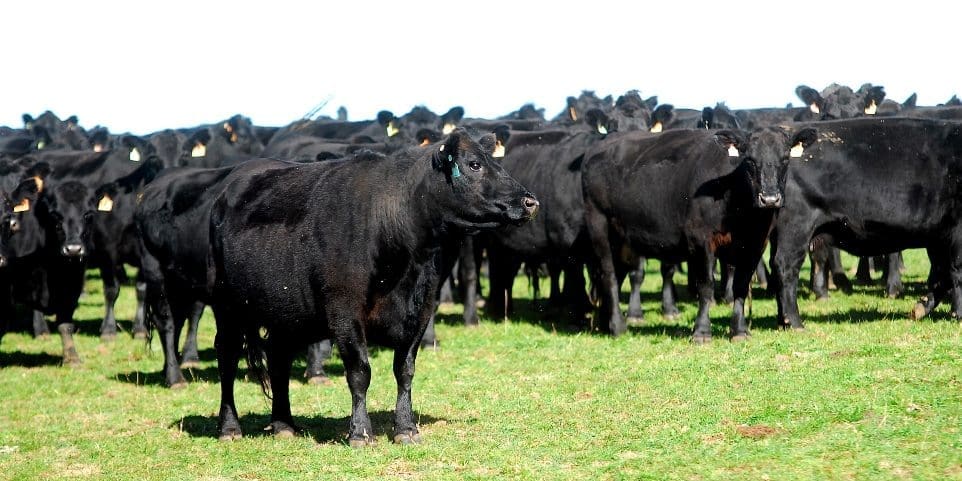 The same applied when ranking heifers.
He provided an example of a herd with Angus heifers, where based on their pedigree and EPD data, they were determined to be good in five or six traits, but perhaps deficient in one or two others. When AI sires were chosen to use over those heifers, selections were typically made to try to correct for that.
"But when we did genomic testing on those heifers, some of those animals did not have the problems we thought. In those cases we need to pick a different AI sire. We also find some elite performing donor females a little earlier, using genomics," he said.
Balanced focus
Dr Moser said because genomics was 'new and exciting', and the seedstock breeder had spent money on DNA testing, there was a temptation to focus solely on the genomics.
"Keep in mind that the EPD (or EBV in Australia) that combines all those things together is still the most accurate predictor," he said. "There are often some animals that test really well using genomics, but whose EPD's aren't that good."
"There's a reason for that. It's because of the other information – either pedigree or the animal's own performance. Genomics is useful, but it's not the only thing. It's another tool to put into the equation, and the solution you get out at the other side is the most valuable selection indicator."
Single-step testing from July
Dr Moser said the US Angus industry would transition in July to single step genomic evaluation.
"We've been working on it for three years, and are very close to releasing it for use," he said.
"It's something that we think is more accurate than what we have today. It has already been implemented in Holstein programs, and poultry. So we're not really the guinea pigs – we're kind of the last ones to make the transition," he said.
"It's already very well proven and is having good results in other species."
Dr Moser said the advent of genomic testing shifted some of the responsibility, and the risk, in variation in cattle from the commercial breeder, back to the seedstock producer.
Some commercial breeders had built in 'artificially high' numbers in terms of EPDs on their bull selections, in order to 'factor in' some of the risk in variation in progeny.
"With genomic testing, maybe they don't need to do that quite as much. Maybe they can be accepting of EPD values that are not quite as high, provided they have more confidence in the accuracy behind them," he said.
It's all about the males
Genomic testing also changed some of the industry paradigms around 'It's all about the males,' Dr Moser said.
"The old thinking used to be buying the right males, and keeping the daughters of the right males, was the way to drive genetic progress. But genomic testing changes that somewhat, because now we can know more about a female than we have ever known before. We couldn't get the kind of accuracy required on some traits previously, but now we can."
"That, then, potentially raises the profile and the value of significant (elite performing) females within a herd, allowing more genetic progress to come from the female side."
US watching Australian Angus closely
Despite the US Angus industry's reputation for being a world leader in genetic improvement in beef cattle, Dr Moser said it watched very closely what Angus seedstock breeders were doing in Australia.
"In many ways we have learned from you. Long before we had dollar values, Australian Angus had selection indexes; long before we had any reproductive EPDs or EBVs, like heifer pregnancy, you had days to calving information. Long before we had any data collection for foot structure or feed efficiency, Australia had that sort of information."
He said Australian Angus breeding indexes were still more advanced than those in the US.
"Ours are very segmented – we have weaned calf value index ($W) and terminal grid value index ($G), but the US does not yet have a good target for somebody that wants to improve both carcase merit and reproductive traits at the same time.
"Australia has that; a lot of other US breeds have that; it's something we will be working on over the next year or so."
"But we welcome the opportunity to collaborate with Angus Australia and its members, and look forward to continuing that partnership."
Dr Moser said the US Angus industry was also working towards a cow longevity EPD, as this had 'huge economic ramifications' for customers of Angus bulls. Hair coat shedding and foot structure were other traits of interest.