ONE of Australia's earliest Wagyu industry pioneers was honoured for his contribution to the breed's spectacular development in this country during the opening stages of the 2017 Australian Wagyu Association Conference at Albury earlier today.
Central Queensland cattleman Wally Rea was inducted into the AWA's Hall of Fame by association president Peter Gilmour this morning.
Wally secured the Australian semen rights to the first Fullblood cattle that left Japan in the 1990s, as well as their progeny. Although the details are somewhat vague, that occurred around 1994, Beef Central understands.
Wally seized on the opportunity, undertaking very large artificial insemination programs each year to rapidly multiply the Wagyu genetic footprint in the conventional beef herd on his property, The Overflow, near Marlborough. During the early to mid-2000s, he routinely AI'd up to 2000 breeders each year using Wagyu semen as part of the upgrading process, in what was then one of the largest AI programs in Australia.
It meant that very quickly, Wally established perhaps the largest purebred Wagyu herd in Australia in that era, being well ahead of other breeders in the pace of expansion and upgrading.
At a time when Wagyu cattle were not only unfashionable, but actively frowned upon by many mainstream cattlemen, Wally was prepared to look past their 'plain, dairy-like' exterior to the genetic potential which lay within – extracting previously unheard-of marbling performance from the Japanese black cattle.
Never one to seek public attention, he set about quietly building has Wagyu cattle numbers in Central Queensland. His dogmatic approach has sometimes attracted criticism within the Wagyu industry, but equally, his achievements are universally recognised.
His early genetic selections were regarded as some of the best-performing bloodlines to come out of Japan, and purebred herd bulls from The Overflow quickly gained a reputation as high performers in progeny marbling performance. Over time, as access to Wagyu genetics improved, Wally was also involved in early Fullblood Wagyu breeding.
"The first Fullblood bull born in Australia was born on my airstrip right in front of my house," he told this morning's conference gathering.
A stickler for detailed performance recording, he established a vast performance database on his own cattle, continuing to improve the genetic performance within the herd, based on progeny testing and carcase results. He occasionally came under criticism for not sharing his performance data more widely across the Wagyu industry, however.
Retained ownership focus
Wally always cultivated a vision of retaining ownership of his cattle through the chain, and selling his product to Japanese customers, rather than simply selling feeders to other specialist Wagyu feedlots.
His first batch of Wagyu-infused carcases were sold in the wholesale market in Japan, presumably airfreighted, around 1998, in what was probably the first export sale of Australian beef bearing some Wagyu genetics.
In another alliance with Nippon Meat Packers, which operated the Borthwicks Mackay abattoir not far from his property, Wagyu cross beef from The Overflow was also sold into Japan – likely to have been the first boxed beef exports of Wagyu-infused product from Australia.
"The second-in-charge at Nippon at the time (Mr Tatsumi, who is now a senior executive in the NH Foods Ranks) was the first man to buy any of The Overflow's crossbred progeny," Wally said.
He maintained a number of export supply chain alliances over the years, including Cabassi & Rea with Peter Cabassi, with the objective of selling his beef direct to end-users in North Asia.
Wally continued under the 'retained ownership' model for many years, getting cattle custom-fed at various sites including Maydan feedlot near Warwick, Wonga Plains outside Dalby, and ICM's Peechelba feedlot near Wangaratta in Victoria. Most of his cattle these days are sold into Wagyu programs fed at Stockyard's Kerwee feedlot on the Darling Downs.
Breaking down 'conventions'
In the early days when Wagyu cattle feeding 'conventions' were still being ironed-out in Australia, Wally was always prepared to feed his cattle 'a lot longer' than others, who at the time saw little point in leaving cattle on feed beyond 300 days. Programs out to 500 days were not beyond Wally's ideals, in the quest to achieve absolute marbling performance, rather than being bound-up in conventional feedlot thinking.
AWA president Peter Gilmour this morning saluted Wally for his contributions to the Wagyu industry in this country.
"In what started as a novelty, cottage industry, Wagyu has now matured, expanding across the length and breadth of the continent to become a genuine part of the Australian beef industry," Mr Gilmour said. "It is pioneers like Wally that took it out into pastoral country to create it," he said.
Mr Gilmour credited Wally's strong interest in meat quality traits for laying the foundation for what was to come.
"It was really meat eating quality that drove him to Wagyu," Mr Gilmour said. "How amazingly forward-looking he was as an individual."
"As a man who was intimately involved in the very first shipment of Wagyu cattle out of Japan, Wally has led many of his colleagues into the Wagyu industry through his own success and generous advice."
Japan visit sparked interest
In his acceptance speech this morning, Wally Rea said he went to Japan on a holiday in the early 1990s and ended up at the then Australian Meat & Livestock Corporation office in Tokyo.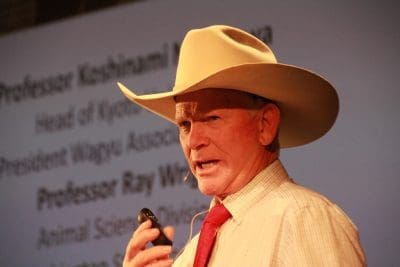 "They told me there wasn't any good Australian beef in the Japanese market," he said.
"They took me down to the (Tokyo Central Market) meat auction and I saw they were using a measure of quality that I hadn't even heard of – marbling. Witnessing the auction and the prices being paid, it was pretty obvious to me that I should take a bit more notice," Wally told this morning's conference audience.
"I tried for a fair while to get some Wagyu out of Japan. A guy called Peter Winkler put an ad in the paper, offering Wagyu semen for sale. I rang him up and said how much you got? He said he had 2000 straws."
"I said I will buy the lot, but I want to see that bull first, and make sure he is not a fake."
"That provide difficult, as the bull was in Geogetown, Texas, so I went to Georgetown, to see him.
The owner also had a neighbour who had a reasonable herd of what we call American Wagyu genetics. I said that looks like a Wagyu animal, but I want to see the meat," Wally recalled.
That led him to Washington State University, where a feeder trial was winding up with a slaughter the following week.
"I went up to Washington State and watched that trial. They told me the Wagyu in Japan were even better, and I was told that it wasn't illegal or impossible to get them out of Japan."
"He said Charolais cattle were coming to the US through Japan, undergoing quarantine in Japan. So they must be a health protocol in place, so you can do that legally," he said.
A string of negotiations followed, with the president of the Wagyu Association in Japan and the head of the Kyoto University, Wally recalled.
He also visited an All-Japan carcase show around the same time, seeing some dairy cattle carcases auctioned, making the equivalent of about A$500, while the elite Wagyu carcases were making $30,000 or $40,000.
"The marbling the cattle was what I wasn't used to," Wally said.
Wally and a group of fellow investors established a company, New Era Genetics to build a custom-made quarantine centre in Japan to facilitate the live trade.
"We got USDA vets to fly over there and take the blood samples so they would allow us to land them in the US. It was quite lucky really because there was only a short time window available to do it, The Japanese opened the door, and then of course BSE closed the door very quickly."
No imports had occurred out of Japan since then, because of BSE, Wally said.