WITH much of the attention in beef breeding fixed on the current round of bull sales and the records that seem reset every week, its often easy to stop thinking about the cow herd those bulls will soon join.
The ability of bulls to make an impact on a herd often tends to be the major focus for many producers.  However, getting a cow herd to perform will add significantly to productivity and ultimate profitability in breeding herds.
In recent research published this year in the Journal of Animal Science, Australian researchers led by Dr Kieren McCosker from the NT, the primary factors influencing the ability of lactating cows to become pregnant within 4 months of calving were identified.  This research offers some major opportunities particularly in Northern Australia, where around half of the nation's breeding herds are located.
There has been an awareness for many years that northern breeding herds – those located in Queensland, Northern Territory, and northern Western Australia, have average to moderate levels of fertility.  This report refers to research conducted in in 2010 which suggested that the percentage of cows in northern herds who were annually producing a calf ranged from 50% to 70%.
While there are many factors that contribute to this result, the length of the postpartum anoestrus interval (the period of time where cows do not experience an oestrus cycle) is the dominant factor in most cases.  Many producers would be aware that over a number of years, there has been significant research conducted on ways to manage and reduce the postpartum interval.  These have included work focused on genetics, nutrition, and body condition at calving and other key points of the year.
The results published this year aimed to "identify the major associations among herd management, nutritional, environmental, disease and individual cow factors, with several animal-level outcomes summarizing reproductive performance."  In undertaking the research, a significant number of collaborating properties were enrolled to provide data.  Ultimately the data for the research was collected from 78 commercial herds across northern Australia which amounted to 78,000 head, with data collected over a four year period.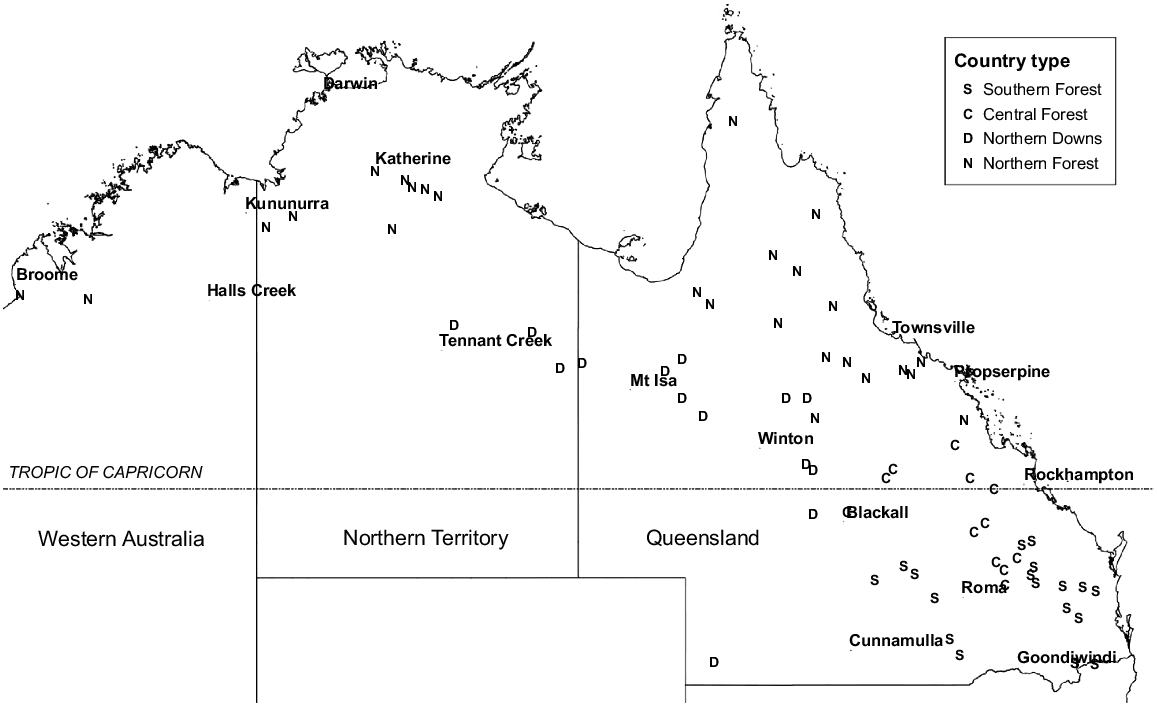 Source: J. Animal Production Science Production and performance of commercial beef breeding females in northern Australia. 4. Factors influencing the occurrence of lactating cows becoming pregnant within 4 months of calving
D. McCosker, N. R. Perkins, G. Fordyce, P. K. O'Rourke, and M. R. McGowan 
This data provided some significant findings.  As a key outcome, the research identified only 41.6% of cows per production year were successful for P4M.  This result was strongly associated with the country type thar production occurred upon.  The Southern Forest country had the strongest results with the average P4M recorded at 65.4% followed by the Northern Downs at 61.8%.
Herds operating within the Central Forest country recorded average P4M of 57.5% and in the Northern Forest the average was 16.4%
It is important to note that while these figures represent the average P4M for cows run on these country types, there was some variation between the herds in each of the four country types.  This variation reflects a range of factors and does offer some suggestions for producers keen to find ways to increase their cow's annual production levels.
Calving time is one area where there were notable differences. Around 60% of cows in the analysis calved in the December – January period and had much higher levels of P4M than caws which calved between July and September.  This highlights the advantages of calving to meet seasonal conditions and ensure nutritionally, females can achieve their requirements for lactation without losing significant levels of condition or liveweight.
One valuable outcome suggested by the research is for managers to consider commencing their calving 6 – 8 weeks ahead of the time where they expect feed quality to improve.  This is suggested as "nutritional demand is strongly associated with milk production, which is lowest during the month of calving and dramatically increases to peak lactation during the second and third month after calving"
From an implementation perspective, there are several opportunities open to producers to include some of the results into their management programs.  Addressing nutrition and considering the timing of calving is one major area.  While some producers may see the task of controlled mating and segregation of breeders to ensure calving at optimum times could be an arduous undertaking, the result in increased P$M levels may financially justify this step.  Similarly using forage budgeting tools, particularly with regular satellite updates to provide whole of property detail, managers can start to plan and prepare more specific feed strategies.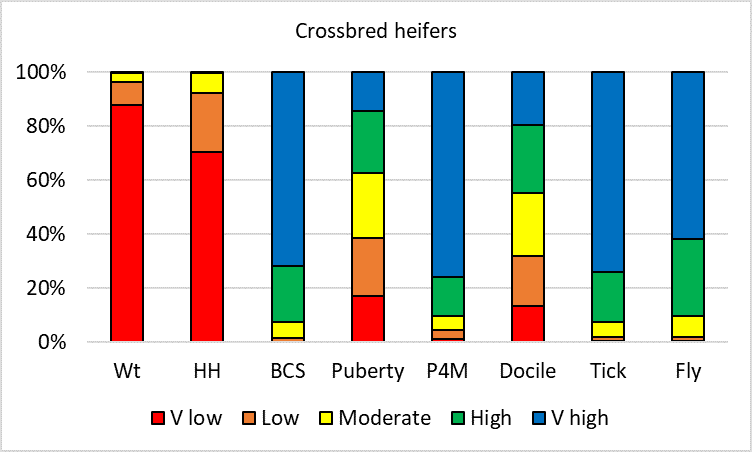 Summary of a herd profile using GBVs (Source E. Dodd Northern Genomics Project QAFFI)
Regarding selection, one of the key results offered by the release of GBVs (as reported earlier in Beef Central) is the opportunity to profile and benchmark a herd for several production traits, one of which is P4M.  Using these tools along sire EBVS reflecting traits such as shorter Days to Calving, can help genetically move the herd towards a higher P4M average.  Combining this with the strategies suggested outlined in the published research can lead to significant improvements for herds across all country types in Northern Australia.