A BLINDING flash in the Jordan Valley during World War 1 was the last physical sight Jim Scrymgeour from Warwick would see with his own eyes.
So he learned to "see" with his hands.
Relying on touch and feel to assess cattle, Jim became an award-winning Shorthorn breeder and a celebrated judge at the Brisbane and Sydney Royal Shows, where his ability to judge cattle despite being blind earned him fame across Australia.
It was also said Jim could often tell an animal's colour just by feeling the coarseness of its coat – red hair being harsher and white softer.
Jim was one part of an inseparable partnership with his beloved wife Marjorie, whom he affectionately dubbed the "commanding officer".
Not only was Marjorie her husband's "eyes" for over 40 years, she was also an expert equestrienne, an active supporter of the Red Cross, and in 1916 earned the distinction of becoming Australia's first licensed woman taxi driver.
Jim and Marjorie's story was shared with Beef Central during this year's Royal Queensland Show by their grandson Phillip Bate, a former rural journalist and Queensland Premier's Department speech writer.
Phillip continues his family's proud connection to agricultural shows by serving as a voluntary RNA stud cattle steward at the Brisbane show each August, overseeing the bestowing of red, white and blue ribbons upon grand champion stud cattle on the same green turf at Bowen Hills where his grandparents first strode out with their own championship-winning Netherby Stud Shorthorn cattle almost a century earlier.
Born in 1885, Jim Scrymgeour grew up learning about farming and livestock in the Otago and Hawkes Bay regions of New Zealand where his Scottish-born parents owned sheep properties.
In 1908 Jim's father William Scrymgeour moved his family to Australia where he entered into a partnership with HM Ross to buy the historic Goondiwindi property Callandoon. When the partnership dissolved in 1911, William took North Callandoon and nearby property Tarewinnabar, with Jim managing the cattle and his brother Will looking after the sheep.
Marjorie was also no stranger to livestock and 'the bush'. Her parents Matthew and Helen Brown owned properties near Cobar (The Rookery) in north-west NSW and at Cunnamulla (Cobbrum) in south-west Queensland, before retiring to Toowoomba and later to Samford, north-west of Brisbane.
The world forever blotted from sight
In 1916 Jim enlisted in the AIF and joined the 2nd Australian Light Horse in January 1918, serving in Palestine.
The moment in July 1918 when a blast of Turkish shrapnel irrevocably changed Jim's life was put into words by a journalist who later met him in 1925, in an article published under the enthralling headline "Sydney Show's Most Interesting Visitor":
"One red dawn in the Jordan Valley a Turkish attack hurled itself futilely against the Light Horse trenches.
A mate is down and moaning. Jim Scrymgeour drags him to shelter beneath a rock, staunches the wound with a field dressing, straightens up….
A searing flash across the eyes, and the world is forever blotted from sight…"
Jim was invalided home, and was met at the Samford Railway Station by his fiancé Marjorie Brown, who rode to Samford on a horse from her family's nearby farm, leading another for Jim to ride home on.
Marjorie didn't flinch at facing life beside a blind husband. It is said that when Jim gave her the opportunity to call off the engagement, she simply responded: "Why spoil two lives?"
Training of memory, hearing and touch
They were married at the Ann Street Presbyterian Church in Brisbane in November the same year, and then travelled to London, where Jim spent more than a year at St Dunstan's Hostel for blinded servicemen (now Blind Veterans UK).
The hostel emphasised the training of memory, hearing and touch.
An official biography records that Jim distinguished himself in the curriculum – learning braille, touch-typing, poultry-raising and carpentry – while also rekindling his childhood love of sport by excelling in sculling.
Jim and Marjorie also spent months while abroad visiting numerous cattle studs across Great Britain, laying the foundations for Jim's life-long love of stud cattle breeding that would follow.
On their return to Australia from St Dunstan's in 1921, Jim and Marjorie bought a run-down farm called Netherby on a bend of the Condamine River near Warwick. Jim's parents were also living at Warwick by this time where they had bought the property Carrondale (they also retained North Callandoon at Goondiwindi until 1929).
On their new farm Jim and Marjorie established the Netherby Shorthorn Stud, using descendants of cattle that Jim's father had imported from Scotland to North Callandoon several years before.
Along the way Jim and Marjorie also raised two daughters, Diana and Patricia (Phillip's mother).
'He loved his cattle and his cattle loved him'
Jim and Marjorie designed a set of overhead wires on Netherby which radiated out from the homestead to farm buildings, garages, cattle sheds, stables and feed bins to help Jim find his way around the farm, drawing on a similar system of guide wires in use at St Dunstan's Hostel. Using short ropes hanging from the wires and tin cups at key points along the way, Jim was able to move around and complete his work unaided.
Phillip, who grew up on the neighbouring property at Warwick, and was 16 when his grandfather passed away aged 79 in 1965, has vivid memories of Jim sitting in his living room writing on his typewriter and also tending to his cattle in the cattle sheds on Netherby.
"He loved his cattle, and his cattle loved him," Phillip recalls.
"Often at a late hour, he would wander through the bull stalls with a handful of hay.
"Soon a curly head would come up and take a bite. Down would go the hay and the head into the feed trough while he stroked the bull."
Jim once remarked that "cattle appreciate kindness as much as a girlfriend likes a new dress!"
Pinnacle of stud cattle success
Jim and Marjorie's Netherby Shorthorn and later Poll Shorthorn cattle achieved the pinnacle of success in the show ring, in an era when Shorthorn and Hereford cattle were the dominant cattle breeds at Royal shows and indeed across the Australian cattle herd.
Their achievements included six successive Brisbane Exhibition grand champion Shorthorn bull broad ribbons from 1930 to 1935; grand champion Shorthorn female at Brisbane and Sydney in 1934; 13 senior championships at the Sydney Royal Easter Show between 1939 and 1955; and grand champion bull in Sydney in 1954 with Poll Shorthorn bull Netherby Mark Twain, which sold for an Australian breed record price of 5300 guineas.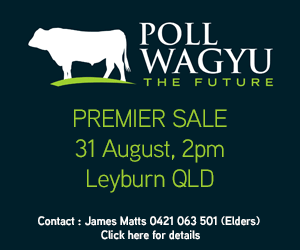 A 1934 article in the Pastoral Review described the Scrymgeour's heifers as 'easily the best' in Australia.
In 1939 Jim imported his first Poll Shorthorn bull Red Victor from the USA and continued to breed Poll Shorthorns, until he dispersed the stud in March 1957 due to ill-health.
In total Jim and Marjorie's cattle won about 200 championships and more than 1500 first prize ribbons.
They also bred Thoroughbred horses, Standardbreds (pacers) and Clydesdales, which were also regular winners at many Queensland shows.
In addition to their livestock breeding accomplishments, Marjorie regularly drove their outstanding trotter St Lucia Lad/Frisco – winner of the inaugural Kedron 1000 in Brisbane in 1919 – setting many pacing records at country shows.
'Remembering hands'
Jim's exploits as a sightless cattle judge captured attention and admiration wherever he travelled.
A Sydney newspaper article in the 1920s described him as having a photographic memory: "He'll handle perhaps a dozen beasts in one class, storing in his memory the name of each, its pedigree, virtues, defects and a year after should the animal again pass under his remembering hands he knows and can recite off its history!"
Indeed, as Phillip recalled, the story is now legend that at several shows stewards or grooms would try to trick him by moving animals already judged further down the line, only to be told by Jim to move the animal back as he'd already inspected it.
But there were some pitfalls that even Jim could not avoid entirely, as Phillip pointed out: "Not even 'blind faith' could prevent his feet discovering rich deposits left by some passing bull!"
Among their many accolades, the biggest of all came in 1954 when Jim knelt, with Marjorie at his side, before a newly crowned Queen Elizabeth II, as she uttered the words: "For your services to the Australian cattle industry, and as a tribute to your courageous spirit, I confer upon you the Order of the British Empire."
Constant companions
As Jim's constant companion Marjorie kept him informed on local and world affairs as well as livestock matters.
Marjorie and their daughters Diana and Patricia also became gracious hostesses as they met the many dignitaries – such as former New Zealand Governor-General Lord Bledisloe – keen to visit Netherby.
In October 1955 Jim suffered severe scalds in an accident at his home, leading to medical advice to leave the farm.
The Netherby stud was dispersed, with record prices, on 13 March 1957, after which Jim and Marjorie moved into the Warwick township.
Jim served as president and later patron of the Warwick sub-branch of the Returned Soldiers League (RSL).
He was also a prolific writer, using touch-typing skills learned at St Dunstan's to author books including Echoes of the Australian Light Horse in Egypt and Palestine in 1957, Men, Mokes, Hooves, Horns and Hides in 1959 and Memories of Maoriland in 1960.
Marjorie died after a long-illness in 1962. At the time of her passing, the then Mayor of Warwick, Alderman Ted Portley, said Mrs Scrymgeour was one of the city's most remarkable and admired women. "The story of Jim Scrymgeour's victory over physical adversity is also the story of his wife's great faith in him," he said.
Jim died on 27 March 1965 at Warwick and was buried in the local cemetery.
A proud family legacy lives on
Grandson Phillip Bate had his own share of show ring success as a youth, winning beef and dairy cattle young judges' classes and beef cattle parader competitions at both the Sydney and Brisbane Royal Shows.
Last year he celebrated a momentous treble: 50 years as a rural journalist, 50 years as foundation member of the Rural Press Club of Queensland, and 50 years as a Toastmaster.
Next year he will notch up 20 years as a stud beef cattle steward at the Royal Queensland Show (Ekka).
Jim and Marjorie's grandchildren include Phillip's brother Ross, who with his family run grain and cattle properties at Emerald in central Queensland and Talwood west of Goondiwindi in southern Queensland, and Diana's two sons Allister Lugsdin, who worked for Meat & Livestock Australia for over 40 years, serving in Singapore and Korea, and Graham Lugsdin, who both live in Sydney.
A lasting connection to the inspiring pair who graced show rings across the country from the 1920s to 1950s and earned accolades around the world is right there in Phillip's middle name.
Phillip Scrymgeour Bate – proud grandson of the blind cattle judge and the commanding officer.
To receive Beef Central's free weekday Australian cattle and beef industry news updates straight to your inbox, click here