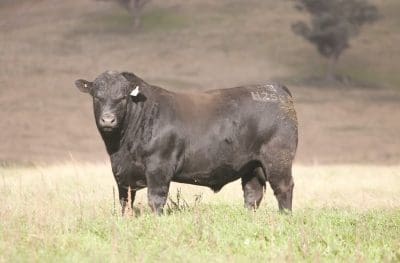 ANGUS Australia will host its annual 'Spring Bull Night' via social media towards the end of August, allowing producers to engage and source information as they make decisions for upcoming AI programs.
The 2022 Angus Spring Bull Night will run from 7pm AEST on Wednesday August 24, via the Angus Australia YouTube Channel and Facebook page.
Similar face-to-face 'bull nights' originally started in the dairy industry, where semen distributors give an overview of their latest semen list, enabling breeders to make better informed decisions regarding what bulls they use in their AI programs.
The difference with the upcoming fifth annual Angus event is that it will be live-streamed via Youtube, versus a face-to-face presentation as originally used in dairy.
Following the format of the previous events, Spring Bull Night is open to all beef producers to hear about the latest offering of AI Angus sires and the proven performers, which could take their herds to the next level.
Showcasing their 2022 Angus sire line-ups during Spring Bull Night will be eight organisations with Angus semen catalogues – World Wide Sires, ABS Global Australia Beef, Genetics Australia, Alta Genetics, Breeder Genetics, Agri-Gene, Semex Australia and Glatz Black Angus. Each will present a selection of sires, highlighting their strengths, how they might be used in an AI program and how their progeny are performing.
Angus Australia extension manager Jake Phillips is encouraging producers who are putting AI plans together for this joining season to tune into the Spring Bull Night.
"Each year the Spring Bull Night is one of our most anticipated events, and we hope by bringing this event to life we are supporting our members by assisting in providing some insight into some of the sires available to them this Spring joining period.
"The Spring Bull Night is a great opportunity to gain insights and more information on potential mating sires ahead of this Spring joining season. The showcase supports Angus members and cattle breeders more broadly to make more informed breeding decisions and sire selections."
"We have seen a lot of success with the Spring Bull Night in the previous couple of years. The evening gives producers the extra opportunity to learn more about the sire line-ups from a number of organisations, which can assist them in making more informed selection decisions when it comes to their AI sires this spring joining season."
"Through the event, Angus Australia hopes to continue to provide support to members in the form of resources that assist them in being well informed to ensure they are selecting with the consideration of their individual breeding objectives."
The Spring Bull Night will take place online from 7pm AEST August 24.
Here's how to join in to watch the Spring Bull Night:
Go to youtube.com and search for 'Angus Australia'
Select the 'Angus Australia' channel from the search results
Select the video 'Angus Australia Spring Bull Night 2022 – LIVE EVENT'
Further information about accessing Spring Bull Night can be found on the Angus Australia website.