ONE of the highlights for participants on the recently-returned Japan Wagyu trade mission organised by the Australian Wagyu Association was the opportunity to visit the All Japan Wagyu Show (Zenkyo) held this year in Sendai, north of Tokyo.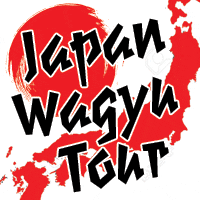 While vaguely reminiscent of stud cattle shows like Brisbane's Ekka and Sydney Royal Easter Show, the Japanese turn on a spectacle for the event, held only once every five years, unlike anything this reporter has seen.
Firstly, the Zenkyo is truly national, with 37 of Japan's 43 regional prefectures stretching from the far northern island of Hokkaido to the country's extreme southern sub-tropical tip around Kagoshima and Oita all represented in the judging ring.
About 550 Black and Red Wagyu cattle were entered in all bull and heifer classes, with separate meat judging competitions on top of that. Judging criteria on the hoof was difficult to ascertain, especially as the Wagyu industry in Japan is so heavily focussed on carcase performance.
Each prefecture's livestock show team was decked out in distinctive uniforms, and prefectures had their own rowdy cheer squads in the stands, bellowing out slogans and madly waving flags and banners when results were announced, or their team entered the ring.
The main stadium in which judging took place seated about 7000 in air-conditioned comfort, and was standing-room only for the peak events during the judging program. One local media report suggested 417,000 people had attended the five-day long event.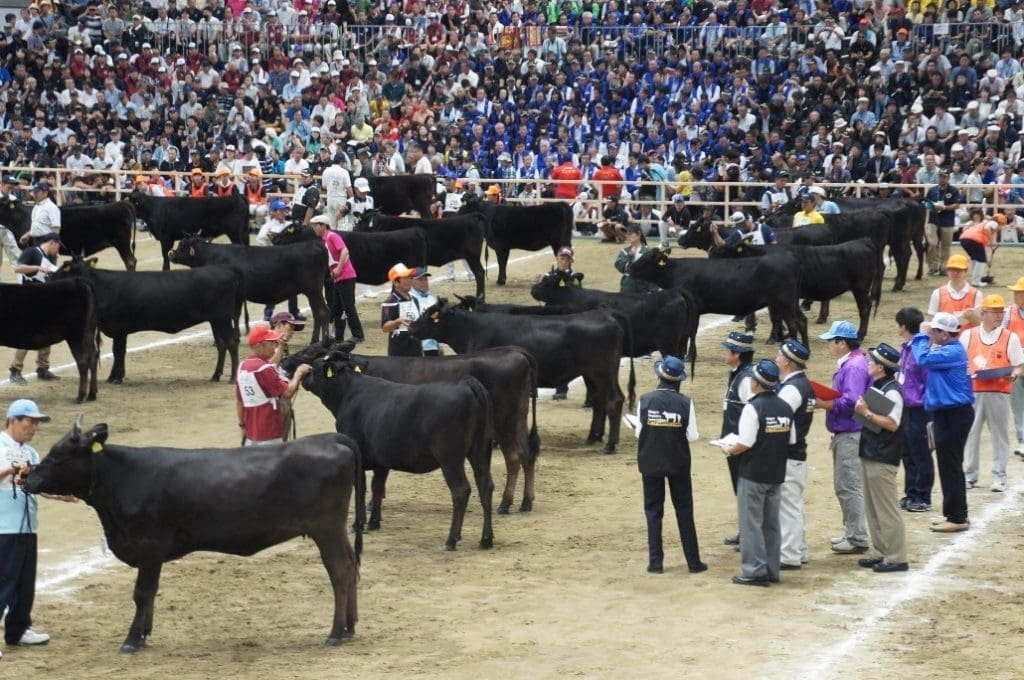 While there was no outright first place awarded, one of the sentimental favourites, Kagoshima prefecture,  finished first in the coveted group award, followed by Miyazaki (both renowned regions of high marbling performance Wagyu), and the southern prefecture of Oita, third. Miyazaki had won the group award at the previous two Zenkyo events, bouncing back after a devastating FMD outbreak in 2012 (see earlier story).
The entire live cattle judging process carried a great sense of ceremony and occasion, with officials and dignitaries decked-out in morning suits and corsages, and speeches during the event's closing ceremony, witnessed by the tour group, running to 90 minutes.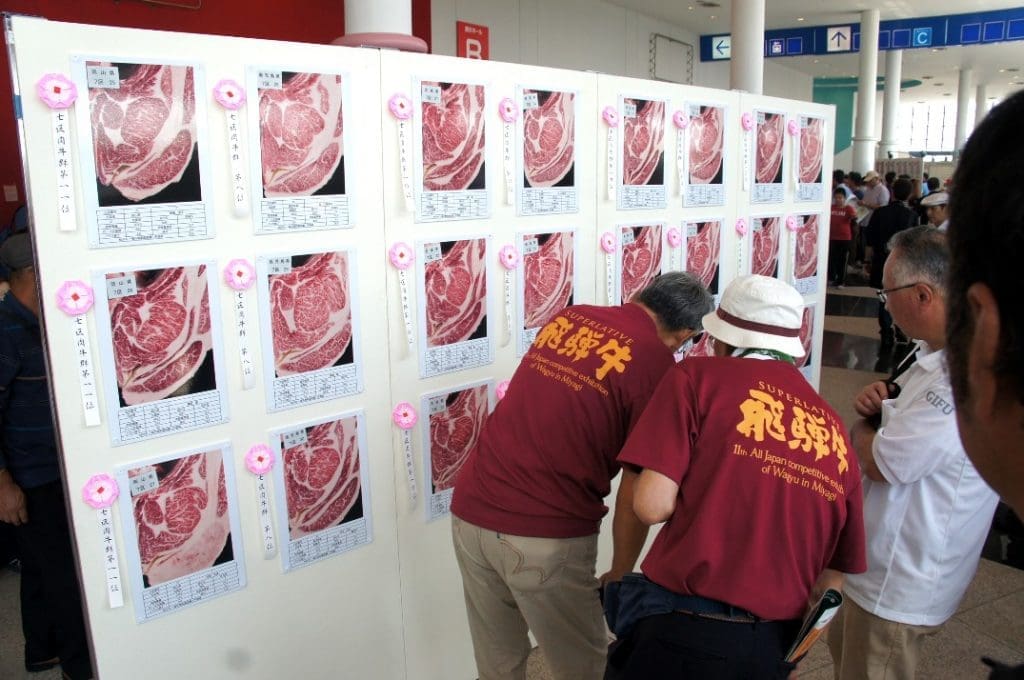 Another important part of the event is a Wagyu carcase competition, with judging based on camera images captured by the Japanese vision grading camera (story to come) collected at meat processing plants across Japan. Carcases were judged against the Japanese Meat Grading Association's benchmarks for quality (1-5) and yield (A-C).
Results and photos for each carcase were displayed prominently on noticeboards at Zenkyo, and prize-winning carcases attracted a great deal of attention (see image above).
During the auction that followed, Australian visitors saw one show-standard Japanese A5 graded carcase, 453kg carcase weight, sell for 10,600 Yen/kg (Y4,801,800), or the equivalent of $54,126 Australian.
That price inevitably contained some 'promotional value', not unlike a led steer at Brisbane or Sydney Royal show selling to a supermarket chain or steak restaurant for $15 or $20/kg, liveweight. Similar carcases were seen a week earlier by the tour group passing through the Tokyo Central Meat Market for the equivalent of $18,000-$20,000 Australian.
Outside the main show judging pavilion was an area set up with trade booths representing each prefecture, promoting semen and genetics sales and the distinctive qualities of each region's beef. Many appeared to be doing good business with local cattle producers seeking herd improvement. Some were identified as dairy F1 breeders, and others Fullblood Wagyu.
Beyond that was a commercial trade show promoting everything from feed ingredients and animal health products to software and stock handling equipment. Seminars were held in nearby rooms.
Food was another Zenkyo highlight, with Wagyu beef samples and countless other traditional Japanese foods available to patrons. Thinly-sliced barbecued tongue meat is much prized in the local Miyagi area, and it was available in abundance at Zenkyo.
One of the clear messages at the event was a heightened biosecurity awareness, perhaps linked to the country's 2012 Foot & Mouth Disease outbreak (see earlier story).
Unlike earlier five-yearly events, the general public including the Australian tour group was unable to enter the cattle stalls/accommodation area, and disinfectant foot-baths and other precautions were commonplace.
The AWA's 2017 Japan Wagyu study tour was coordinated by Quadrant Australia Ag Tours. Beef Central's Jon Condon took part in the tour.
Tomorrow: Navigating sensitivities over competition from Australia during the Zenkyo's Japan Wagyu seminar