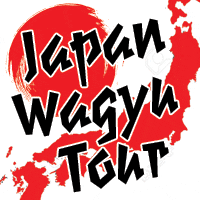 WHILE Australia has made massive strides in establishing the world's second-largest Wagyu beef industry since the breed first arrived in this country in the mid-1990s, there is still much to be learned from the supply chain in the breed's country of origin.
Almost 40 Australian beef industry stakeholders with an interest in Wagyu cattle leave for Japan out of Sydney this morning, on a two-week study tour designed to further their knowledge and understanding of the Japanese Wagyu supply chain – from genetics to breeding, feeding, processing, and consumer applications within Japan's retail and food service markets.
The tour group comes from four Australian states and territories plus an international contingent from Europe and South Africa. Among the cattle producers taking part are industry veterans who have bred F1 to Fullblood Wagyu cattle for 10-15 years, right through to conventional breeders who are still eyeing-off prospects in the Wagyu industry. Feedlot operators, geneticists and others engaged in the Wagyu industry are also taking part.
Beef Central's Jon Condon is on the tour, and will provide regular updates about what's being seen.
The program, organised by the Australian Wagyu Association and ag tour specialists Quadrant Australia, promises to provide a unique insight into the country's Wagyu beef industry, and the rich culture and traditions that have produced it.
As its centrepiece, the tour will include a visit to the All-Japan National Wagyu show, a five-yearly event which brings together the entire Japanese Wagyu industry.
This year being staged at Sendai, northwest of Tokyo on the island of Honshu, the show will see some 39 Japanese prefectures battle it out for major honours in a series of cattle judging events for bulls and females. About 520 Wagyu are catalogued for competition.
The Sendai event is the culmination of a 15-month-long regional selection process, based on breeding and feeding, with only the best cattle from each region making it through to the finals in Sendai. The event also serves as an enormous genetics supermarket and Wagyu inspired food festival, as well as meat judging, commercial trade show and a host of other activity.
Other destinations include visits to Tokyo's famous Central Meat Market to view top grade A5 Wagyu carcases being auctioned for up to A$20,000, and a visit with master Wagyu breeder Shogo Takeda on his farm on the northern Island of Hokkaido, where he also runs a famous Wagyu restaurant. Also on the program are visits with Japanese lotfeeders feeding imported Australian F1 Wagyu cattle, a specialised Wagyu meat processing facility, and university meat research centre conducting advanced meat science research.
Keep and eye out for tour reports, bearing this distinctive Japan Wagyu Tour logo in coming days.