QUEENSLAND Hereford producers will hear how they can add value to their commercial cattle through a new branded beef program at a series of forums next month.
Herefords Australia rolled out a new grassfed brand, Hereford True Beef, in February with a public tasting debut at Beef Australia 2015 at Rockhampton in May.

Information forums for producers, stock agents and industry stakeholders will be held at Dalby, Taroom and Goondiwindi on August 17-19.
Under the branded program, eligible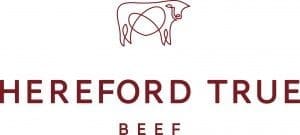 purebred steers and heifers will be HGP free, a broad carcase weight window (anything above 150kg) and be processed by Atron Enterprises, at Casino, NSW.
Guest speakers at the forums will include Atron livestock manager Heidi Hayes, MLA producer engagement officer for MSA, Jarrod Lees, AusMeat trainer and auditor Ben Robinson, CCA research and policy officer Annabel Johnson and Herefords Australia chief executive John McKew.
Topics to be covered include the branded beef program, MSA grading and compliance, interpreting AusMeat results, MSA feedback information and the Pasturefed Certified Assurance Program.
Herefords Australia chief executive officer John McKew said the forums would outline how producers could leverage the integrity of the Hereford breed to optimise profits and create increased demand for whiteface cattle. Participants would hear from the processor regarding the livestock requirements and processing specifications.
There will also be information on avoiding dark-cutters to improve MSA compliance and interpreting feedback to optimise performance.
Mr McKew said the beef brand had been considered by the Herefords Australia board as a key strategic imperative for the breed's long-term sustainable growth.
The flagship brand, Hereford True Beef, is a grassfed premium purebred Hereford product destined for the high-end food service sector, and with a strong emphasis on primal or sub-primal cuts.
Both Hereford and Hereford cross cattle are eligible for Hereford Classic Beef, the high quality volume mainstream brand. Cattle sourced for Hereford Classic Beef required a minimum 50 percent Hereford genetics within a 100pc British breed cross.
The brands are owned by Herefords Australia and processed under licence by Atron.
A Hereford grainfed brand is also under development.
Next month's forums will be held at:
Mary's Commercial Hotel, Dalby, August 17
Taroom Bowls Club August 18 and
Goondiwindi Golf and Country Club August 19.
Each forum will run from 10.30am until 4pm and includes a complimentary lunch. RSVP required by August 12 to Lauren Bakker on 0447 002 505 or lauren@atron.com.au
Source: Herefords Australia