BEEF Central has now put the finishing touches on its 2021 spring bull sales calendar, featuring seedstock sales fixtures nationwide across all major beef breeds being held from now until the end of November.
Data has been compiled from breed society records and numerous other sources, but it might pay for studmasters and sale administrators to check the current directory page via the link provided below, to make sure their sale is included, and the information is correct. The current list includes some 240 sales over the next five months.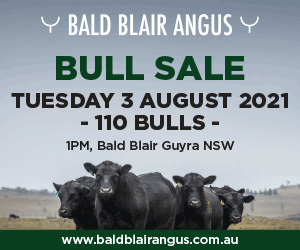 If details for your sale need updating or do not yet show up on the directory (click here to access) please use this advice panel to send us information to update our database.
Upcoming bull sales listed on Beef Central are fully searchable by breed, region, date-range and stud name. The facility provides a handy reference tool for prospective bull buyers.
We will remind readers about this free sales promotional service again in coming weeks, as the autumn sales begin to gain momentum.
Are you promoting your 2021 spring sale?
In the meantime, remaining advertising slots are rapidly filling for bull breeders planning to advertise on the Beef Central website and email alert platforms in the lead-up to their 2021 spring sales. Spaces are typically fully-subscribed for periods during the height of the selling season. This is a highly-targeted, highly-engaged national beef industry audience.
Contact business development manager Rod Hibberd soon if you are planning to promote your sale in coming weeks and months. Click here to send an email, or phone 0437 870 127.