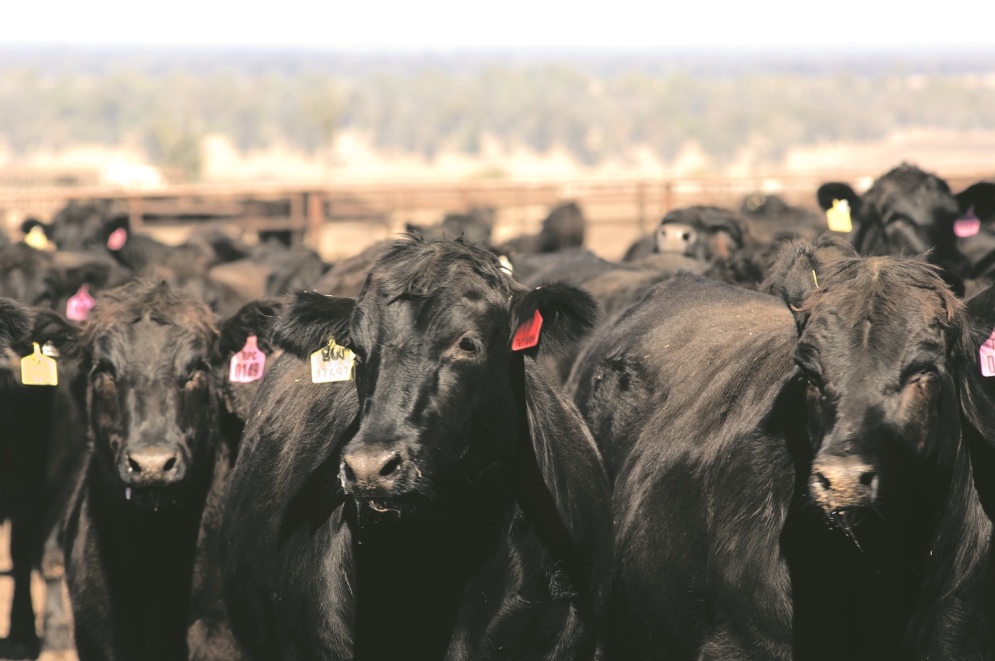 GENOMICS, the term given to describe a range of DNA based technologies concerned with the structure, function, evolution, and mapping of genomes, is a science receiving much interest around the world among breeders of all livestock species.
In April 2011, the first set of Estimated Breeding Values were calculated within the Angus BreedPlan genetic evaluation that included genomic information.
This heralded a new era for the genetic evaluation of Angus animals in Australia and New Zealand, with genomic predictions now analysed in the routine Angus BreedPlan genetic evaluation for over 20,000 animals, from five different genomic products, and for up to 14 different traits.
Although the inclusion of genomic information in Angus BreedPlan has become mainstream, it is an evolving science. Researchers in Australia, and around the world, are continually looking for better and more efficient ways to utilise the genomic information in genetic evaluation.
A different way of handling genomics
The current procedure for the incorporation of genomic information into Angus BreedPlan uses a two-step process.
Step 1 involves using the genomic data for an animal to generate a genomic prediction of the animal's breeding value. This is often referred to as a Molecular Breeding Value (MBV) or Molecular Value Prediction (MVP).
Step 2 combines the animal's genomic prediction with its traditional EBV, calculated from pedigree and performance information, to generate an EBV with additional accuracy. This process of combining the genomic prediction and traditional EBV is referred to as "blending."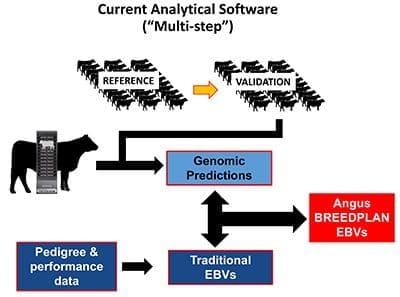 While the two-step analytical model represented the most sophisticated approach available at the time, different methodologies that use genomics in a more effective and appropriate manner have since been developed.
Angus Australia is now working collaboratively with staff at the Animal Genetics & Breeding Unit (AGBU), the Agricultural Business Research Institute (ABRI), and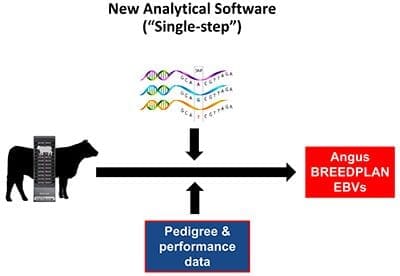 the NZ Angus Association, to implement a new approach for incorporating genomic information into the calculation of EBVs within Angus BreedPlan.
Known as "single step", the new analytical model simultaneously utilises genomic, pedigree and performance information, placing appropriate emphasis on all available sources of information, to generate the best possible prediction of an animal's breeding value.
Benefits of new analytical model
The main benefit of the new analytical approach is how genetic relationships between animals are determined.
With a traditional pedigree based approach, the relationships between animals within Angus BreedPlan are determined by pedigree alone. For example, pedigree would predict that the genetic relationship between full siblings (i.e. animals with the same sire and dam) is 0.5, meaning full siblings are predicted to have 50pc of genes in common when calculating traditional pedigree-based breeding values.
Understanding the way that DNA is inherited, it is known that there will in fact be variation between these relationships, and the true genetic relationship between full siblings is likely to range between 0.4 – 0.6.
Similarly, pedigree may predict that two animals are unrelated, but in reality, the animals may share common genes, and have a genetic relationship greater than 0.
The new single step approach improves the precision in which EBVs are calculated by better quantifying genetic relationships, using both genomic (where available) and pedigree information to determine the genetic relationships between animals.
Other benefits
In addition to better determining the genetic relationship between animals, the single step analytical approach has a number of additional benefits, including:
Any errors in the pedigree of animals will be overcome (providing the animal has genomic information available).
Genomic information will contribute to not only the EBVs of the animal that has been genotyped, but will also contribute to the EBVs for the animal's relatives (e.g. parents, progeny).
Genomic information will contribute to all EBVs that are calculated within the main multi-trait analysis within Angus BREEDPLAN, rather than being limited to use in the calculation of only 14 traits. This will include all EBVs except Calving Ease Direct, Calving Ease Daughters, Docility, and the five Structural Soundness EBVs. Further work is required to utilise the single-step approach for these non-linear traits.
The need to regularly re-calibrate the prediction equations that are used to calculate genomic predictions is removed, with genomic effects being updated each time an Angus BREEDPLAN analysis is conducted.
Genomic information will be given different (and more appropriate) emphasis when calculating the EBVs for each animal, based on each individual animal's genetic relationship to the reference population (being animal's with both genomic and performance information).
The net result is that the new analytical approach will more optimally utilise genomic information, and will provide Angus breeders in Australia and NZ with EBVs that are the best possible estimate of an animal's breeding value.
When will the new analytical model be implemented?
While the development of the single step analytical software has largely been completed, considerable further work is now required by AGBU, ABRI, Angus Australia and Angus New Zealand to test this software, resolve any issues that arise, and implement the software into the routine, commercially available Angus BreedPlan genetic evaluation.
More specifically, considerable work is required to:
test the single step software utilising Angus specific pedigree, performance and genomic data, and resolve any issues that arise;
incorporate the single step software into the Angus BREEDPLAN genetic evaluation software infrastructure for routine analyses; and,
modify the systems and database software utilised by Angus Australia, the New Zealand Angus Association, ABRI and the DNA laboratories to accommodate the storage and routine incorporation of the genomic information required by the single step software.
While the implementation of the single step software remains a high priority for AGBU, ABRI, Angus Australia and Angus New Zealand, it is envisaged that it will be approximately 12 months before it is implemented into the routine, commercially available Angus BreedPlan genetic evaluation.
The most likely implementation of the new analytical software is in association with the next annual implementation of enhancements to Angus BreedPlan, being the December 2017 Angus BreedPlan analysis.
In the meantime, it is possible that the single step software may be implemented in the genetic evaluations that that are conducted for some other breeds.
By comparison to the genetic evaluations for other breeds, there are a number of additional considerations that need to be resolved in Angus BreedPlan, including:
the technical complexity of the Angus BREEDPLAN analysis (in particular, the merging of genomic data from multiple breed societies, importation of overseas EPDs, and large number of EBVs calculated);
the large number of Angus animals in Australia and New Zealand with genomic data available;
the availability of genomic data from multiple DNA service providers (e.g. Zoetis, GeneSeek); and,
the high frequency at which Angus BREEDPLAN analyses are conducted, coupled with potentially longer analysis run time of a single step genetic evaluation.
How much will EBVs change?
It is still too early to predict how much EBVs will change with the implementation of the single step software, but some change in EBVs would be expected, particularly for animals that have genomic information available.
Likewise, it is also expected that the accuracy values published with EBVs for animals, particularly for those animals with genomic information, will change.
Other changes
Other than changes to EBVs and EBV accuracy values for some animals, there will be little noticeable change with the implementation of single step software.
The manner in which DNA samples are collected, submitted to Angus Australia, and handled at the DNA laboratory will be the same, and the cost of DNA tests will remain unchanged.
The implementation of single step analysis will mean that genomic predictions are no longer produced, and so it is envisaged that Molecular Value Predictions (MVPs) will no longer be provided when conducting genomic testing using the Zoetis i50K or HD50K products.
Take home messages
The development of a new single step approach for utilising genomic information within Angus BreedPlan will more optimally utilise genomic information in the calculation of EBVs for Angus animals in Australia and New Zealand.
While the new software will result in improvements to the calculation of EBVs, the current two-step analytical software continues to provide reliable breeding values on Angus animals. Angus Australia members should not have any hesitation in utilising genomics as a component of their seedstock breeding program.
Source: Angus Australia