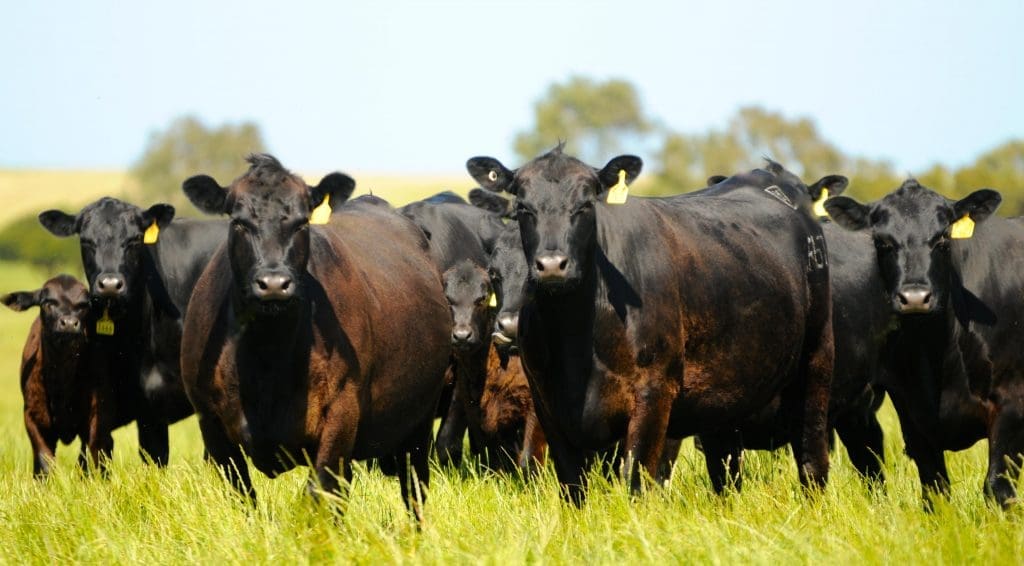 Prominent Angus seedstock breeder Harry Lawson* shares his views on cow size and 'frame creep'. Despite the fact that eastern Australia is experiencing one of the worst droughts ever, beef producers are paying record prices for bulls with record Mature Cow Weight EBVs, and don't seem to be connecting the dots, he says….
THERE is a worrying trend in the Angus breed that no one seems to be addressing: cow size and frame creep.
Despite the fact we are in the midst of one of the worst droughts ever, beef producers are paying record prices for bulls with record Mature Cow Weight EBVs and don't seem to be connecting the dots.
No matter where you look, Angus cow size is on the upward move again. If we do a search, for example on the top 100 Heavy Grain Index bulls it's hard to find a handful that are not extreme in MCW and/or birth weight and calving ease.
Look at the list of high-use bulls in the breed, look at the bulls being offered for sale in 2018, the information is right there, but somehow because beef prices have improved it seems to be ignored by beef producers.
Our recent Drought workshops in WA have highlighted the importance of understanding and doing the basic things in farming well – nutrition, pasture management, agronomy, animal health and genetics. It's these tough years that put a lot of pressure on us financially and should force us to question how we do things. We need to look for better ways and systems going forward.
In terms of genetic improvement, our focus remains to build elite Angus genetics that not only lift on-farm profitability, but are accountable and profitable to all sectors of the supply chain.
Fertility and cow-efficiency will always be the backbone of any cow-calf operation. The big, lean, high-milk cows are always the first to fall over when feed resources are limited.
Our workshops focused on doing basic feed budgets and rations for each class of livestock. Put simply, feed (energy) requirements for cows are directly proportional to their bodyweight and when cows lactate their feed requirements go up by 40-45pc.
"The feed costs of running 700kg cows versus 500-550kg cows is over $100 per cow per year"
Lactational anoestrus (when cows are not cycling) is the most common cause of reproductive crashes in beef herds. The feed costs of running 700kg cows versus 500-550kg cows is over $100 per cow per year, so assuming cows are kept for five years on average, this is over $500 per breeder additional cost. However, the biggest cost is the risk of reproductive failure (or lengthy calving intervals for those that don't control mate). Larger cows that have high milk potential and are lean increases the chance that they will fail to re-breed in time to maintain a 365-day calving interval.
It's not just the feed costs or impact on stocking rates that beef producers need to consider in deciding what their optimum cow size will be – it's the risk of getting a poor preg-test result (or delayed calving intervals).
The loss of income and genetic potential when this happens is astronomical. In tough years, particularly in autumn calving herds, pregnancy rates can drop from greater than 90pc pregnancy rate in normal years to less than 50pc in a drought.
This is not uncommon and can only be described as a generational financial disaster – less future income and less superior heifers coming into the herd. Forced sale of heifers causes a greater generational lag and lost opportunity to make cumulative production and genetic gains.
Our genetics industry is still way too focused on breeding genetically positive fat animals as a driver of fertility, when in fact cow size and milk are way more important traits in terms of economics.
For some reason the 'fat fad' has gained traction, yet most studs are ignoring (based on when you look at sire selection, genetic trends and the huge variance in MCW on bulls being sold Australia-wide) mature cow weight.
Fat is four times more energy-expensive to make than muscle tissue. Selection for genetically fat animals results in lower feed conversion and yield, so when times are good (or in a feedlot) genetically fat animals gain less and yield less.
Hence we continue to focus our selection on having animals with fast early growth, high carcase weight, high EMA and IMF and above average yield (below or around breed average fat).
Don't assume our cows are small: after a good season last year in WA our mature cows weighed 640kg, which we think is big enough, and our challenge is to try and hold cow size and still improve growth.
If you consider that most studs (even the ones that claim to be focused on moderate-sized cows) are selling significant numbers of bulls with >100 on MCW, and in many cases with less growth than our bulls, then this is a serious issue, and shows the disconnect between the seedstock and commercial sectors.
Frame and cow size creep is a hard one to monitor, and the best way to try to manage it is to firstly ensure your bull supplier is submitting mature cow weights to Breedplan, and then to actually take careful notice of a bull's MCW Breedplan EBV and not think your eye, or his actual sale weight, will give the same answer.
* Harry Lawson is the principal of Lawson's Angus, based in Glenburn, VIC. The business has operations in Victoria, NSW, Queensland and Esperance, WA