COMMERCIAL beef and seedstock producers could benefit from the data generated by the Southern Multi Breed (SMB) Project as early as 2024.
Having reached almost 5000 progeny across three cohorts in as many years, SMB principal investigator Dr Brad Walmsley said the research team had made significant strides in improving beef cattle genetics with efforts currently underway to make data available as soon as is practical to within breed BreedPlan evaluations.
"We have new traits that we're recording with the goal of getting them into BreedPlan. Cow condition score, for example, is nearly ready," Dr Walmsley said.
"However, it's not a case of simply pressing a few buttons. There are a series of steps that need to be followed to ensure the integrity of the data within breed evaluations is maintained. The data we have that is of sufficient quality for BreedPlan evaluations, we're currently in the process of making available for within-breed evaluations for use within the next 6-12 months."
Dr Walmsley said SMB was the largest ongoing multibreed beef cattle research project in Australia in terms of the number of calves produced each year.
"Of the nearly 5000 progeny we have, and the 1900 we're expecting this year, they've been generated by 416 different sires from the six breeds used across the five SMB sites," Dr Walmsley said.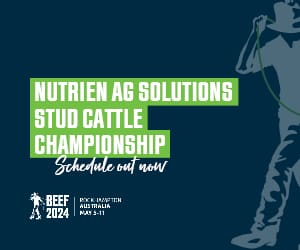 "That's a pretty big achievement to generate that many head out of that many sires."
To date, more than 84,000 different individual phenotypes have been collected for the project.
"We're beginning to analyse data which will benefit industry," Dr Walmsley said.
"We've got a very big distribution of birth weights across the project, and there is a clear impact of crossbreeding on birth weights for example. We're starting to see results that will be very useful as we incorporate them into evaluations."
On-the-ground effort
However, without the tremendous effort of staff on the ground, Dr Walmsley said this valuable information could not have been obtained.
"The farm staff across the project sites have invested a lot of their time and energy into not only getting this project started, but to keep it up and running," he said.
"It's important to highlight the key role they play in what we've achieved so far."
With another two years to go on the project, Dr Walmsley said there was still plenty of data yet to be recorded.
"We have our fourth cohort of calves already starting to arrive this year, and when the fifth cohort is born and all of their information is recorded that should put us, hopefully, at more than 8000 birth records," he said.
"That should then give us close to 4000 carcase records and 3000 records on female fertility traits by the project's end, which is a huge achievement."
About the Southern Multi Breed project
The Southern Multi Breed project is co-funded by NSW DPI, UNE, MLA and the Commonwealth Government through the MLA Donor Company.
Commencing in 2019, this five-year project has been designed to bring together five temperate beef breeds (Angus, Hereford, Shorthorn, Charolais & Wagyu) and the Brahman breed in a breeding system in order to develop and enhance genetic predictions for these breeds.
Here's an earlier summary of the Southern Multi-breed project from genetics editor, Al Rayner.