TWO lucky young beef industry stakeholders from anywhere in Australia will get the opportunity to attend and actively participate in the Beef 2021 event in May, under an education bursary program being sponsored by the Droughtmaster Stud Breeders Society.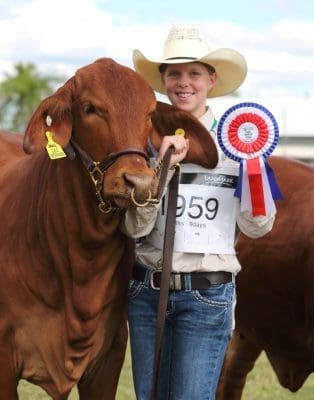 Providing the funds for the program is the Droughtmaster Research & Education Foundation, established in 1998 as a vehicle through which funds could be raised and apportioned for the purpose of advancing the education and development of young people involved in the beef cattle industry, through the provision of grants, bursaries and scholarships.
Applications for the bursaries are open now, and will close on Wednesday, 31 March. Droughtmaster breeders and others who have an association with the breed and a commitment to the beef cattle industry are encouraged to apply for a Beef 2021 Experience Bursary. Applicants must be under 25 years of age, as at 1 May.
Each bursary is up to an amount of $3000, which will cover the cost of travel to and from Rockhampton, a five-day admission pass to Beef Australia, tickets to attend at least two Beef 2021 seminars and $500 in discretionary funds.
Unique experience
The two bursary winners will get the opportunity to:
Work with Droughtmaster stud masters as part of a team preparing and exhibiting stud beef cattle at the event
Observe and participate in commercial and stud beef cattle judging
Meet and engage with cattle breeders and others involved in the beef cattle industry
Participate in the activities organised for and by Droughtmaster Next Gen members
Attend educational seminars on a range of topics relevant to the industry and the specific interests of the applicant.
"Essentially, we are not limiting this to Droughtmaster Society members, and have opened it up to attract all young people that meet the selection criteria, who have an association with Droughtmaster cattle in some way – be it through family connections, work, school or university studies," society chief executive Simon Gleeson said.
"We are eager to provide an opportunity to a young person that would not otherwise be able to attend the event," he said.
Each successful applicant will be billeted with a Droughtmaster stud member family who will be exhibiting stud beef cattle at the event.
Beef Australia is held every three years in Rockhampton and showcases more than 4000 head of commercial and stud beef cattle in addition to hosting educational seminars, conferences, trade displays and property tours.
Seeking donations for 'Straws for a Cause' semen auction
In other Beef 2021 news,  Droughtmasters breeders are planning to hold another 'Straws for a Cause' charity semen auction during the Elite Female Sale being held at the event.
Droughtmaster Society board-member Bronwyn Betts is planning to put together two mixed packages of donated semen for the auction, to be auctioned by Josh Heck. All fees associated with the movement and storage of the donated semen will be waived by supporters including Rocky Repro, Just Genes, Cattle Breeding Services and Beef Breeding Services.
Proceeds from the auction will go to the Droughtmaster Research and Education Foundation. Contact the Society for details.