The global Wagyu Sector has developed from the genetics of more than 200 individual animals that were exported from Japan, mostly during the 1990's.  Most of these individuals were from the Japanese Black – Black Wagyu breed, with a small number of the Akaushi – Red Wagyu breed also exported.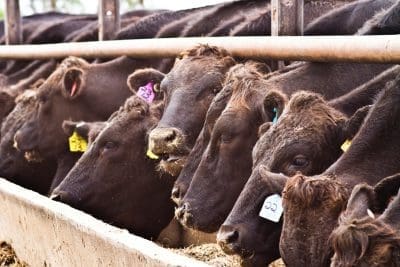 Although these genetics have been shared globally, the Australian Wagyu Sector represents the largest breeding and production base around the world, supporting an export industry with a current estimated value in excess of $1 billion annually.
Vital to supporting the Wagyu Sector and integrity of claims regarding Australian Wagyu products, is the ability to accurately determine the ancestry of Wagyu cattle and describe the quality attributes of their highly valued and prized meat.
The Australian Wagyu Association is the company that has been performing DNA testing, parentage verification and genetic improvement for Wagyu cattle for 30 years.  The number of registered Wagyu cattle with the AWA now total more than 200,000 individual breeding animals.
What's happening now?
The AWA maintains the largest registry, DNA database and genetic analysis for Wagyu cattle around the world, with more than  900 members, spanning 20 countries engaging in the AWA global registry and genetic analysis for Wagyu cattle.  Wagyu genetics are also genomically driven, with 100,000 genomic DNA tests conducted in the last 3 years.
To support the production of the highest value export meat, recent trends in genetic gains in Wagyu cattle for high value carcase traits have been rapid.  Average annual gain in the widely used Wagyu Self-replacing $Index has been $7.20 per year for calves born over the past 5 years.  The Self-replacing $Index estimates change in the relative profitability of progeny in commercial supply chains.
Given the small population base from which the Wagyu gene pool has grown, the AWA is enabling access to leading genetics from around the world to fuel further genetic progress through its new AWA-Progeny Test Program.  This 10-year program has sourced leading genetics from top Australian and International breeders to power the future genetic improvement of Wagyu cattle.
A global comprehensive Wagyu genetic analysis
The AWA provides the largest and only comprehensive global registry and genetic analysis for Wagyu cattle, covering carcase, fertility, reproduction, and growth trait genetic evaluation.  The common genetic base of the global Wagyu population, high levels of genomic testing and performance recording by AWA members has driven genetic improvement for the Breed.
The AWA now provides Estimated Breeding Values (EBVs) that combine pedigree, trait performance and genomic data for the global Wagyu herd. Figure 1 shows the performance recording trends for data supplied to the AWA, with 30pc year on year increases in core growth and carcase trait recording for the last 3 years.
Figure 2 shows the increase in EBV accuracy for Wagyu cattle registered with the AWA, with newborn calves in 2021 having EBV accuracies of 55% for carcase traits and > 65% for birth and growth traits. The AWA-Progeny Test Program will drive further increases in accuracy and develop high value new Wagyu specific traits.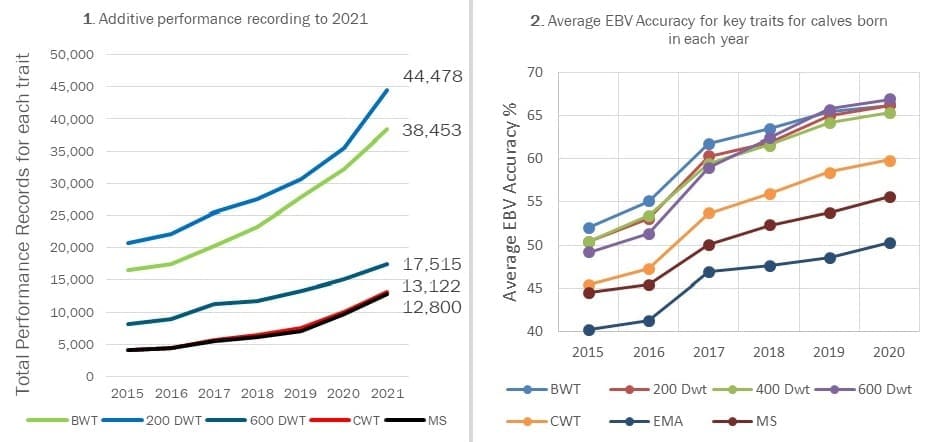 Benchmarking Wagyu genetics though the AWA-PTP
The AWA-Progeny Test Program is open to Wagyu breeders from around the world.  It is the largest Japanese Black progeny test program outside of Japan and represents a unique genetic reference population and sire benchmarking project.
Within the current AWA genetic analysis, some Australian and International Wagyu sires have more than one hundred carcase progeny records, including first generation (Japanese Foundation sires), second, third and fourth generation sires now proven through the AWA genetic analysis (see Figure 3 – log scale of sires ranked by carcase records). So far, AWA members have recorded significant numbers of carcase progeny data on approximately 250 sires, making significant genetic gain in all carcase traits.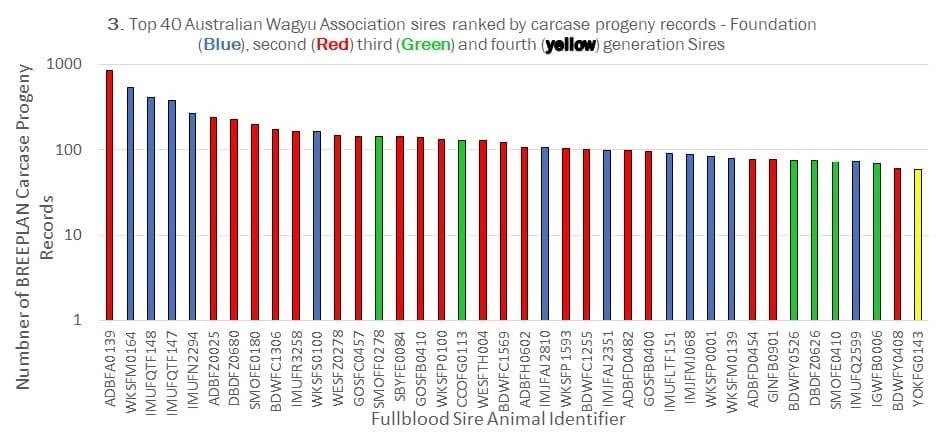 The AWA-Progeny Test Program is specifically designed to bring the number of proven sires to more than 500 sires, by adding another 250 industry sires to the existing sire analysis and linking our existing performance and genetic data to the core reference population that will drive future genetic improvement for Wagyu.
The AWA-Progeny Test Program will test up to 40 new sires per year from around the globe across 2,000 females.  These will be benchmarked against new and famous Japanese Foundation sires such as Michifuku (WKSFM0164 Figure 3). To create optimal linkage around the world between our existing data and the AWA-Progeny Test Program, it is highly advantageous to all AWA members that a broad cross-section of the Wagyu Sector participates in the AWA-PTP.
Getting involved in the AWA-Progeny Test Program
The AWA-Progeny Test Program is a 10-year program.  Nominations for year 1 of the AWA-Progeny Test Program are now complete, with 40 sires and 2000 breeding females accepted into the program for Year 1.  The round 2 intake will open in March/April 2022 for new sire entries.  If you want to get involved, we encourage you to become an AWA member now, so that your animals can be registered with the Australian Wagyu Association and you can participate in the benchmark genetic evaluation program driving the global Wagyu sector.
Leading next generation genetics
If you are already engaged in breeding Wagyu or are looking into Wagyu, you can get a head-start by linking your herd to the global reference population through the AWA-Progeny Test Program (AWA-PTP) Wagyu Semen Sale.  Through the AWA-PTP Wagyu Semen Sale, we are providing the Australian industry with access to semen from leading next generation sires from Australia and around the world. This will promote broad Wagyu Sector access to leading genetics that will be benchmarked against Japanese Foundation and leading industry sires.
The Inaugural 2021 AWA-PTP Semen Sale will be held from 8am on 12 October through to 5pm 19 October via AuctionsPlus.  Thirty-two sires will have a minimum of 20 semen packages per sire (consisting of 10 straws per package) available to bid via tender, giving the Wagyu Sector to access the next generation of industry-leading genetics and link their herds to the AWA-Progeny Test Program reference population.
Participants will be able to place bids for semen packages from their selection of up to 20 AWA-PTP sires, creating a tailored packed to suit their breeding goals. These sires will be proven through the AWA-Progeny Test Program.
All funds generated from the sale will be re-invested into the AWA-Progeny Test Program to cover the performance recording of all current Wagyu traits and the development of vital new female reproduction, feedlot performance, meat and carcase quality traits for Japanese Black Wagyu cattle.
Source: AWA