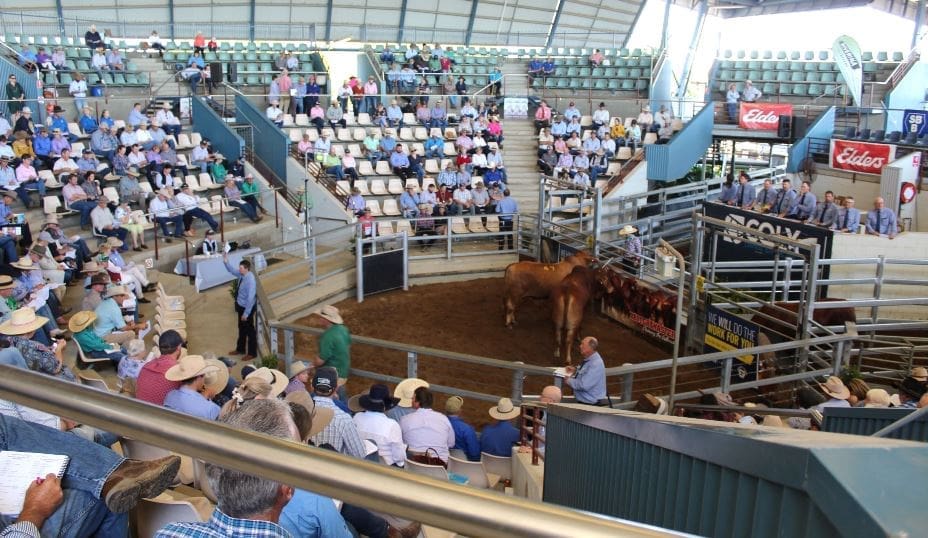 ROCKHAMPTON'S CQLX Gracemere selling centre easily retained its mantle as the largest stud cattle selling facility in the southern hemisphere last year, accounting for 2628 head of bulls and registered females, spread across 15 sale fixtures and eight major breeds.
This year, another 14 sales are scheduled between August and October, as the northern Australian spring sales period prepares for what promises to be another record-setting year.
CQLX events and stud sale coordinator, Carly Gaukroger, said the selling complex's team was looking forward to the busy time of year which was also a prominent social occasion on the Central Queensland calendar.
"For the past two years we have worked hard to change the dynamic of stud sales," Mrs Gaukroger said.
"We have created an atmosphere at our sales which reflects the confidence in the cattle market. When buyers turn up for a sale at CQLX, they have the chance to also have a meal, a drink, do some shopping at the stalls, and meet with the ag-servicing industry representatives who are present."
Safety for the buyers, vendors and spectators in attendance will be top priority, and the site will run under the necessary COVID requirements, including ensuring all visitors sign in through the Check-in Qld app and QR code.
Mrs Gaukroger said operating sales under restrictions was well honed at CQLX and she was looking forward to watching Australia's biggest breed sales unfold.
"Stud sales play an integral role in the cattle market, and we are looking forward to another strong selling season ahead," she said.
Here's a summary of upcoming CQLX bulls sale dates for 2021:
August
Queensland Simmental Bull Sale – 2 August
Clay Gully Simmental Sale – 30 August
Murdeduke Angus Sale – 30 August
September
Belmont Red Bull and Female Sale – 6 September
National Braford Sale – 13 September
Droughtmaster National Sale – 14-15 September
5 Star Senepol Sale – 20 September
CAP Droughtmaster Sale – 23 September
Central Brangus Sale – 24 September
National Charbray Bull and Female Sale – 27 September
October
Rockhampton Brahman Week Sale – 4-6 October
National Brangus Sale – 11-12 October
Central QLD Invitational Droughtmaster – 18 October
Lancefield Brahman Invitational Sale – 25 October.
Local agents, including Dane Pearce, Nutrien Ag Solutions Rockhampton, believed this year's season could rival 2020's outstanding totals.
"We could see similar or better results, and that's based purely on the strength of the commercial market at the moment, which is just as strong, if not stronger, than this time last year," Mr Pearce said.
"If you add this with the fact the seasonal conditions have been better in some, not all, but some markets we are shaping up for a promising season."
The string of 17 sales at CQLX will showcase some of the most popular breed composites including Charbray, Brangus, Belmont Red, Braford and Senepol.
"The main buyer for these sales is the commercial cattle producer," he said.
"The national herd is in a phase of rebuilding after drought, and producers are looking to improve the quality of their herd and the first step in achieving that is to invest in a good, young bull."
Traditionally, CQLX's big breed sales draw buyers from across the country, and Josh Heck, Savage Barker Backhouse/Grant Daniel Long, said this year would be no different.
"I think we will see strong support from the regions which have had great seasons, so particularly those in Northern Australia," Mr Heck said.
Given the uncertainty of the COVID-19 pandemic and subsequent state restrictions, all sales will be complemented with online selling capabilities through StockLive.
StockLive Manager, Libby Hufton, said the online purchasing option would ensure interstate buyers had full access to the array of bulls, regardless of state borders.
"This year, we have enhanced the live simulcast by adding multiple cameras to ensure buyers and viewers have the best possible footage of the sale ring," she said.
"Viewers can watch on any device, their desktop or mobile phone, and the only prerequisite for potential buyers is they register to bid at least 24 hours before the sale starts."
Source: RLX