BETA testing of a portable on-farm livestock genomic breeding value testing system could begin within two years, offering rapid crush-side trait assessment in a fraction of the time of the current lab-based technology.
Testing of portable genome sequencers had shown good correlations with lab-based technology for beef cattle genomic breeding values such body condition score, body weight, heifer puberty and calf hip height, the Southern Australia Livestock Research Council Livestock 2022 conference was told last week.
The University of Queensland's Centre for Animal Science director Professor Ben Hayes said the portable sequencing technology would have application in determining genomic breeding values for traits such as methane emission, feed efficiency, reproduction and growth in cattle and sheep.
Prof Hayes said the costs of generating a genomic breeding value from an animal's DNA have fallen from about $10,000 with SNP-ChIP advancements to about $70 for sheep and cattle breeders by 2008.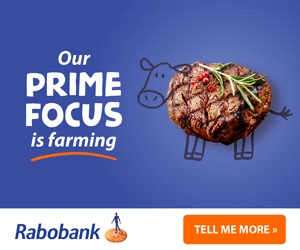 Since then the beef and sheep industries had "jumped on" the technology for different traits, including for intramuscular fat, reducing costs further. This has led to development of herd benchmarking for cattle and flock profiling for sheep to inform decisions on future selection.
Prof Hayes said key drivers of livestock productivity are fertility and growth and that is not going to change, but the implications for methane emissions from production would.
"So the more fertile your herd, the more productive your herd, it tends to mean the lower methane emissions you get per animal or per kilogram of product."
He said Australia is probably the world leader in research on beef and lamb meat quality, and it is allowing entry into high value markets with consistent products. But in the future, more emphasis would be put on methane emissions from livestock.
"And processors like Teys have announced that they are going to look for the carbon footprint of the animals coming into their processing plant and I think you heard Richard (Eckard) talk about how that might be possible through blockchain.
From COVID to livestock sequencing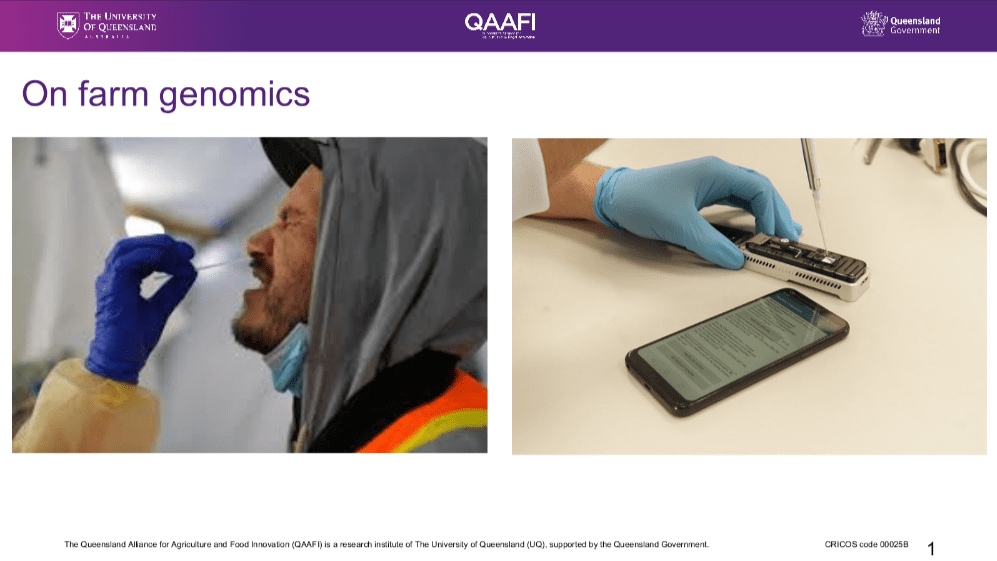 Prof Hayes said gene sequencing technologies used as result of the COVID pandemic are now being used to profile the genomes of the microbes in the rumens of sheep and cattle and look for associations with key traits like methane and feed efficiency.
"So we are starting to unpack that and we are starting to reveal big differences between animals — even grazing on exactly the same pasture – big differences between animals in their rumen profiles and then hooking that up to traits."
He said research from a colleague had shown that rumen profiles from sequencing showed you could predict how much methane they would emit with about 50-60 percent accuracy.
"To do the same off the animal's own genome, you would require thousands of animals to do that."
Prof. Hayes said Meat & Livestock Australia is also funding research to look at the association of the rumen microbiome with methane emissions by analysing saliva as animal's chew their cud using trailer-mounted in-paddock sensors.
"So with these three things combined, doing a saliva test, rapid sequencing and then this way of measuring methane, we think we are going to be able to develop a saliva test for how much methane an animal is actually emitting."
This would be a big step forward for measuring methane emissions on farms and also selecting out the animals that have good methane emission levels, he said.
Prof. Hayes said to determine genomic breeding values from tissue or from saliva, samples still currently have to be sent to a laboratory, taking up to six weeks or longer.
But in areas such as in northern Australia, where it is costly to muster livestock for sampling and then again weeks later to select or cull animals on genomic breeding value results, "it just doesn't work," he said.
Prof Hayes said the development of portable sequencing used for quick COVID tests has provided technology that can now be applied on farms.
He said portable sequencing devices can sequence the genome of DNA material put into it.
"So if it's a COVID swab it will start sequencing off some of your DNA, because it's in the cells, but also if COVID is there, the virus organism, and within a few minutes the clinic can have a read-out of whether you've got COVID or not.
"We can also aim this at our cattle genomes," he said.
"So if we put cattle DNA in here, it will read off those cattle genomes in hours or minutes."
He said the device can be hooked up to a mobile phone or a laptop computer "and start to get the genomes of your animals very very quickly."
"So we're working to develop the technology so we can do genomic breeding values and other DNA tests using this technology."
Prof Hayes said this could involve collection of DNA from hair or ear punctures by a micro-robot on the fence as cattle come down a race, putting it into a sequencer connected to a laptop "and it starts to read off the genome of your animal."
His PhD student Harry Lamb had been turning that sequence data into genomic breeding values, "just like you get back from the current lab-based technology."
Portable sequencing correlates well with lab-based results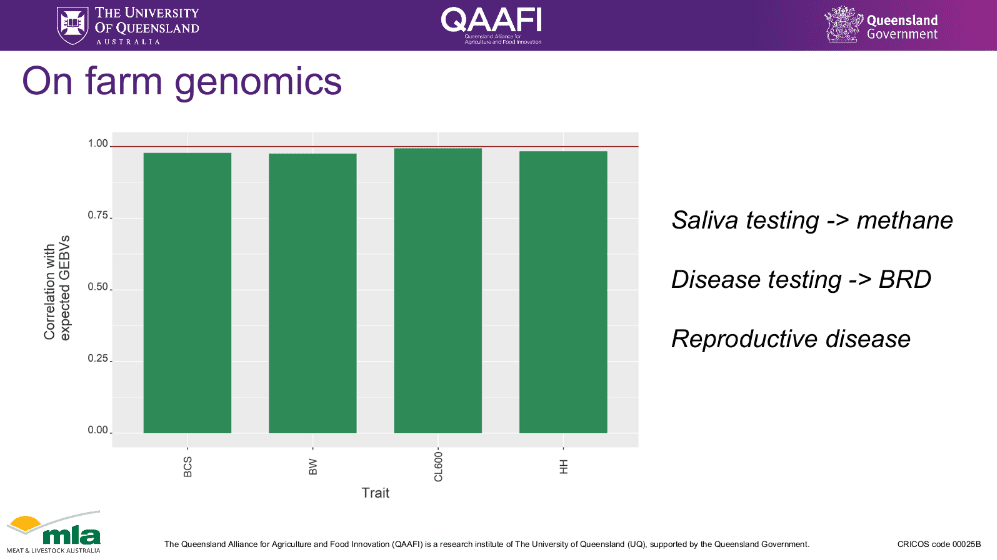 Prof. Hayes showed a graph that showed correlations of sequencer-generated breeding values with SNP-ChIP lab-based technology results for the traits of body condition score, body weight, heifer puberty and calf hip height.
"You can see they are pretty good, they are up around 100 percent.
"So Harry's made some really nice progress on this," he said.
"It's not quite as good as I'm depicting, because when he does it on-farm, it's still a little bit clunky; it still actually takes a few hours to get enough sequence to produce genomic breeding values.
"But I think our lesson with biotechnology is we shouldn't look at where the technology currently is at, we should anticipate where it could go and I don't think it's a very huge step taking it from hours down to possibly minutes."
He said the portable sequencers can scan livestock saliva rather than hair or skin samples, for rumen profiling to determine genomic breeding values for traits such as methane emission or feed efficiency.
"You can do disease testing, for example bovine respiratory disease, because you sequence everything whose DNA goes onto this, you sequence all of it, you can get all those microorganisms as well.
The technology could also have value in early surveillance for reproductive diseases.
Prof Hayes said beta testing of a portable sequencer-based system was probably two years away.
"It will probably be someone coming out to your property with all the gear in a suitcase and with a generator in the first kind of beta test."