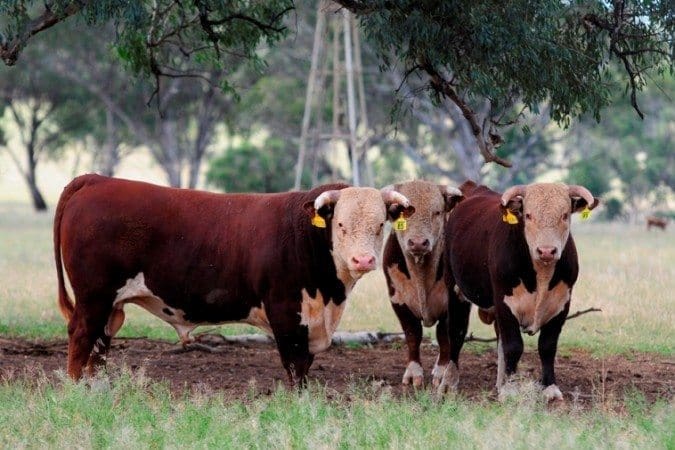 SPRING bull sales are just getting started, and for many beef enterprises, bulls will be the only new livestock purchases made this year.
Purchases of new livestock are the biggest biosecurity risk to a property, and replacing bulls is an expensive undertaking in itself, without the introduction of additional problems in the form of diseases, pests or weeds.
Simple checks made at pre-purchase and on arrival can minimise the risk of an incursion and maximise your return on investment.
Before purchase
Request and cite a complete BULLCHECK or Veterinary Bull Breeding Soundness Evaluation (VBBSE) (previously known as Bull Breeding Soundness Evaluation (BBSE). A VBBSE is a standardised examination developed by the Australian Cattle Veterinarians and evaluates the fertility potential of a bull by assessing testicular size and tone, physical soundness, semen quality and mating ability.
The VBBSE can help to identify risks associated with reduced fertility and provides an indication of the potential breeding value of the bull in a normal mating situation. Be mindful that some VBBSE's provided at a sale may not include all of the components- only what has been requested by the stud breeder. It is advisable to seek out the complete VBBSE prior to purchase, or buy from vendors that openly provide the VBBSE standards of their bull.
Request a National Cattle Health Declaration (CHD). The CHD communicates information that will not be provided by the VBBSE such as health history, vaccination and disease testing of the bull. It can also be used to indicate if the vendor has a farm biosecurity plan and their Johne's Beef Assurance Score (J-BAS), if they participate. Seek out bulls that have been tested for the Pestivirus antigen and have negative test results. This means they are not a persistently-infected (PI) animal and therefore don't permanently carry or shed the virus. A PI animal may not have any readily apparent signs but have the potential to cause significant reproductive losses in naïve (unexposed) or unvaccinated herds. It is also best practice to purchase bulls pre-vaccinated against vibriosis (also known as bovine venereal campylobacteriosis). Vibriosis is spread at joining from an infected bull to an uninfected cow (or vice versa). Bulls are commonly the source of infection in a herd and can act as carriers for many years. It is not possible to determine if a bull is infected on a visual appraisal as they demonstrate no signs of the disease.
Johne's Beef Assurance Score: If you are currently managing Johne's disease in your herd, be mindful of purchasing bulls that could affect your J-BAS score and domestic market opportunities. Aim for an equivalent or higher assurance score or be prepared to manage bulls of a lower score.
For vendors: There is now a CHD 'supplied' symbol (right) available for voluntary use in saleyards, by livestock agents or private vendors. Displaying this symbol alongside cattle for sale can indicate to purchasers that the vendor has supplied a completed CHD for those animals.
On arrival
Be mindful that long-distance travel or changes in environment or feed may cause stress to bulls, which can temporarily reduce fertility and increase susceptibility to disease. New arrivals should be quarantined for up to 28 days in an area that is close by, easy to monitor and isolated from your other livestock. This will give you the opportunity to closely observe the bulls for any signs of injury, disease, or ill-effects post-transport, as well as provide any treatments or vaccinations. It also reduces the risk of introducing disease, pests or weeds into your herd or property.
Treat for internal and external parasites as required. Livestock will empty out parasites from their intestinal tract over a 24-48 hour period after being treated, and will empty out of weed seeds over a 2-7 day period depending on the species ingested.  Having the livestock in a contained manageable area will minimise the spread to your paddocks. It is good to be mindful of where the bulls have come from and what weeds might pose a risk to your property.
Discuss a vaccination program and health program with your veterinarian. Bulls should be vaccinated for:
Clostridial diseases and leptospirosis (7-in-1)
Vibriosis
Pestivirus vaccine
Three-day-sickness (depending on your location)
Any other endemic disease that is known to cause stock losses in your area
If previously un-vaccinated the initial dose of these vaccines can be administered whilst the bulls are quarantined, but be sure to plan to give the follow up doses 4-6 weeks later or in accordance with the manufacturer's instructions. Failure to give follow up doses may result in an inadequate level of immunity against disease. These vaccinations need to be given at the very latest 2-4 weeks prior to joining to be effective.
For more information on managing the health of your bulls, contact your local cattle vet or Animal Health Australia regional manager for more information.
Source: AHA