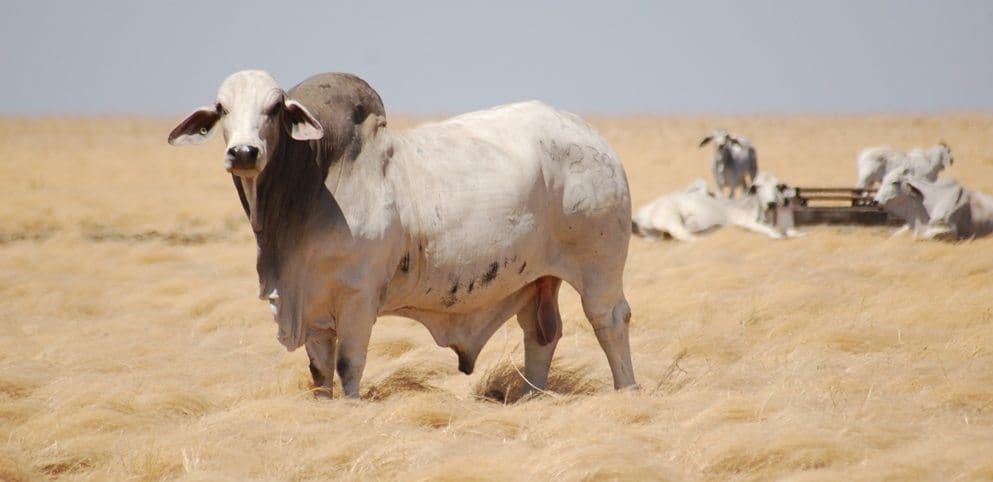 AUSTRALIA'S Brahman breeders and producers will be the first in the world to benefit from a breakthrough in genetic evaluations that has the potential to boost the genetic gains of cattle herds across Northern Australia.
These advances are the result of a move to Single Step genetic analysis that combines genomic and pedigree information with performance records, to calculate Estimated Breeding Values (EBVs). This means Brahman breeders and buyers who use EBVs will have access to more accurate, reliable data and increased ability to select for a wider range of production traits when using BREEDPLAN.
The transition to Single Step genetic analysis follows a long-term collaboration between Meat & Livestock Australia (MLA), the Animal Genetics and Breeding Unit (AGBU), the Agricultural Business Research Institute (ABRI) and the Australian Brahman Breeders' Association (ABBA).
MLA's Program Manager – Genetics, Hamish Chandler, said they believed it was a world-first for the beef industry, and kept the Australian industry at the forefront of genetic evaluations internationally.
"Using the combination of genomic information and performance records will give the highest accuracy breeding values possible and mean that industry can maximise the rate of genetic progress," Mr Chandler said.
ABRI International Beef Recording Scheme Manager, Steve Skinner, said the move to Single Step analysis heralded a new era in beef cattle genetic evaluations.
"Breeders now have access to the first multi-trait genetic evaluation which directly includes genomic data. This allows for the simultaneous use of genomic, pedigree and performance information to generate the best possible prediction of an animal's breeding value for growth, fertility, carcase and eating quality traits," Mr Skinner said.
"Breeders will be able to take a hair sample on an individual animal, send the sample for genotyping and the genotype information will be included in the BREEDPLAN analysis to generate EBVs."
Mr Skinner said more than 10,300 Brahman genotypes were on file and used to calculate EBVs.
"It represents a significant investment by breeders and industry research projects in new technology. As the number of genomic records increases in size and in coverage of the Australian Brahman population, the accuracy coming from genotypes will also grow," Mr Skinner said.
"In the Single Step analysis, EBVs can be generated for animals that do not have performance data or have not been measured for particular traits. This is particularly important for difficult to measure traits such as fertility and carcase. Breeders will potentially have access to results for animals at a much younger age than previously was possible, and the resulting EBVs will also be more accurate."
Director of AGBU, Dr Robert Banks, said the Single Step analysis also included new trait data, specifically for Age at Puberty and Lactational Anoestrus.
"Both of these contribute to the Days to Calving EBV, and the analysis also includes Percent Normal Sperm, a male trait correlated with female fertility," Dr Banks said.
ABBA CEO Robert Biddle said the move to Single Step analysis held enormous potential for the breed.
"It will allow producers to better identify cattle that can breed the animals we need in Northern Australia," Mr Biddle said.
"You can't tell the fertility of a bull just by looking at him and while an animal might be structurally correct, there's a lot we can't see. The move to Single Step analysis of production traits provides stud breeders and commercial producers with significantly more data to help them select cattle for their production systems.
"Our members are adopting BREEDPLAN but it's vital we teach people the benefits of using it. We need to improve productivity and profitability in Northern Australia and this will be a significant help."
Source: Meat & Livestock Australia