LAST week's column featured a description of the analysis of fertility traits in the more extensive northern environment.  But fertility is just as important in the southern based breeds, albeit the average fertility rate in the south tends to be higher.
High fertility means higher weaning rates as a result of higher conception rates.  Higher fertility also means higher conception to the first cycle, resulting in heavier calves at weaning. The higher value of early calves should not be overlooked.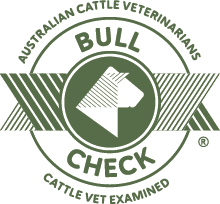 Third generation Angus breeders Andrew and Sally White of Eastern Plains Angus have been using the Bull Breeding Soundness Evaluation (BBSE) program for 12 years and report results on all their sale bulls.
"We sell our bulls with greater confidence after they have successfully completed the BBSE examination, and don't sell any bulls that don't pass," Sally said.
Andrew says the BBSE assessment adds integrity to the family's seedstock business.
"We want our clients to be happy with the bulls they purchase from us, and the BBSE testing increases the confidence with which we can offer our bulls," he said.
Local Guyra veterinarian Dr Leisa Brown, who conducts the BBSE testing for the Whites, is accredited by the Australian Cattle Veterinarians to conduct a full BBSE assessment.
"As vets, we have to do a theory and practical test to become accredited under the program," Leisa said.
She thinks that more bulls should undergo a BBSE test prior to sale, but her big concern is the trend towards selling more yearling bulls.
"A BBSE test on young bulls is indicative of their sexual maturity, but in some herds it can be difficult to get acceptable semen quality in young bulls. But we know that a young bull that passes the BBSE test is a real keeper," Leisa said.
BBSE includes a soundness examination of the bull, a crush side analysis of semen motility and mass activity, as well as an assessment of sperm morphology. Morphology analysis identifies animals that are exhibiting sperm defects which could seriously reduce the fertilising ability of the bull.
The proportion of normal cells (those not displaying any abnormality) describes percent normal sperm, and this is the key trait in assessing a bull's capacity to successfully fertilise an egg on the day of testing.
Long time Queensland beef consultant John Bertram (see last week's column), who has championed the use of BBSE for many years explained that a pass on morphology shows that the bull can produce normal sperm.
He warns, however, that environmental factors such as nutrition and especially health can affect the morphology of the sperm. Some young bulls deserve a retest if they fail the first time, he suggests.
Heritable indicator
Beef CRC research showed that the percent normal sperm in young bulls is a heritable indicator of early reproductive performance, and is genetically related to the fertility of their daughters. Specific abnormalities described as part of the laboratory assessment of sperm morphology have also been shown to relate genetically to male and female age at puberty.
Disease conditions such as Vibriosis and Infectious Bovine Rhinotracheitis (IBR) can cause sperm defects, especially in young bulls.  Control of Bovine Respiratory Disease, (which also controls IBR) has been promoted for animals going into the feedlot, but it should also be used in young bulls.
Dr Leisa Brown said that vibriosis is more prevalent than previously thought, and she encourages all bull sellers to ensure they vaccinate all their bulls early enough to insure they are free of the condition before mating. Two vaccinations are required about six weeks apart and the last vaccination should be at least a month before the bull is required to work.
Due to the relatively higher fertility rates in southern breeding enterprises when compared to the environmentally harsher northern production systems, the need for BBSE testing has not been embraced at the industry level. But Leisa says that her veterinary experience is that she has seen sufficient failures to warrant full BBSE testing even in those breeds predominating in the south.
Passing the BBSE examination is critical for increasing the chance of a young bull having high fertility rates, but successful BBSE results also have a genetic effect, with daughters of that bull expected to have higher fertility.
Reader comments on fertility
It's always good to hear from readers via Beef Central's reader comment facility on the bottom of articles, and a comment on last week's column by Gray Bull (July 10 2018) promoting 'profitableranching.com' featuring cattle selection techniques by well-known South African, Jan Bonsma, prompted a discussion of the difference between selecting current animals to ensure that young animals selected as replacements are fertile for the rest of their breeding life, and selecting animals that will improve the next generation (ie. making genetic improvement).
The work of people such as Bonsma made great advances in selecting functional, fertile cattle.  All good cattlemen acknowledge the importance of techniques such as visual selection of structure and recording of successful pregnancies especially in the first and second opportunities can increase fertility rates in the current herd. Within all herds there is a range of fertility potential and it is important to only keep females that will breed early in the season every year.
But only considering current herd fertility is ignoring the substantial benefit of genetic improvement of fertility. As described in last week's column, research has shown considerable genetic differences in fertility in breeds that predominate in northern environments, but there is likely to be similar differences in the southern based breeds.
Most of the indicators we use to select fertile animals in the current herd have low heritability, and to make genetic improvement requires the use of Breedplan EBVs.  Breedplan simply takes on-farm records, makes corrections for known environmental differences (such as the age of the dam) plus uses the pedigree and produces an EBV which is a selection criteria for genetic improvement.
Trial EBV for percent normal sperm
The critical EBV for female fertility is days to calving. There is now research which suggests that an EBV for %normal sperm will also assist genetic improvement of male and female reproductive performance.
This has led to the recent introduction of a trial EBV for percent normal sperm in the Brahman Breedplan evaluation. Data from an MLA funded research project has recently entered that analysis, and breeders of Brahman bulls can contact Paul Williams at TBTS to get further information on submitting these records to Breedplan to improve the description of genetic reproduction in their herd.
BreedObject (the engine behind Breedplan $indexes) uses an economic analysis, to calculate the relative economic value of profit drivers, and without exception cow weaning rate is one of the most important variables. For the example Hereford and Angus indexes shown in the graphs, weaning rate has the highest importance at over 20pc. Even for the southern based breeds fertility has a large influence on the genetic improvement of profit.
A %normal sperm EBV would assist in achieving genetic improvement for weaning rate but to implement such a change requires a large data set of recorded BBSE results to allow the evaluation of the genetic basis for variation in the trait for temperate breeds, and the implementation of a trial EBV.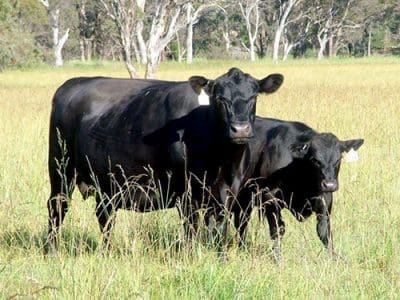 A new trans-Tasman project (the Trans-Tasman Beef Cow Profitability Project) aims to help bull breeders and commercial cattle producers in southern Australia to improve or maintain cow reproductive performance while continuing to apply selection pressure to improve growth and carcase traits.
It is examining in more detail the relationship of early life records of female fertility with lifetime productivity. Dr Matt Wolcott of the Animal Genetics and Breeding Unit (AGBU) who heads this section of the project, says that days-to-calving EBV works, but that including measures of female age at puberty and lactation anoestrous interval, and male percent normal sperm (as has been successfully implemented for the Brahman breed), may make it work better.
This project in some aspects mimics the research of the 'Repronomics' project discussed last week, and will clarify the importance of the value of many of the female reproduction traits and facilitate greater genetic improvement in fertility for breeders of temperate beef cattle.
It will also form the basis for an examination of the potential contribution of genomics to the genetic evaluation for age at puberty and related traits in the genetic evaluation for temperate breeds.
But at this stage it doesn't include research on male reproductive indicators.  Maybe its time to open the dialogue on the role of male indicator traits of reproductive performance and the best way to include them in the genetic evaluation for temperate breeds.
Erratum: In last week's column PPAI was described as the time for first-calf heifers to conceive, when the correct definition is the time taken to return to cycling.
Guest author, retired NSW DPI Beef Cattle Breeding Specialist Wayne Upton, is writing our Weekly Genetics Reviews for the next few weeks, while Alex McDonald is on holiday.