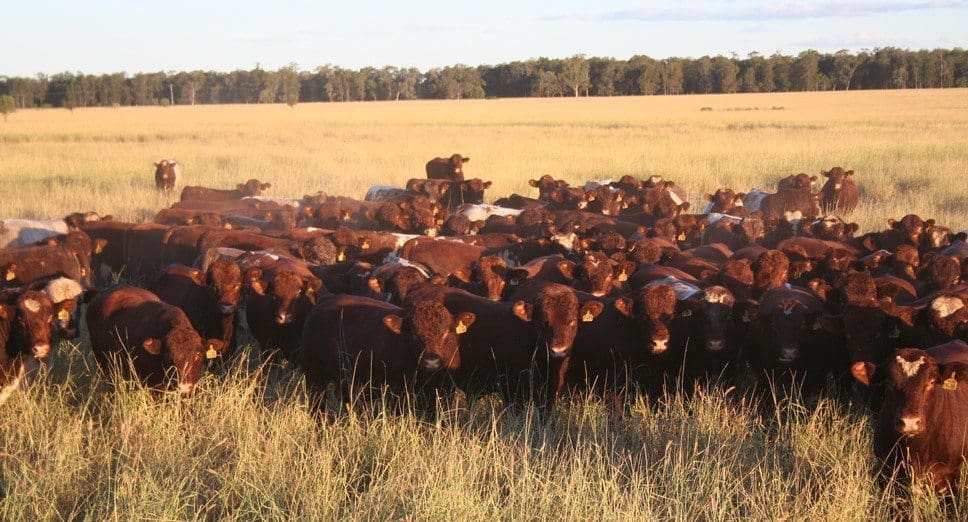 ARE your bulls fit and ready for spring joining?
It's a question every producer with a spring-calving herd should be asking now, according to cattle vet Dr Peter Armstrong.
Dr Armstrong said a Veterinary Bull Breeding and Soundness Examination (VBBSE) makes economic sense.
"Many bulls these days average about $7500, so the cost of each calf sired by that bull is about $67 based on the average working life of bulls from 2.8 to three years," he said.
If the bull is sub-fertile, that cost goes up dramatically.
A VBBSE works out to cost the producer about $1.20 to $1.50 per calf, Dr Armstrong said.
"This is cheap insurance," he said.
A cattle producer and a large animal vet with a mobile practice called Southwest Livestock Veterinary Service based at Junee, NSW, Dr Armstrong will be walking producers through the important aspects of preparing bulls for joining at an upcoming  MLA More Beef From Pastures ReproActive workshop on Tuesday, 13 September, at Condobolin, NSW.
"There is no enjoyment in waiting until pregnancy testing to find out there was a problem. Producers should conduct a full VBBSE of their bulls six to eight weeks prior to joining, on an annual basis," he said.
Dr Armstrong recommends producers follow some basic procedures to guarantee breeding soundness prior to joining:
Crush-side examination
Structure – assess legs, feet and back for soundness and particularly note any changes in claw set as they can suggest problems higher up the limb.
Penis and sheath health – look for any issues such as infections or old injuries from last joining.
Scrotal palpation – a scrotal measurement is taken to ensure the bull has enough sperm output to meet the demands of the joining period. Scrotal size is highly heritable for the onset of puberty of heifer progeny. Assess tone or 'springiness' of testicles, which are indicators of good sperm quality. Identify any injuries or structural abnormalities.
Internal sex gland palpation via rectal entry – irregularities can indicate infections.
Semen testing. Poor quality sperm is rare in bulls that have appropriate scrotal size and tone, especially in southern temperate climates. It is important to test young yearling bulls being used at joining as they may have not reached puberty and in single sire mating situations.
Dr Armstrong said a high percentage of bulls culled from a VBBSE don't make it past the crush-side exam.
Serving ability test
Most important for middle-aged and older bulls.
Is the most accurate integrated assessment of structure, locomotion and serving functionality. Many bulls can pass the crush-side examination but fail when put out on a serving test.
Identifies abnormal serving conditions such a spiral and ventral deviations of penis (often seen in aging bulls from polled breeds), back injuries and pain. It is the only way to accurately estimate the bulls cow serving capacity.
Nutrition
Ensure young bulls are in body condition score 3.5 to 4 (out of 5) and older bulls condition score 3 (but no more) to ensure quality sperm production and a 'buffer' for weight loss at joining time.
The sperm production cycle is 70 days so bulls need to be on good nutrition at least 70 days prior to the bull-in date to get 65-70pc of cows in calf in the first cycle.
Older bulls shouldn't get too fat (more than condition score 3), as it affects their athleticism and increases risk of injury.
Vaccinations
At a minimum, all bulls should receive a Vibriosis vaccination of two initial injections six weeks apart and then an annual booster. Peter recommended that if producers have bought vaccinated bulls but let their boosters lapse, they should start the course again.
7-in-1 vaccine to protect against Leptospirosis and clostridial diseases.
Vaccinate for Pestivirus and know bulls' persistently-infected status.
Control internal and external parasites.
In the paddock
The first 21 days are crucial to a tight joining period. Check young bulls every two to three days and older bulls at least once a week.
While serving, observe bulls from the right hand side to check for any entry issues, excessive exposure of the penis post-serving and swelling.
Young bulls are often very vigorous and need close observation. Replacing a young bull with a fresh bull for the second cycle may be needed if signs of injury are noticed. It is best to get the young bull out of the mob and assessed immediately if there is any indication of something not 'quite right'. Many serious injuries in young bulls can be avoided and minimised if a prompt assessment is made.
A ReproActive workshop, also featuring presentations and practical demonstrations on critical mating weights, body condition scoring and reproductive diseases, will be held on Tuesday, 13 September from 8.30am-2.30pm at the Moonbi Hall and Newlands, Lachlan Valley Way, Condobolin, NSW.
To register online, go to http://www.reproactivecondobolin.eventbrite.com.au by 12 September for more information and directions.
Source: MLA's More Beef From Pastures ReproActive